Key Points:
Coresight forecasts a 13% annual growth of the U.S. apparel resale market to reach a record of $33 billion by 2021
ReCommerce is a unique retail concept where pre-owned items are resold
The resale commerce market is particularly popular among millennials and Generation Z
---
Has eCommerce already been replaced? Maybe. Studies show that merchants in the reCommerce industry – those re-selling used goods – are growing five times faster than off-price retailers, and 20 times faster than the broader retail market. Generation Z and millennials have embraced reCommerce as a way to profit and save on old items made new, especially apparel and jewelry.
Coresight forecasts a 13% annual growth of the U.S. apparel resale market to reach a record of $33 billion by 2021.  The market overview of the 2020 resale apparel market in the U.S is also promising, and it is expected to perform better going forward. Currently, 49% of the U.S. reCommerce industry is made up of accessories, clothing, and shoes, and GlobalData estimates that by 2023, the total worldwide apparel market will surge to $51 billion. It's no wonder there are now so many ReCommerce companies around.
Table of Contents
01 What is ReCommerce?
02 What Are The Benefits of ReCommerce?
03 How Can An Online Store Get Involved in ReCommerce?
04 10 Tips For ReCommerce Success
05 5 Top ReCommerce Sites
06 Turn ReCommerce into Another Income Source For Your Online Store
What is ReCommerce?
Simply put, the ReCommerce definition is that it's a unique retail concept where pre-owned items are resold. It's also known as resale commerce. It's a business model built around the idea of product reuse. It refers to the selling of previously used or owned items through online marketplaces. Previously, the resale of secondhand clothes and other items had been limited to brick-and-mortar stores, but with the advent of eCommerce and technology, the number of online resellers has now exploded and taken the resale game to a new level. ReCommerce on Amazon has also taken off!
How Does It Work?
Almost everyone has something of value that they can resell, which is why resale commerce has gained popularity. Online marketplaces and reCommerce brands such as RealReal, Depop, and Poshmark allow you to mail these items to them for a payout or list them on their sites or mobile apps for reselling. You are then charged a commission (a percentage of the sale value) for every item sold through the site. Of course, the bigger eCommerce retailers offer their own resale options; ReCommerce on Amazon is an option.
Who Buys ReCommerce Items?
The resale commerce market is particularly popular among millennials and Generation Z. People below 40 are enthusiastically buying up high-value second-hand products such as jewelry, shoes, handbags, and clothing.
What Items Can Be Sold As ReCommerce?
These days, you can resell almost anything as long as it's in good condition. That's what makes the resale commerce market so attractive. However, the online resale market focuses on particular items, including:
Brand name clothes
Shoes
Designer handbags
Jewelry
Vintage products
Electronics
Video games
Picture frames
Pyrex and Glassware
Books
What Are The Benefits Of ReCommerce?
ReCommence offers many benefits. Resellers earn money from products they don't want, consumers get good products at discounted prices. Plus, resale commerce offers an element of sustainability since these products are being reused and not just thrown into rubbish dumps. Here are the main benefits of listing on a reCommerce brand site:
Sustainability - Recycling and reusing garments reduces the demand for the production of new ones. This, in turn, reduces the demand for raw materials and lowers energy usage in factories, and reduces the emission of harmful gases and the accumulation of textile waste in landfills.
Saving money - Second-hand items come at a discount price, which helps consumers save money on items that may have been too expensive to buy at retail prices.
Encourages conscious consumption - consumers are keen to buy items that have good resale value.
Encourages recycling - Consumers are encouraged to recycle and reuse garments that they don't want but are still of good quality.
Space-saving - People can keep their closets from overflowing by reselling clothes that no longer fit or they no longer want.
How Can An Online Store Get Involved in ReCommerce?
If you have a lot of inventory for your online store, you may sometimes find that you have things that are in saleable condition but won't sell because they're out of season. You may also find yourself dealing with returned items, especially when customers change their mind about a purchase. Selling these products through third-party reCommerce companies isn't the best idea for your online store.
Since resale commerce sites make money by charging a commission for every sale made on their site, your online store can avoid losing income by including a reCommerce section on your own site where you can resell the items at discounted prices and clear out stock quickly. For example, if you have a 'sale' category on your website, you could resell out-of-season merchandise and returned items at a discount without paying a third-party site.
Don't forget that finding an affordable shipping solution is also another way to keep costs to a minimum if you're reselling items on your site. Easyship can help you with this by giving you access to a network of cost-effective courier solutions that will ensure you keep costs low and retain a profitable reCommerce business.
10 Tips For ReCommerce Success
1. Showcase your merchandise through a variety of good quality images
2. Offer a detailed product description using proper language and punctuation
3. Be honest and tell the truth about your products - disclose if it's out of season or returned
4. Offer great customer service by responding quickly to their concerns
5. Know your audience so that you can market to the right customers
6. Stay relevant on social media - connect and engage with your customers
7. Offer goodies and discounts
8. Fulfill your orders promptly to avoid negative reviews
9. Stay relevant and knowledgeable on the current trends and prices
10.  Print labels online which are attractive and have easy-to-use tracking scans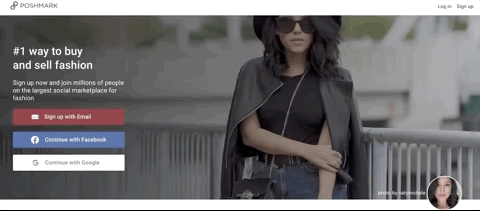 5 Top ReCommerce Sites
There are several ReCommerce brands online, each offering a different take on the trend. While ReCommerce on Amazon is a possibility these five popular resale websites are popular for good reason:
1. Poshmark
Poshmark is probably the most popular ReCommerce brand around. It allows you to list the items you wish to resell through their mobile app or on their website. When a customer purchases your product, they send you an address and a shipping label so that you can package it and arrange for home pickup or drop it off to the nearest USPS mailbox. They charge a flat rate of $2.95 for sales under $15, while a 20% fee applies for sales over $15.
2. RealReal
This consignment company focuses on luxury home décor, clothing, art, and jewelry. They provide you with a prepaid shipping package to send your goods, which are then authenticated. Sellers are paid on a sliding scale. For items priced at $1500 or less, the sellers receive 55% of the sale price, while for items that sell above $1500 but under $10,000, the seller receives up to 60%.
3. ThredUp
ThredUp is a Recommerce brand that lets you order a Clean Out kit, which is simply a bag into which you pack your quality and unwanted clothes; you then mail this back to them. Once they receive your items, they process them and update you through an email, letting you know the items they accept as well as what payout you can expect, either as cash or ThredUp credit. They then resell the items on their website.
4. Vestiaire Collective
This site sells luxury consignment. Before your items go live on their site, they have to be approved; once they are listed and sold, the site will send for them. Vestiaire takes care of any returns. For any sale under $70, Vestiaire takes a $25 cut; they'll take 33% for any sale between $70 to $140 or 31% for any sale between $140 to $345, and so on.
5. Depop
Depop specializes in "creative" reselling. You can sell designer and vintage products here; sellers simply create profiles to display the items they want to sell. Sellers set their own prices, connect directly with customers, and are responsible for shipping items. Depop takes 10% for each item sold.
Turn ReCommerce into Another Income Source For Your Online Store
ReCommerce companies are already a hot trend with Generation Z and millennials, and the market is estimated to skyrocket in value to $51 billion by 2023. As an online store owner, you should be thinking about whether resale commerce could work for you; you could almost use this as another passive income stream.
If you choose to go this route, Easyship can help you make the process smooth with a range of automated shipping solutions and insurance for high-value goods. Sign up for a free account now to see how we can help!