USPS Shipping Calculator
Get an estimate with Easyship's USPS shipping rate calculator. Our shipping rate tool calculates the cheapest rates for international and domestic shipments in a few clicks, so you can avoid the post office.
Shipping Rates Based On:
Shipping from United States to United States
Parcel weight of
The Ultimate Solution for USPS Rates
Easyship users receive all the bells and whistles of while avoiding the post office.
Choose from all the shipping options you enjoy at a fraction of the cost.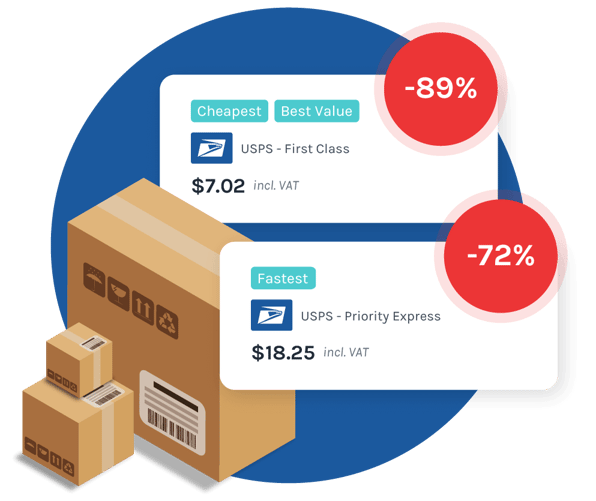 Lowest Rates

Easyship offers the best rates using Commercial Plus Pricing (CCP) so you can save on shipping costs. You'll also gain access to flat rate shipping and other popular shipping options at discounted rates.

Zero Minimum Volume

shipping options and benefits are offered to all Easyship users. No hidden fees or restrictions apply.

Optimized Management System

Our all-in-one platform allows you to manage all your shipping activity for a seamless shipping experience. Schedule package pickups, track shipments, generate shipping labels and scan forms, and more.
Available USPS services on Easyship
Easyship is your one-stop for calculating shipping costs with major courier services. Our platform offers USPS services such as USPS Ground, First Class, Priority Mail, and more at high-volume discounted rates.
Shipping with USPS is just the beginning
Tap into revolutionary shipping features that make Easyship the #1 choice for helping eCommerce businesses grow!
Automate repetitive tasks with shipping rules

Sync orders directly from your store

Full visibility on import tax & duties

Expand using our global fulfillment network

Best-in-class shipment tracking

All backed by award winning support
Frequently Asked Questions about shipping with USPS
Is there a USPS location near me?
USPS have 34,000 retail offices. You can find the nearest location to you here.
You can generally contact USPS at their website link is https://www.usps.com/ or calling USPS. In most cases, shipments created on the Easyship platform will provide you all the visibility you need on a shipment.
How do I find my USPS tracking number?
You can track USPS shipments using the tracking number for the shipment provided and visiting the USPS website. Alternatively, you can track all of your USPS using Easyship's branded tracking.
Does USPS deliver on weekends?
USPS offer limited delivery on the weekends, depending on the service.
Does USPS require a signature on delivery?
USPS offers an optional signature on delivery service. Whether a signature on delivery will be required for release or not will be decided by the sender at time of shipment creation.
Never Overpay for Shipping Again
Create your free Easyship account to instantly access our discount shipping rates and powerful features. There's no minimums. No hidden fees. Just savings.
Looking for More?
Have questions about discount shipping? How it works? Want a rate quote? Try these resources.