The advent of technology and the internet drove the eCommerce revolution and has significantly changed the way people shop. Most wholesalers and retailers have now moved online to cater to savvy online shoppers, even if they still cling to their traditional brick-and-mortar shops. However, online shopping also brings challenges for retailers, and one of these is identifying the best platform to set up an online shop. Two of the most popular eCommerce platforms are BigCommerce and WooCommerce, and each has a long list of pros and cons. This guide will break down the nuances of the BigCommerce vs WooCommerce debate.
After reading this eCommerce platform comparison, you'll understand the differences and similarities between the two platforms and how to decide which one will work for you. Of course, no matter which platform you choose, you'll also need to figure out a good fulfillment strategy.
Easyship can help you create a streamline delivery process. With our platform, you can use the calculator to estimate shipping rates, automate various parts of the shipping process, including labels and customs forms, figure out duties and taxes, list products from your store (we integrate with BigCommerce and WooCommerce!), and even display dynamic rates at checkout on your online store.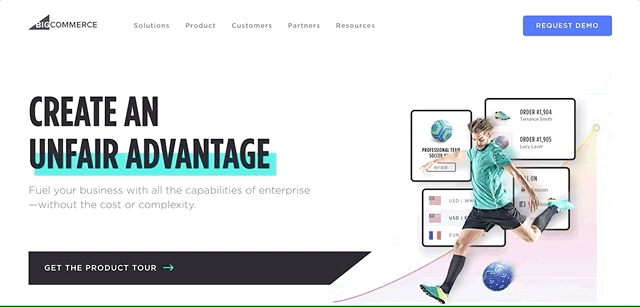 BigCommerce vs. WooCommerce: What's the Difference?
A key part of the BigCommerce vs WooCommerce debate is understanding the two platforms, including the similarities, differences, and any available alternatives to BigCommerce and the best WooCommerce alternatives.
BigCommerce is a fully-hosted eCommerce platform that will suit small business owners and those just starting their online ventures. Fully-hosted means that the platform has everything you need to launch your online store, from hosting and website design to payments, marketing, and SEO. This is a truly all-in-one platform and is essentially a Software as a Solution (Saas).
On the other hand, WooCommerce is a free eCommerce plugin that's compatible with third-party content management systems like WordPress. This plugin can convert any WordPress blog or site into an online store and currently powers up to a third of all online stores. Of course, this means you have to set up another content management system to built and manage your store with the WooCommerce plugin.
Although there are many WooCommerce alternatives out there, the plugin differs from BigCommerce and other alternatives in that you are free to choose your website hosting provider and content management system. Additionally, WooCommerce comes with several built-in features that make it easy to run your online store, such as inventory management, shipping, payment processing, and coupons.
BigCommerce vs. WooCommerce Comparison
From the definitions above, you can clearly distinguish between BigCommerce vs. WooCommerce. However, the following features outline some specific eCommerce platform comparisons and will help you decide which platform will suit you.
Ease of Use
Website builders, such as BigCommerce and other alternatives to BigCommerce, are easier to use compared to plugins such as WooCommerce. They provide a solid base to build on and offer ready support.
BigCommerce provides a domain, security certificates, and hosting while WooCommerce's offerings are limited to eCommerce functionality. Therefore, BigCommerce may be useful for those with limited technical skills and experience.
Features
To find the best eCommerce platform, you should look at the features offered. BigCommerce, WooCommerce, and their alternatives, all have various features in common, including basic reporting, mobile-friendly shopping, PayPal payments, and basic marketing tools. With both, you'll have the basic features you need to start selling online.
The key feature difference is that BigCommerce has multiple payment options. It also integrates with inventory, accounting, and marketing solutions, but has fewer third-party extensions than WooCommerce and WooCommerce alternatives. You'll have to really analyze these features to decide which will suit you best.
Design and Themes
BigCommerce offers a wide choice of themes that are simple to customize. Similarly, WooCommerce offers limitless customization and affordable premium storefronts. In the BigCommerce vs WooCommerce debate, both offer great themes and design to choose from.
Plugins
Plugins are useful to think about when considering BigCommerce vs WooCommerce, as these will help you really personalize your store. Both platforms offer a wide range of usable and customizable plugins. However, WooCommerce has far more options and is less restrictive than BigCommerce and its alternatives.
Scalability
If speed and scalability are a concern, you'll want to check this when debating between BigCommerce vs WooCommerce. The former offers excellent load times and reliable stability throughout stages of website growth and increased traffic; the latter relies on development, database management efforts, CDN, and managed hosting providers, which may not be as effective.
Related: Shopify vs BigCommerce - Differences Explained

Customization and Advanced Features
WooCommerce is an open-source plugin that allows users to integrate multiple apps into their websites. This is a recipe for extreme flexibility when customizing the functionality of the online store. WordPress has a plethora of mobile-friendly and responsive templates.
However, it can be confusing to configure the settings. On the other hand, though quite similar to WooCommerce alternatives, BigCommerce only allows for easy management of products. BigCommerce has a growing number of apps that you can add to your online store as well.
When it comes to advanced features, there are a few things to consider. BigCommerce provides dedicated hosting, while WooCommerce allows users to source their own (potentially cheaper and more stable) hosting services.
Conversely, WooCommerce has a basic online store dashboard while BigCommerce offers an intuitive control panel. Similarly, mobile responsiveness with WooCommerce and its alternatives depends on the parent theme and requires advanced development skills for full optimization; BigCommerce, on the other hand, offers excellent mobile responsiveness.
Pricing
If you are thinking about WooCommerce vs BigCommerce, then price is probably going to be a top consideration. BigCommerce is a paid platform while WooCommerce is free.
However, with WooCommerce, you should have the business already on a WordPress site (and you may need to pay for this to get full functionality). To enjoy better features and get the most from WooCommerce, you should consider investing in premium plugins and extensions as well. BigCommerce has three various pricing plans with various features depending on your chosen plan.
Support
Support is an integral part of the best eCommerce platforms. BigCommerce provides 24/7 support through email, phone, live chat, a user forum, and help center with useful guides. The platform provides users with a personal onboarding account manager and consultant. Conversely, WooCommerce has sparse support with limited resources.
Security
The security of an online store is based on the hosting service provider. WordPress core is rarely hackable, and most security flaws with WooCommerce stems from third-party plugins. Fortunately, most hosting providers offer CDNs, SSL certificates, and are PCI compliant.
On the other hand, BigCommerce is certified PCI compliant, providing assurance that you won't lose sensitive customer information. You can also opt for a dedicated SSL certificate at an additional cost.
BigCommerce vs. WooCommerce: Which Should You Choose?
Choosing the best eCommerce platform to establish your online store is as essential as choosing a niche. As such, you need to conduct thorough research and weigh up the pros and cons to make an informed eCommerce platform comparison. From the BigCommerce vs. WooCommerce outline above, it is evident that both are great platforms to start your online store.
However, if you want to build an online store without managing the technical aspects, BigCommerce can be a great choice. The majority of essential components are already installed, and you just need to sign up and start selling. However, such flexibility comes with limitations of control of the website. It's also more expensive than WooCommerce.
WooCommerce is best for those who want complete control and ownership of their online store. It runs on WordPress and offers endless customizations. You are free to build what you need with the features that you desire. It is also quite affordable. The only limitation is that you will have to maintain the system management platform.
Regardless of which eCommerce platform you choose, consider using Easyship to fulfill your shipping plans. Easyship integrates with both BigCommerce and WooCommerce and connects your online store with multiple shipping solutions.
Last update July 26, 2020 to reflect new information