Key Points:
Shopify has many features similar to BigCommerce and vice versa
Shopify is a winner in this hands down, as the template themes are more varied and better looking overall
When you choose a store platform, you want to consider user interface, functionality, store design options, pricing, and technical support
---
Welcome to the third post in our series, "Shopify Vs.", where we compare Shopify against other online store platforms and marketplaces!
In this post, we explore how Shopify fares against BigCommerce, a platform 5 years their junior, but a very strong competitor.
These two platforms are among the fastest growing and most popular e-commerce platforms out there. Shopify has many features similar to BigCommerce and vice versa. Comparing these two platforms is like comparing twins – alike, but with small differences that make them unique and special.
As many of their functionalities are similar, choosing a winner between the two is very hard. But as always, when making big decisions like where to host your store, you need to be very sure of what you are looking for. You should think about what functionalities you want most, the price you are willing to pay for them, and what kind of support system you need so you can make a well-informed decision. It is worth noting that between Shopify and BigCommerce, most of the experts of the eCommerce industry find it a neck and neck competition, finding it hard to declare a winner.
Table of Contents
01 Features and Facilities
02 Design-Templates
03 Pricing
04 Support
Comparing the Twins
We decided to focus on four major categories for comparison: features and facilities, design, price, and support.
Features and Facilities
Before identifying features that are the strength of each platform, we would like to comment that the carts of both platforms are very impressive and fulfill all the requirements needed for an effective store checkout, from order placement to shipping, price setting, tax declaration, and recovery.
Shopify:
Shopify has a very powerful and extensive content management system that lets you edit most aspects of your store.
Adding your products and setting their prices and taxes is simple and intuitive.
Themes have a lot of variety and look good, with a decent amount of free and paid themes available.
Shopify support is very helpful and available 24/7.
SEO capabilities are built-in and are particularly good for blog posts as it's customizable.
Shopify offers reporting on a monthly basis for products and orders only if you subscribe to the "Shopify" or "Advanced Shopify" plans. You can export order data in CSV file format, and integrate with Google Analytics or other accounting software like QuickBooks and XERO.
BigCommerce:
The setup is simple. Onboarding is efficient and they offer many features "out of the box", which gives them an edge over Shopify.
Adding your products and their details is also easy but not as intuitive as what Shopify offers.
You can easily integrate your BigCommerce store with other third-party apps.
Their content management system is just as powerful as Shopify's, giving you control over most aspects of your store such as inventory management, product display, setting taxes and prices, shipping, and tracking.
Their SEO capabilities are excellent, even better than Shopify's. You can pretty much customize everything but the blog posts. Additionally, you can modify search engine instructions easily, whereas, for Shopify, you'd need a third-party app to do this.
You can modify existing URLs, headings, alt text, and 301 redirects.
They offer an extensive reporting system that works best when integrated with Google Analytics. Exporting data in CSV and XML files is also possible.
Lastly, account options, cart settings, and courier integration on both platforms are similar between the two platforms.
Design-Templates
Shopify is a winner in this hands down, as the template themes are more varied and better looking overall (at least, according to many eCommerce experts.) Now, it's true that looks are subjective; but many agree that Shopify's themes look more modern and professional than the ones available in BigCommerce. However, both platforms offer the opportunity to customize your themes extensively.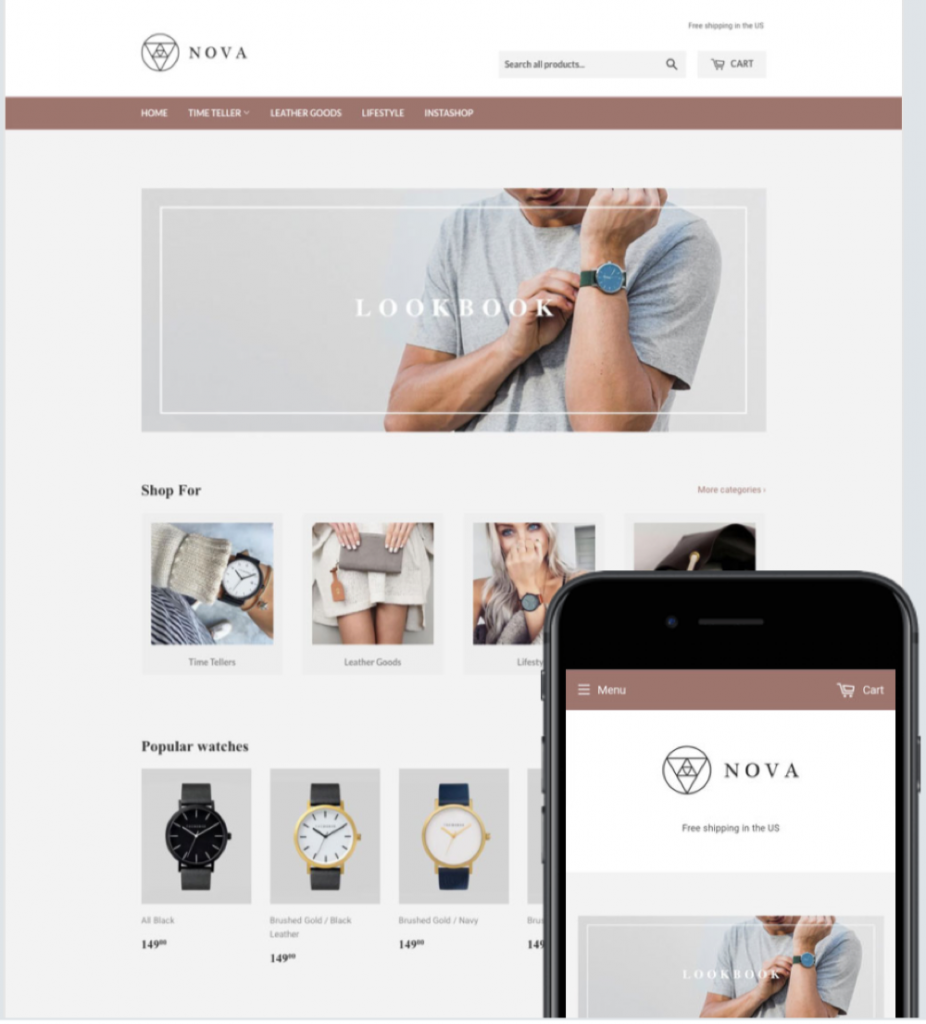 "Supply" - A free Shopify store theme
In terms of free design themes, Shopify has a slight edge in that they offer 10 free themes while BigCommerce currently offers 7. If you're interested in paid themes, their pricing is similar between platforms. For Shopify, paid themes start from US$140-$180, and BigCommerce's price range is US$145-235.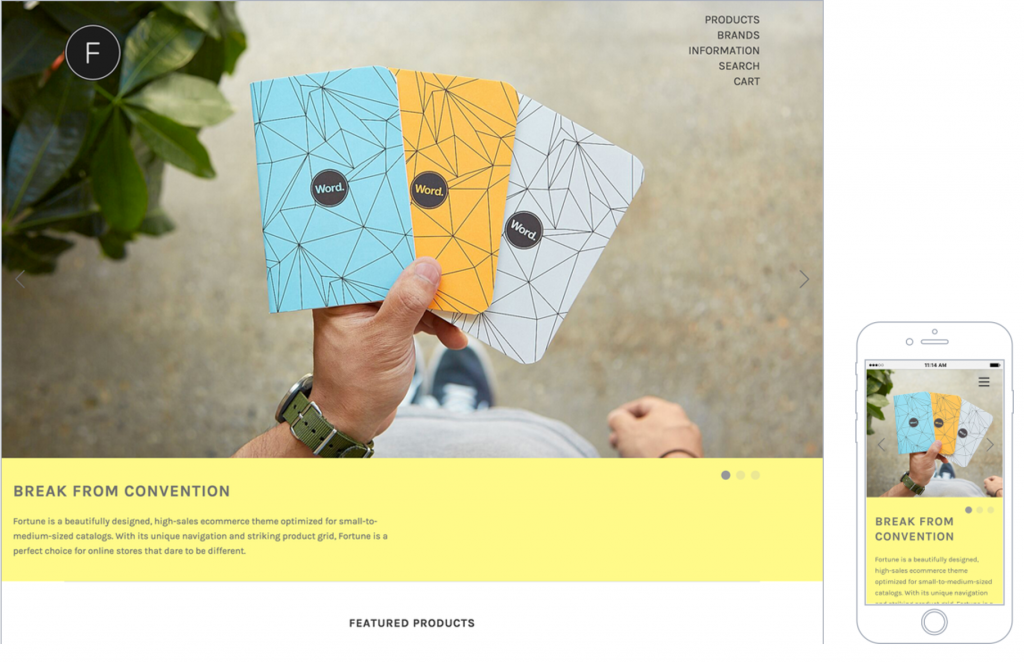 "Fortune Highlight" - A free BigCommerce store theme
The good news is all the store themes for Shopify and BigCommerce are optimized for viewing on mobile. But, if you want the ability to manage your store from a mobile device, Shopify would be the better option as they offer a variety of smartphone apps for store owners. While BigCommerce used to provide a mobile app, it no longer does so.
Pricing
If you're really stuck choosing between these platforms, it's best to take them up on their free trials and experience the platform yourself.
In terms of monthly fees, they both offer competitive prices. BigCommerce doesn't impose additional transaction fees, regardless of which payment processor you choose. On the other hand, Shopify will charge additional fees if you choose a third-party payment gateway (on top of the transaction fees that your chosen payment gateway charges.) For Shopify, you can get around the additional subscription transaction fee if you use their own branded payment gateway, Shopify Payments. However, Shopify Payments is only available in a handful of countries, so you might be out of luck depending on your store's location.
However, there is one important difference you should take note of with BigCommerce. BigCommerce puts a limit to what you can earn annually on each plan, which could be viewed as a slight push towards upgrading to higher plans. In Shopify, there is no such limit, which makes us lean more towards Shopify in this case.
Support
The customer support provided by both platforms is a close tie when it comes to the quality of their knowledge base and helps center articles. Both have an active presence on social media and their interaction and response times are impressive. When researching customer opinions, both have a decent amount of positive and negative reviews.
But if we had to choose, we still think that Shopify takes the lead on this. They've successfully created a thriving community for apps and developers. Not sure if it's because they've been around a little longer, but you will find more third-party apps and developers targeting Shopify users more so than BigCommerce.
So... Who Wins?
As Shopify has been around 5 years longer than BigCommerce, one could say that it gives them the upper hand in providing the better functionality and technical support that clients are looking for. You could also say that this is a disadvantage, as BigCommerce can learn from the mistakes of Shopify and other platforms, giving them the ability to address those issues. Still, if you're looking for a Bigcommerce alternative, we'd say that Shopify is what you're looking for, and vice versa.
In terms of the user interface, Shopify's content management system and the dashboard look familiar and give off a WordPress vibe, which may be why we find it easier to use. BigCommerce has a good user interface, but you still need time to get the hang of it.
When you choose a store platform, you want to consider user interface, functionality, store design options, pricing, and technical support. While BigCommerce fares well in all of these points, we still find Shopify a bit better. BigCommerce may offer more functionality "out of the box", but Shopify's content management system and friendly user interface compensate for this... in our humble opinion. Additionally, there are areas where BigCommerce has room for improvement, such as their pricing structure (still not a fan of putting a cap on how much you can earn per plan) and extending their knowledge base, and offering a better variety of themes.
In the end, it all boils down to you – identify what's important for your business, take advantage of their free trials, and make an informed decision!
---
Did you decide to use Shopify for your online store? Great! Connect your store to Easyship. Enjoy using us? Leave us some love in the form of a review on the app store.
Going to go with Bigcommerce? Awesome! Check out our API if you'd like to use Easyship for your online checkout.