Key Points:
Customs clearance is the act of moving goods through customs so they can enter the importing country
International shipments must be cleared by customs before they can be delivered to their customer
Key documents for customs clearance include: commercial invoices, packing slips, and shipping labels
---
Before your international shipment can be delivered to the customer, it must clear customs. Customs clearance is simply the act of moving goods through customs, so they can enter the country.
Every country imposes import duties and taxes on goods crossing their borders. This helps to generate income, protect the economy, environment, and the citizenry.
But what actually happens within a customs office? For many merchants, this unanswered question is a stumbling block on the way to lucrative cross-border shipping.
For 99% of merchants, though, clearing customs is a simple 4 step process. All you need is a few documents and you're done.
Easyship helps merchants generate all their customs paperwork, pre-pay import duties and taxes, and save on shipping couriers that transport your package from customs to the customer.
Table of Contents
01 The Customs Clearance Process
02 The Easy Way to Calculate Duties and Taxes
03 Customs Clearance Explained
04 FAQ
The Customs Clearance Process
In four steps, here's what happens when a shipment arrives at customs.
1. A customs officer examines your customs paperwork. These documents must be accurate and complete, specifically the shipping label and commercial invoice. The commercial invoice is most important because it lists the contact information for the shipper, the receiver, as well as the export date and airway bill number. Here's a full list of all necessary paperwork for customs clearance.
2. Import duties and taxes are assessed using the customs paperwork. Import fees vary depending on the type of goods, their value, and specific import regulations in the receiving country. Import duties are assessed on goods that exceed the de minimus value, or the minimum taxable threshold for imported goods. For example, a de minimus value of $100 means goods valued at $100 or less incur no import duties.
3. Customs requests payment for taxes and duties, if applicable. If your shipment exceeds the tax threshold, the customs officer checks if duty and taxes have been paid. Additionally, certain restricted goods may incur fees regardless of their value.
At this point, the choice between shipping with Deliver Duty Unpaid (DDU) and Deliver Duty Paid (DDP) becomes relevant.
Delivery Duty Paid (DDP) means that import duties and taxes have already been paid. Most express couriers services like FedEx have customs brokers who will process this payment on your behalf at customs. With DDP, the price you paid for shipping covers any import fees, and this is reflected on the attached shipping label. In other words, using DDP is the best way to ensure a smooth customs clearance process.
Delivery Duty Unpaid (DDU) means that import duties and taxes are unpaid. In this case, the customs officer forwards the shipment to an independent customs broker to collect the required amount.
Customs brokers are middlemen who charge fees for facilitating the customs clearance process. These variable fees can be expensive because they include brokerage, storage, and late payment.
With customs fees unpaid, the broker will contact the recipient to collect payment. Obviously, this may upset customers.
Here's a comparison of potential charges when shipping DDP and DDU: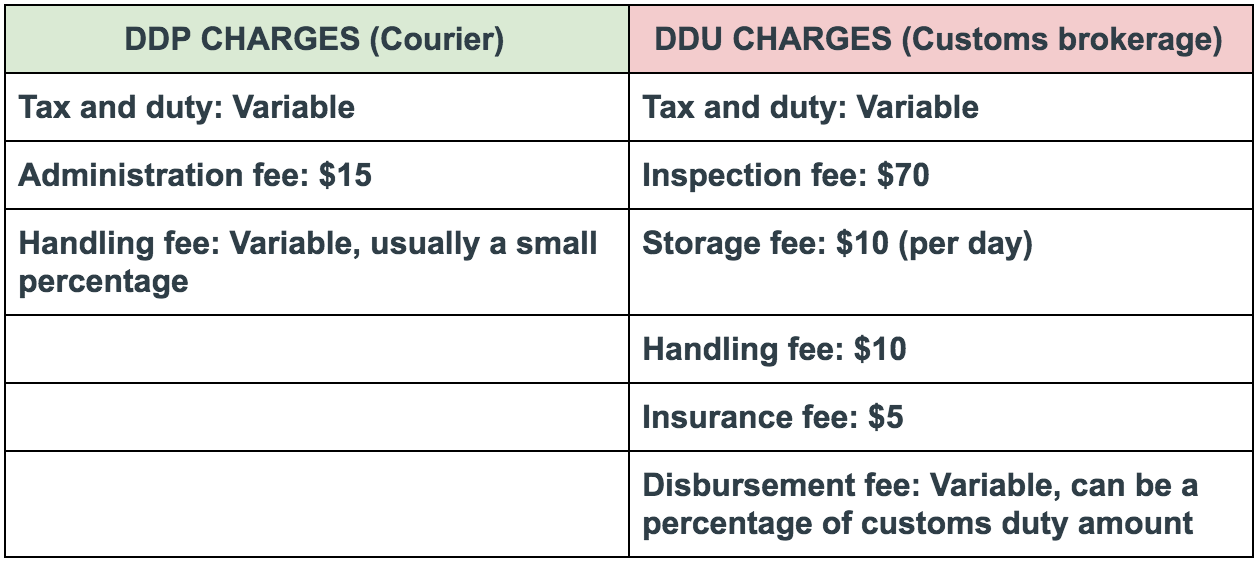 With so many variable costs, shipping DDU makes it impossible to tell customers the final amount for shipping. This is why we recommend that sellers pre-pay duties for a smooth delivery experience. Learn more about DDU and DDP here.
4. Your shipment clears customs once all duties are paid. Once customs clearance is complete, your chosen courier service transports the shipment from customs to the end-destination. Shipments rarely get stuck at customs. When they do, it's usually because of faulty paperwork. Here's what to do if your shipment gets stuck at customs.
The Easy Way to Calculate Duties and Taxes
As mentioned above, import duties and taxes vary along a handful of factors. This can make it difficult to get visibility of shipping costs and create a cost-effective shipping strategy.
Try Easyship's Free Tax and Duty Calculator to gain clarity on all import fees. Shown below, this handy tool gives you instant, accurate quotes for specific goods to your target country. For example, for shipping a $50 fashion item from the US to the UK.
---
Plus, every quote offers handy tips on shipping to your destination country. For all things, duties and taxes, check out our comprehensive guide.
Customs Clearance Explained
Shipping across borders takes a few extra steps. This article explained the total process of customs clearance, plus offered up an easy-use tax and duty tool you can use for every cross-border shipment. Happy shipping!
FAQ
What does custom clearance mean?
Customs clearance is the act of moving goods through customs so they can enter the country.
How long does custom clearance take?
Typically, a customs clearance takes less than 24 hours. If your paperwork is lacking, however, it could take several days before your shipment clears customs.
What documents are required for customs clearance?
The key documents for customs clearance are the commercial invoice and the packing slip and shipping label. Here's a complete list.
Can I organize the customs clearance myself?
Yes. This requires you to pre-pay all import duties and taxes, either when you choose your cross-border shipping service or separately. In other words, opt for Delivery Duty Paid shipping options.