If you're thinking about launching an online store and still need to figure out which platform is best for you, our "Shopify Vs." series is here to compare Shopify against other online store platforms and marketplaces!
In this post, we explore how Shopify stacks up to Squarespace's online stores.
Both Shopify and Squarespace have been around since 2004. However, Shopify has been an eCommerce store builder from the start, whereas Squarespace has only recently added eCommerce tools to their website builder within the past few years.
What to consider
When choosing between Shopify and Squarespace, thinking about your store's goals can help you decide which platform is right for you. Is your online store going to be a side hustle or a full-time gig?
The general consensus appears to be:
If you have many items to sell and you're serious about growing your online business, Shopify is a better fit for you.
If design is important to you, a website with information and content is a priority, and you're only looking to sell a few items and process a few orders a month, Squarespace is best for you.
Based on our unofficial survey, about 57% of Shopify sellers who use Easyship sell more than 50 items in their store.
Shopify vs Squarespace: Pricing
Shopify and Squarespace's basic plans are actually similar – the former charges $29/month and the latter charges $26/month. But once you get into the advanced options, the difference is striking. Squarespace's Advanced plan costs $40 per month versus Shopify Advanced's $299. However, one must look at the value you get at these prices to help you decide whether the platform is worth the price. Is it worth it? Let's take a look at the key differences.
Key Differences Between Shopify and Squarespace
There is definitely a huge jump in price between the Advanced plans of Squarespace and Shopify, but one can argue that the additional resources that Shopify offers justifies this. For example, Shopify offers 24/7 support via email, live chat, and phone whereas Squarespace's 24/7 support only applies to email. Squarespace offers no phone support services and at the moment, live chat is only available from 4AM to 8PM Eastern Standard Time.
Shopify also offers marketplaces where you can hire designers and developers for your store (Shopify Experts), or buy or sell an entire online store (Exchange).
The Shopify App store
Many blogs agree that Shopify's App store gives them an edge over Squarespace. If you're looking to add more functionality or customizations to your online store, you can definitely knock yourself out. The app store has integrations with hundreds of third-party apps that can assist with everything from marketing and social media to product sourcing, inventory, and accounting. Some are free, others you have to pay extra for. (Need help with your shipping? There's a Shopify app for that.)
An official Squarespace app store doesn't exist, although there are a few third-party marketplaces for Squarespace apps. Other than that, you're a bit limited with what you can change or add on to your store.
In our straw poll of Shopify sellers who use Easyship, 71% mentioned Shopify's app store as one of their favorite features.
Shopify's Point of Sale (POS) technology
If you're looking to do pop-up stores or join any offline fairs or marketplaces, Shopify offers a retail package at an additional cost. You can get hardware such as a barcode scanner, cash register, and receipt printer. Squarespace doesn't offer this option, so if you're really serious about having your store both online and off, Shopify is a better platform for you.
Squarespace's templates and designs
Squarespace has a reputation of offering modern and stylish templates, and though subjective, many find them visually superior to Shopify. Experts also agree that they find Squarespace a bit more user friendly when it comes to setting up your site - their layout engine allows you to drag and drop your content, and this is not the case with Shopify. Also, Squarespace has an integration with Getty Images and reportedly has cheaper rates to purchase images than if you were to directly purchase them from Getty or other vendors.
Payment gateways (AKA credit card processors)
When it comes to accepting credit card payments on your online store, Shopify offers a lot more flexibility than Squarespace. Thanks to Shopify's thriving app marketplace, you can find over 70 different third-party payment gateways, which allows you to basically accept payment from anywhere around the world, in mostly any currency.
With Squarespace, you have access to two payment gateways: Stripe and Paypal. It's true that both are reputable, but if you're a fan of neither, you'll find yourself right at home with Shopify.
Shipping
At Easyship, we are fans of calculated shipping rates, which are accurate shipping rates calculated based on the weight of your package and your destination. (Mention "flat rate shipping" 'round these parts and you might cause one our employees to faint.)
Both platforms provide some form of calculated shipping rates. For basic plans, you're in luck if you use Shopify and your store is based in the US or Canada, as they offer USPS and Canada Post calculated rates by default. On Squarespace, basic accounts don't have access to calculated rates, only advanced accounts do.
If you do have an advanced account on Squarespace, you are still limited with your calculated rates as they only apply to domestic shipments within the US. On Shopify, the default calculated rates can be used for international shipments.
Shopify vs Squarespace: Shipping Rates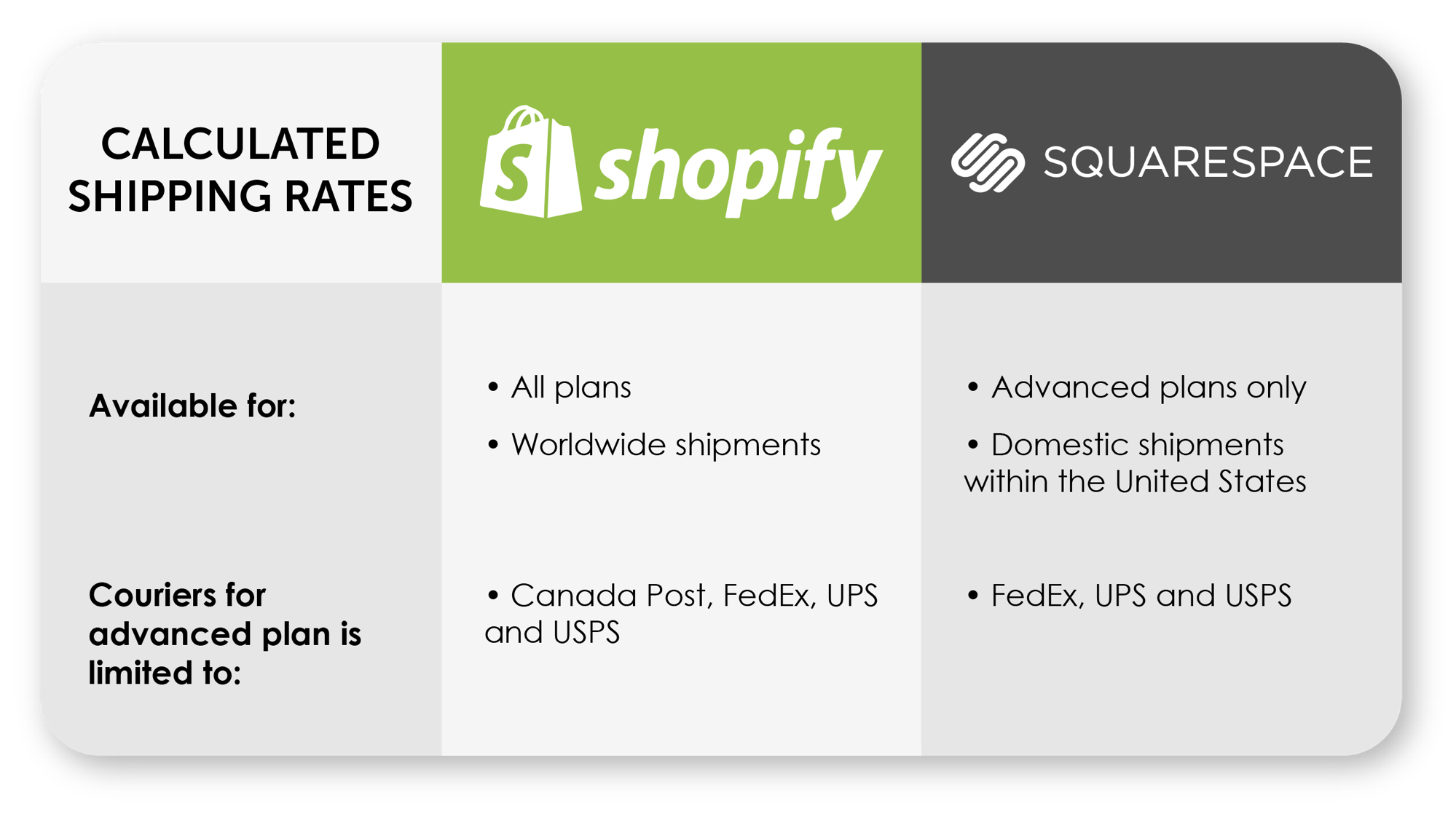 Still, the shipping options on both platforms leave much to be desired. If you're looking for a solution that allows you to show calculated rates for any destination around the world, in addition to taxes, duties, and other fees, consider using our dynamic Rates at Checkout. Learn more.
Who wins?
For those who see their eCommerce business as a serious investment, Shopify is the winner here, hands down. They offers lots of resources and inspiration to help you get started, and with their extensive app marketplace you can customize everything about your store. If you have the extra funds, you can even work with Shopify-verified designers or developers to optimize your store even more. Ready to exit? Put your online store on the market in their Exchange marketplace. They offer support at all stages in the life-cycle of an eCommerce store, and we love them for that.
Shopify vs Squarespace: Our Comparison Table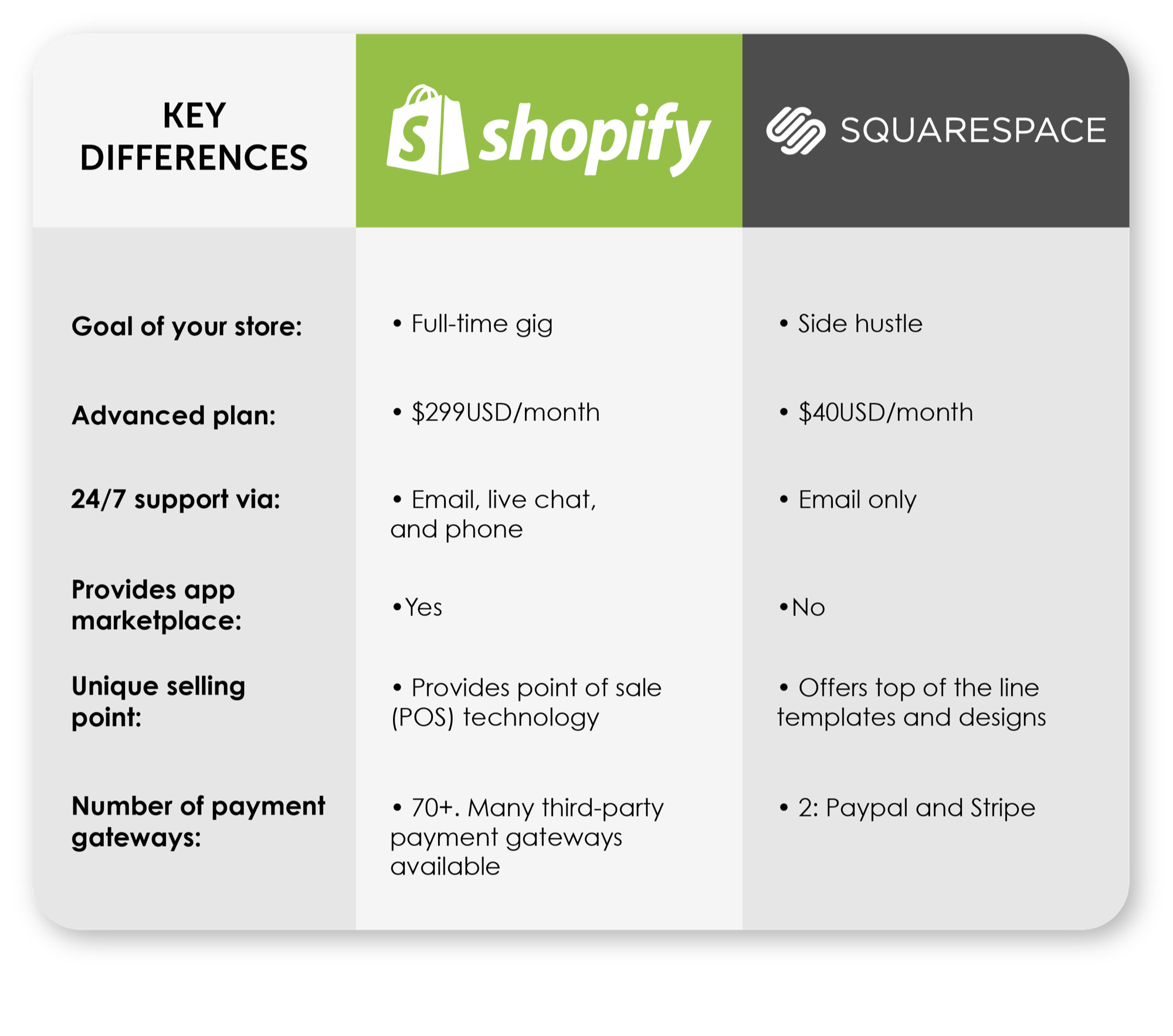 Shopify vs. Squarespace FAQ
Is Squarespace easier than Shopify?
Generally, Squarespace is easier to use, but Shopify has much more sophisticated eCommerce features like their marketing and SEO features and analytic features.
Does WooCommerce work with Squarespace or Shopify?
Yes, WooCommerce works with Squarespace and Shopify.