Pre-Launch Marketing Strategy For Your Crowdfunding Campaigns
If you are one of those thinking to crowdfund their businesses, that means you have already experienced the 'Eureka' moment of your life. Congratulations for that! By now, you must have already conceptualized your idea or possibly have developed the prototype too. But, have you as yet embarked on starting with a Pre-Launch Marketing Strategy for your Campaign?
Have you ever wondered how come Apple products always receive an overwhelming response on their very first day? You guessed it right! Thanks to their flawless Pre-Launch Marketing Strategy.
Bringing you back to the topic, if you are somebody who is obsessed with solving a problem and you think you can do it at a profit, you are at the right page. We are going to guide you on what should be the roadmap to creating the right environment around your campaign and curating the best pitch story that will garner you the ultimate crowdfunding success.
---
Pre-launch marketing strategy can be easily divided into two broad categories:
Create a Buzz
Craft a Story
It will be a knotty tug of war to decide, which of the above two gets the higher weight. Therefore, you will need to work equally on both to register an assured victory. Let us discuss each category at length:
CREATE A BUZZ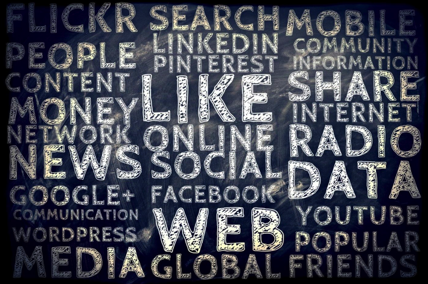 Creating a buzz means building an environment where your concept or business can thrive and flourish better. Call it, handling the external affairs. Creating awareness and inducing inquisitiveness around your product. Believe it or not, many crowdfunding campaigns which turned out to be super successful blockbusters, smashing some strong records; started with their 'creating a buzz' activity well in hand. Many times it began as soon as the idea hit their thoughts for the very first time.
Listed below are some of the essentials for 'creating a buzz
A Website
No surprises here; although, it is utterly significant to do it correctly. Get yourself a domain name that echoes the soul of your project and launch your website with some great content inside; presented tastefully. Remember to do the appropriate 'on page' search engine optimization of your site; for bots to spot your page quickly. Moreover, keep adding some great stuff inside, for it to get crawled frequently. It could be an opinion poll, news about your organization getting featured on mainstream media, or that of winning an award or competition, notification about events you are organizing or are about to participate in. As well as inside stories covering the new hires, employee retreats, etc. A well-kept website speaks volumes about your organization. There is nothing like the organic traffic. However, it takes some time to earn that kind of reputation with search engines and audiences. Therefore, get going right away.
Social Media Ventures
This one is much talked about and for all the right reasons. The finest part about getting involved with social media is that it is easy to track the activities. Digital marketing is most appreciate because the results can be measured, which facilitates making a winning strategy out of it. Some of the most frequented social media platforms are:
Facebook
LinkedIn
Twitter
Google+
Snapchat
Pinterest
Instagram
Youtube
Vimeo
Check out the infographic below to better understand the nuts and bolts of Social media. The statistics used in the infographic are as of August 2015.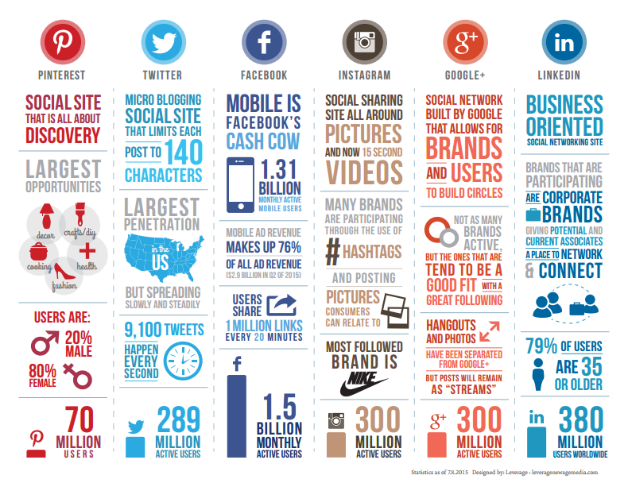 Designed by: Leverage
Social Media allows you to reach unexplored territories that are otherwise full of opportunities. Go ahead with pushing some thought provoking content on various social media platforms.
Building a community
Get started with a dedicated blog. Connect with other bloggers on a similar topic or complementing topics. Seek for some guest blogs too. Moreover, publish your articles on other popular blogs in your niche that already have some heavy traffic. Discuss your project on various online and offline communities. You can start a group on meetup. Do host webinars using Webinarninja or GoToMeeting. Stay active on Facebook, and LinkedIn Groups related to your industry, as well as crowdfunding in general. Press your topic on various discussion forums like Quora and Yahoo answers. The idea is to leverage on social commerce. Feel free to ask questions, give answers, seek suggestions and leave opinions. The idea is to bring your organization under the scanner of other like-minded people.
Creating the email list
This one is the most cost-effective tool to generating some really potential leads. Commence on your email collecting endeavour sooner than later. Leave no opportunity to collect email addresses from any and every visitor of your website or blog. You can send regular newsletters and emails to stay in touch with them using MailChimp or SendGrid. Make sure emails sent by you are duly personalized and contain meaningful content. Moreover, it must not look like a marketing campaign or a spam message for that matter. Feel free to ask your subscribers to participate in a survey. You can design a survey using SurveyMonkey. Extend offers, seek suggestions, etc. You can also send best wishes emails during festivals or any other celebrations. In sum, stay alive in the minds of your supposedly prospective investors.
Word of Mouth
Word of mouth marketing will always remain to be the holy grail of creating a buzz. Discuss your project with your mom, your favourite cousin, your uncle, your roommate, your kindergarten buddy, your colleagues, and everyone around who show even an iota of interest in what you are doing and what you wish to achieve. Tell them your story convincingly; while taking criticism in your stride and appreciation as a vote.
While working on creating a buzz about your project, simultaneously you will need to work on crafting a story for your official campaign launch.
CRAFT A STORY

The Best part about Crowdfunding is that the participants (campaigners as well as investors) in this technology are more experience-driven and are usually less bothered about the return on investment they receive. That indicates that your campaign pitch should be different than any of the usual marketing pitches. The aim of your campaign should be to connect and convince, and not sell. People here are more interested to know about the story than the benefits they would arrive out of the product.
Here are some of the crucial components while you 'Craft your story' that demand emphasis and correct execution:
Calculate your capital requirement
How much oxygen you need to survive through your initial phase is a tricky math. Do it accurate. And, never ask for more than survival. Your funding goal should be realistic and capable of reasoning out with the audiences. Here is a video clip discussing tips on setting the funding goal published on the Kickstarter blog that will make this arduous task somewhat easy. The creators of the clip come from the entertainment industry. However, the underlying message makes sense for every campaigner. Mainly, the pointers presented in the last 25 seconds of the video.
Name and the Catch line
The First thing people will notice about your campaign is its name; followed by the tagline. Squeeze out a name and a catch line for your campaign from your overall experience on the project. They should be capable of telling the entire story. Otherwise, they should be at least capable of giving enough hints to raise some legitimate curiosity. Canary, a campaign launched on indiegogo is an excellent example to explain my point better.
The Story
Your story is going to be the lifeline of your project. That is your chance to tell the world how your campaign can a make a difference. Include answers to all the essential queries like why, what, where, when, how and how much. Your campaign pitch must display your passion for the project. Moreover, it should give a vivid picture of what is your objective behind the product and what is your ultimate vision. Importantly, never miss on introducing your team to the world in campaign pitch.
Landing page
Campaign pages on the Crowdfunding portals are a bit too monotonous. Therefore, create an additional landing page and link it to your campaign. Your landing page should be media rich and substance rich and technically correct. There are ample of free and paid tools available that help you create amazing landing pages. The most popular ones are Unbounce, instapage, and launchrock. Don't forget to do the AB testing of the page and a sound on page SEO to improve conversions.
Campaign Video
Campaign video is pivotal to the success of your campaign. Give the highest premium to the quality of the video and the audio. The movie should be engaging and informative. Keep a few seconds to discussing rewards in the clip, but do not overstress it. And of course, end with a bang. Do not forget to include a clear Call to Action and social media buttons asking the audiences to share. Some of the video editing tools you can use that even professionals vouch for are wevideo and blender. Nevertheless, the protip for producing a perfect video pitch is referring to other successful campaign videos. Check out this very edifying Indiegogo blog, giving links to some of the best crowdfunding pitch videos published on their site last year.
Still Pictures
This one demands special attention if you are about to launch a pre-order kind of campaign. Hire a professional for product photography. A good image holds a lot of value. However, you can try your hands too on clicking some good stills provided you have a good camera at your disposal. There are plenty of photo editors on the web like Pixlr and fotor that will help you polish the pictures before they go to the floor.
Rewards
A handsome reward has the potential to inspire and pull backers in. Take time to design at least 3-4 rewards that will make sense to your kind of audience. It is significant that your supporters feel duly incentivized. Things that come under the purview of rewards range from a thank you note, a digital hi-fi, to autographed merchandise and early bird offers. Find out some amazing reward you can extend to your backers in this Kickstarter blog.
First line of investors
All said and done, another vital thing you better be ready with before you launch your campaign officially is your lead investors. As per indiegogo, campaigns that can raise 33% of their set goal within the first 2 weeks; improve their chances of success. Therefore, don't shy away from seeking help from your kin and kith. Go all out and take your chances.
Crowdfunding is becoming a competitive market; therefore you can always hire an agency with some excellent track record that can help you sail well through you Pre-launch marketing strategy and even after that. Launchboom or Agency 2.0 are among the most known ones to pick from.
However the information provided in the blog will definitely help you design a winning Pre-launch marketing strategy for your Campaign. Good luck!