If you're looking to ship to customers in the Middle East, Africa, and Southeast Asia, Aramex shipping may be right for you!
If you've never heard of this courier, they are one of the fastest growing regional couriers, headquartered in Dubai.
The company has been operating since 1982 as an express service in the Middle East, and due to its commitment and dedication, they've now evolved into a global shipping company. They have offices throughout the world in every major region of the world, including the United States, giving them the ability to provide service to both saturated and emerging eCommerce markets.
Benefits of using Aramex shipping
Aramex is one of the leading shipping and logistics providers in the Middle East, making it a household name for shipping to Dubai and other regional destinations. While less known in the United States and some other countries, it's still becoming known as an emerging and increasingly-influential courier in the world of global eCommerce.
They have a strong and diversified network in the Africa and Southeast Asia regions, especially for the last mile.
You can easily track your package on Aramex tracking page on their official website. Alternatively, your customers can go to trackmyshipment.co (run by Easyship) for the latest status updates.  
They have a presence in the major coastal ports of the United States, with offices in Los Angeles and New York.

Comparison of Aramex with other major courier companies
Let's say you want to send a small package from Atlanta to Dubai.
The box dimensions will be the size of a small USPS flat rate box (about 9" x 6" x 2"), with a weight of 3 pounds.
Here are the results we got from Easyship's Get A Quote: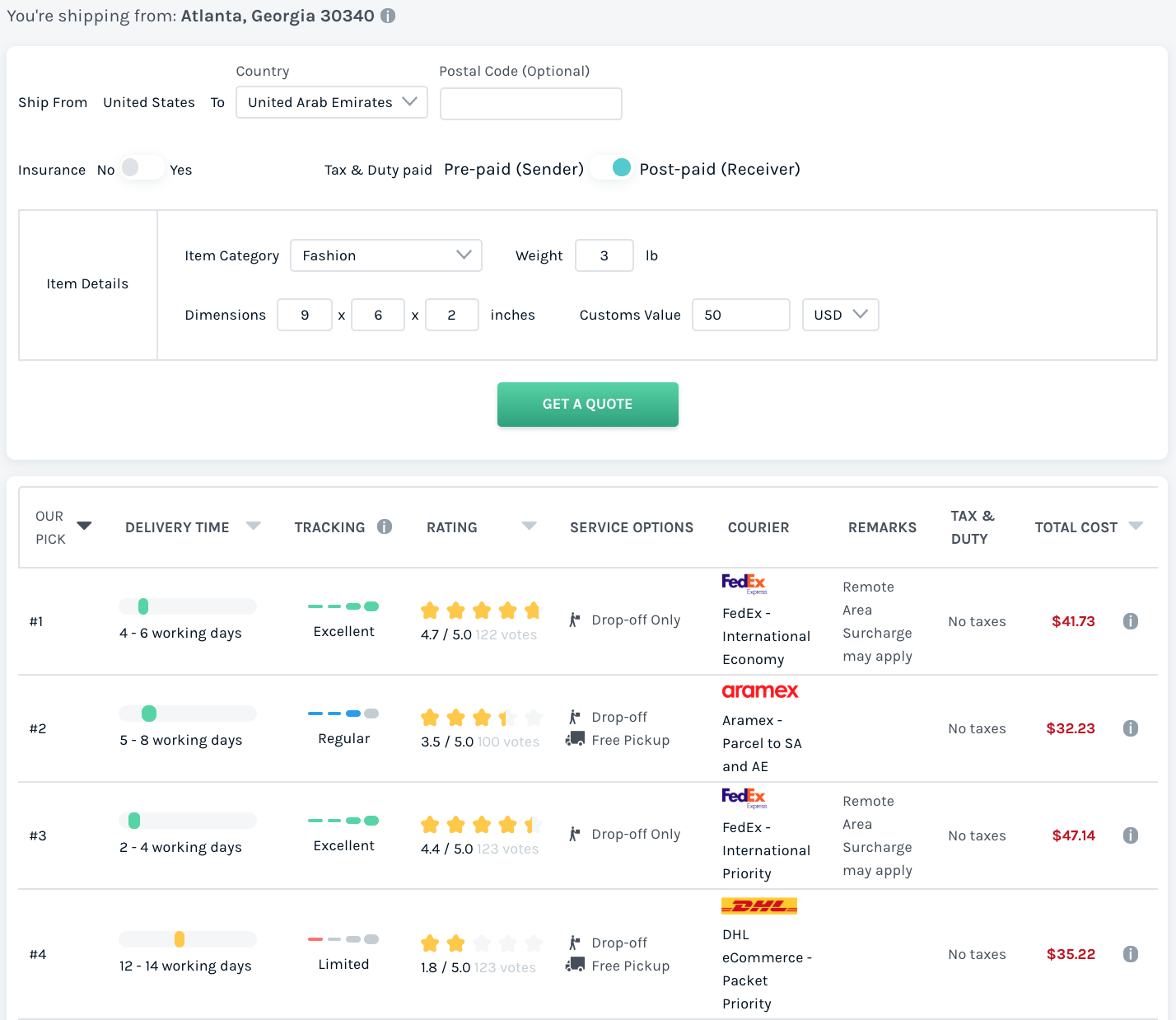 When comparing FedEx to Aramex, you'll notice that FedEx can get your shipment to Dubai a lot quicker, but at approximately $10-15 more.
There's also the option of choosing DHL eCommerce, but that solution is $3 more with a delivery lead time that's almost twice as long.
What about USPS, who's known for economical solutions?


In this case, the cheapest USPS rate is $1 more expensive than Aramex, with a longer delivery time and basic tracking only. To match the parcel tracking of Aramex, you could choose the USPS Priority Mail International solution, but it would cost you $20 more and the time frame is still a lot slower.
Easyship partners with Aramex to provide affordable solutions
If you're shipping from Hong Kong, Singapore, or the US, you'll be able to access Aramex shipping solutions.
In fact, 39% of our shipments to the UAE were handled by Aramex shipping in 2018.
As mentioned above, Aramex has US offices in Los Angeles and New York. If you don't live near these major cities, not to worry - you can still take advantage of their affordable rates to the Middle East and overseas!
This hybrid solution will allow you to use both USPS and Aramex for delivery, which in turn allows you to cut costs on shipping.
Before you pay for your shipment, you'll see the following message: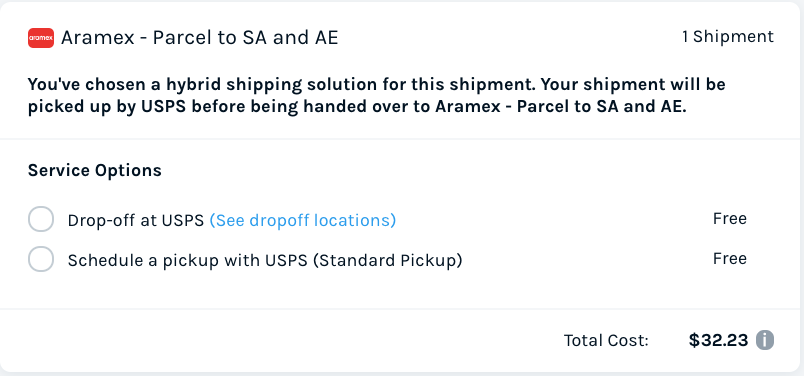 In this case, all you need to do is drop off your package at your local USPS office, or schedule a free pickup from USPS. From there, USPS will send your shipment to the nearest Aramex facility, which will then process your shipment all the way to its final destination.
When calculating your Aramex shipping rates, be sure to also use our Easyship shipping rates calculator!
Conclusion
Aramex shipping is very reliable regional courier that you probably wish you knew about sooner. With headquarters in Dubai, they are one of the best couriers to use if you're looking for a gateway to the Middle East, Africa, and Southeast Asia.
Sign up for Easyship today for free to get a quote for Aramex shipping!
Aramex Shipping FAQ
Does Aramex deliver to USA?
Yes, Aramex offers express services for large or small parcels to anywhere in the world.
Does Aramex deliver after 5pm?
No, deliveries are made until the end of the business day. Deliveries are conducted during business hours, unless otherwise stated.