If you're not based in Asia, it's possible that you've never heard of SF Express.
SF Express is a regional courier that specializes in delivery to Mainland China (including special administrative regions such as Hong Kong and Macau) in addition to other major Asian destinations.
As we are a proud partner of SF Express in the United States, Hong Kong, and Singapore, we thought it would be helpful to share a little more about them.
What's SF Express
SF Express a leading courier company in mainland China that has been in operation for over 25 years. SF started their journey in 1993 in Shunde, Guangdong, and was renamed SF Holdings officially in 2017.  They provide financial management and business services, including big data analysis and state of the art logistics services.
SF has recently launched an international direct mail service, with service centers in the following countries:
Mainland China, Hong Kong, Taiwan, Macau, Singapore, South Korea, Malaysia, Japan, United States, Thailand, Vietnam, Australia, Russia, Mongolia, Indonesia, India, Cambodia, Mexico, Canada, Europe (all 28 countries), Brazil, Myanmar, Brunei, New Zealand, UAE, Bangladesh, Sri Lanka, Pakistan, and Philippines.
Benefits of Using SF Express:
SF Express China is one of the leading shipping and logistics providers in China, making it a household name for shipping to Hong Kong and other regional destinations.
SF Express shipping maintains a network with local courier companies in several overseas destinations, making it a reliable and affordable courier for international shipping.
The SF international tracking system lets you track each and every step of the shipping process. You can easily do it from the main website of SF Express, or through Easyship's trackmyshipment.co.
SF Express USA is also a very reliable shipping service introduced in the US in 2012. It is rated as one of the most affordable services if you're shipping to Asia from the US.
They offer free pickup services in select locations.
Comparison of SF Express with other major courier companies
Let's say you want to send a small package from New York City to Hong Kong.
The box dimensions will be the size of a small USPS flat rate box (about 9" x 6" x 2"), with a weight of 3 pounds.
Here are the results we got from Easyship's Get A Quote: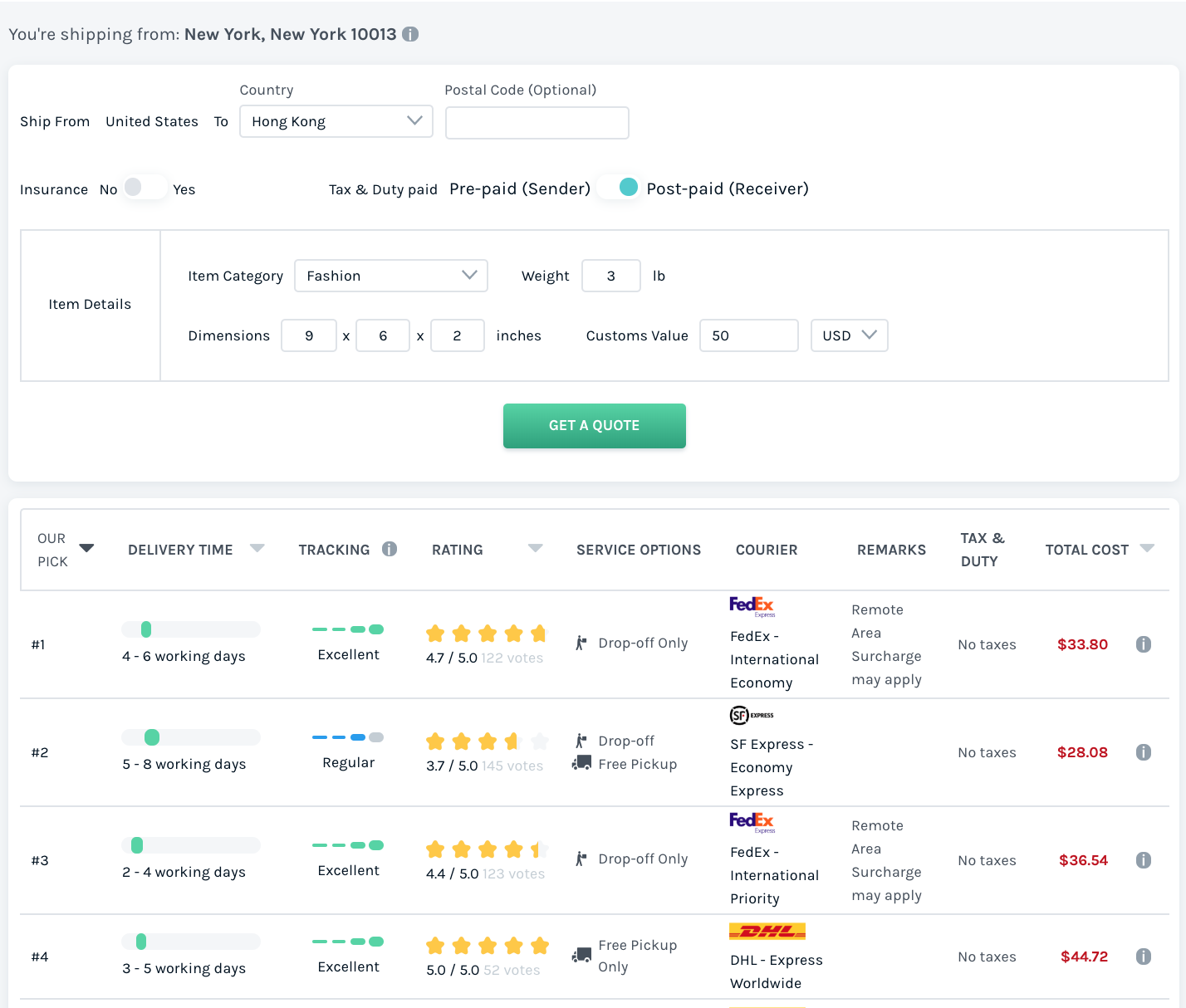 While FedEx International Economy takes the #1 spot for being the fastest courier, the SF Express - Economy Express solution is $5 cheaper and will only take 1-2 days longer for delivery. Additionally, you'll get a regular tracking service, and even a free pickup if you're in the New York City metro area.
USPS usually offers the most affordable shipping solutions, but not in this case:



For this quote, USPS solutions ended up being ranked 6th and 12th by our algorithm, with delivery times that are twice as slow as SF Express. Additionally, the cheaper solution only offers basic tracking, and Priority Mail International offers regular tracking but costs almost twice as much.

Easyship's Hybrid Solution with SF Express
If you don't live near a major US city where SF Express has an office, not to worry - you can still take advantage of their affordable rates to Asia!
Our hybrid solutions use couriers that are best suited for first and last mile delivery, which in turn allows you to cut costs on shipping.
Let's say you want to ship a package from Iowa to Hong Kong. SF Express would still be an available option, but before you pay for your shipment, you'll see the following message: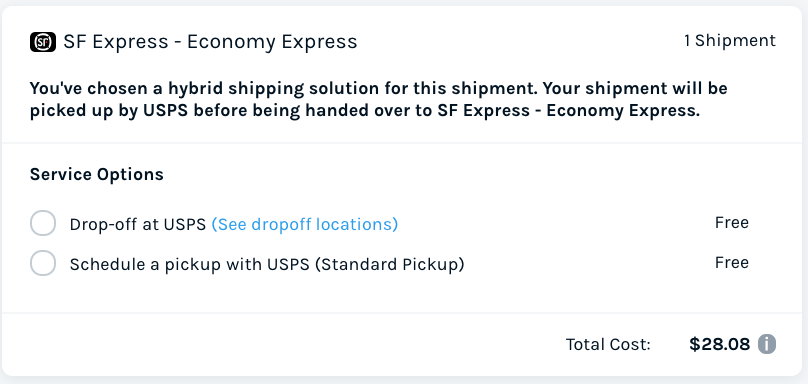 In this case, all you need to do is drop off your package at your local USPS office, or schedule a free pickup from USPS. From there, USPS will send your shipment to the nearest SF Express facility, which will then process your shipment all the way to its Asian destination.
Is SF Express Right for Your Business Needs?
SF Express has been providing efficient and affordable shipping services for over 25 years. They mostly cover Asian regions and mainland China. We process many shipments from the US to China through SF Express. You can easily track your packages on their website, through Easyship's dashboard, or on trackmyshipment.co.