When thinking about selling online, one of the first questions that come to mind is where to sell. If you're interested in participating in a marketplace, it's likely that you'd be recommended to either eBay or Amazon.
With other major platforms like Shopify or Etsy vying for your attention as well, choosing one platform out of many can feel overwhelming. Or, should you choose both eBay AND Amazon? Well, the answer is not simple but it's something we'll discuss in this post. So, let the eBay vs Amazon comparison begin!
What are the basic differences between selling on eBay vs Amazon?
We will go over this from a seller and customer perspective, business model, usability, pricing, payment, and delivery.
Sellers:
Amazon is quickly growing into a marketplace for big brands and professional sellers.
eBay also has some established names as sellers but in comparison to Amazon, the top sellers are relatively unknown, or less popular brands. That is why small sellers feel that they stand out more on eBay.
Customers:
Amazon is younger than eBay but because of its ease of use, it has garnered a bigger customer base. Amazon customers can enjoy many perks if they subscribe to services like Prime.
It's no doubt that Amazon Prime, which offers free 2-day delivery as a perk, is what's driving their growth. In terms of demographics, Amazon customersare younger and enthusiastic buyers with higher-income scale, making it a very popular eCommerce platform in America.
However, eBay hasn't lost the game altogether as it is still better than Amazon if you want to get imported items. This is because it offers a variety of sellers where you can get these from.
Also, if you are looking for antiques, vintage items, or collectibles, eBay is a great place to start. Their customer base skews a little bit older than Amazon customers, and tend to have lesser income. As eBay is also a very good place for auctions, many customers prefer looking for auctions and sale deals.
Business Model:
Amazon seems to attract B2C sellers, making it more of a retailer-based platform. On the other hand, eBay is known to attract B2B sellers, making it more of a wholesaler-based platform.
However, it's still possible to sell on both platforms as a small seller.
Usability and Automation:
The Amazon business model doesn't give you extensive control over price setting or format, as compared to eBay. You can set fixed price Amazon, while you can choose between fixed price and auction format on eBay.
Setting up your listings on Amazon can be a lot faster as it can automatically generate your product description for you, whereas on eBay you'll have to do it yourself. Amazon makes it easier for you to set and run your store, while eBay gives you full control of your marketing by allowing you to customize everything.
Brand image:
Amazon has established their brand image that portrays them as the ultimate destination to get any item. Whenever an item is needed by the customers, they assume that it must be available on Amazon. "Amazon has it all" is the perception that Amazon has marketed.
In the case of eBay, the misconception is that people think that eBay sells used items but in reality, more than 80% of the products being sold on eBay are brand new. It can be a challenge for sellers to convince buyers that they are actually selling new items.
Selling on Amazon vs eBay Pricing and Fees:
Selling on eBay is cheaper than selling on Amazon. This is because Amazon charges more fees that can eat into your profit margin. The standard Amazon fee is 15% with a $0.99 fee per item, while eBay fees for a standard account are often less than 9.15%.
However, there are some categories where Amazon charges lesser fees, such as personal computers (6%), camera, cell phones, consumer electronics, and gaming consoles at 8%, and base equipment power tools at 12%, in addition to the $0.99 per transaction.
For an example of the difference in the Amazon and eBay fees, this table from CrazyLister is a good example: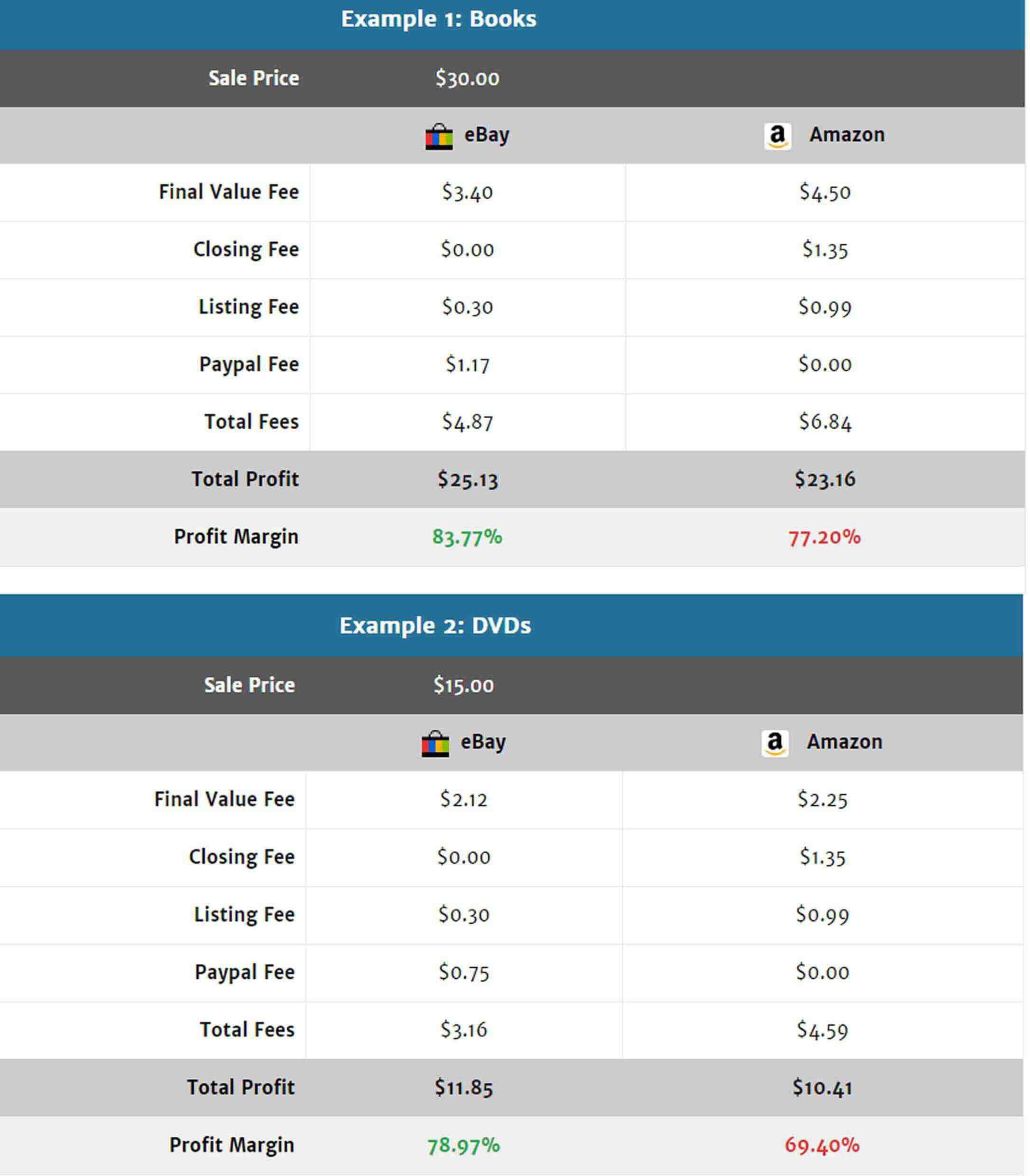 Payment methods:
eBay prefers payment through PayPal, but all major credit and debit cards are accepted. Other than cash payments, wire transfers are also accepted. Cash on delivery in certain regions is also done. Personal cheques, cashier's cheques, and money orders are also listed as other payment methods but most sellers will wait for them to get cleared before dispatching items.
Amazon's answer to PayPal is their own branded Amazon Pay. But it also accepts all major credit and debit cards. You can also use Amazon.com store card, but only with some merchants.
Shipping and global appeal:
Globally, eBay is preferred and used, especially for imported goods and vintage items. Amazon has more of a regional appeal, specifically the US, although it is slowly expanding to places such as Singapore. Still, there are many regions and emerging markets where Amazon hasn't paid attention to.
As far as shipping and logistics are concerned, both the platforms offer good and responsive services for fulfillment and delivery. For far-off international destinations, they partner with popular and efficient 3PL companies for order fulfillment.
For sellers who are not working with a 3PL and doing the self fulfillment route, they can consider using Easyship to help provide competitive shipping rates for their overseas customers. Check out our Amazon and eBay integrations for more information!
The pros and cons of using Amazon vs eBay:
Amazon pros:
You can take advantage of the large traffic on Amazon and increase your sales.
Your customer base can increase as your store and products will become more known.
Services like Amazon prime will help attract more customers and help close sales
Fulfillment by Amazon (or Amazon FBA) can be an efficient shipping option for you, as they have an extensive network of Amazon warehouses to make logistics easier for sellers.
Amazon Cons:
The fees are more than eBay, reducing the amount of profit you can earn per transaction
There is not as much control over your pricing and marketing
Amazon FBA has very strict very packaging rules, which can make it a challenge if you're trying to send your items to their warehouse.
eBay Pros:
The fees and charges are less than Amazon, so you end up earning more profit
It gives you better control over price setting, product description, marketing, and overall look of your store as it is a more programmer- based platform.
It's more popular globally, even after being less popular in America as compared to Amazon
It is the perfect place to sell vintage or old stuff. Also if you want to penetrate the market with imported items, eBay is the place to go
eBay also offers easy and affordable order fulfillment service for merchants to store pack and ship their items. eBay order fulfillment API can be easily used in your store
eBay Cons:
eBay favors buyers more than the sellers. For example, they have a new policy where the buyer can return the product even after 180 days after purchase, which can be tough on merchants.
Another disappointing aspect is that in auctions you can get unappreciated bidding, meaning a bidder might have bid on the auction and won but they might end up not buying or paying, making the sellers lose potential customers
Which platform is good for your business?
To judge whether you should sell on Amazon or sell on eBay, you should first have your business strategy in mind. Ask yourself:
What items are you planning to sell? Certain items are favored on eBay (vintage items and imported items) while some are more popular on Amazon (electronics and daily commodities)
Which region are you planning to sell to? As major markets are covered both by eBay and Amazon, it can be hard to choose based on this. However, there are certain areas where one platform is more popular than the other (for example, Amazon in the US and eBay in the UK.)
How much investment do you have at your disposal?  This all comes down to which fee structure you're comfortable with. If you have enough budget, it may make sense to consider selling on both!
eBay vs Amazon Conclusion:
Selling on popular platforms with high global user traffic can help do the heavy lifting (in terms of marketing) for you, while allowing you focus on converting those customers.
What's great about both platforms is that you don't need to have extensive developer knowledge to know how they work or to set them up.
We hope this post shed light on the major differences between these marketplaces!