If you're an artisan or craftsman hoping to start a side-hustle selling your creations online, you should have an in-depth look into Amazon Handmade vs Etsy. While there are plenty of online marketplaces for you to sell your creative wares, these two platforms are market leaders in selling handmade products, so they're where you need to be.
Amazon Handmade and Etsy are both great platforms but, as with anything else, each has pros or cons that will make them more or less suitable to each individual user. Understanding both platforms will help you make an informed decision about which platform is better for you (of course, selling on both is an option, too!)
Table of Contents
01 What's the Best Place to Sell Homemade Items?
02 Is It Cheaper to Sell On Amazon Handmade or Etsy?
03 What Products Can I Sell On Amazon Handmade vs. Etsy?
04 How to Sell on Amazon Handmade vs. Etsy?
05 Who Pays for Shipping on Etsy and Amazon Handmade?
06 How Easyship Can Help
What's the Best Place To Sell Homemade Items?
Etsy was founded in 2005. This online marketplace specializes in handmade and vintage products, creating opportunities for artisans to list and sell their handmade arts and crafts. The company dominates the handmade products market; craftsmen, artisans, vintage dealers, and small business owners flock to list their unique products and creations on this platform due to its reputation. With over 2 million active sellers and 35 million buyers, Etsy bills itself as the ultimate destination for unique craft products.
Amazon, on the other hand, is the world's largest retailer that sells almost everything. In 2015, it launched Amazon Handmade, a microsite that allows artisans to sell their products. As a whole, Amazon has a customer base of over 300 million, and approximately 2 million active sellers.  Although Amazon isn't especially well-known as a place to buy or sell handmade items, it is certainly known as the place where you can get anything and everything, which is why millions of customers turn to this platform daily to purchase what they need.
Amazon Handmade vs. Etsy: Similarities
Custom products: Both Amazon Handmade and Etsy allow artisans to offer their unique, handcrafted, and personalized products to millions of customers.
Product listings: On both Etsy and Amazon Handmade, sellers use numbered fields, text, drop-downs, and custom pricing to create product listings; these function very similarly on both platforms.
Amazon Handmade vs. Etsy: Differences
You'll quickly realize that there are plenty of differences between Amazon Handmade and Etsy, and you'll need to consider these carefully when deciding which platform to use. Here are some of the main things to consider.
1. Sign up Process
Etsy has an easy sign-up process for artists to get started, while on Amazon Handmade, you have to complete and pass an artisan application process, which can take weeks or months to get approved.
2. Product Manufacturing
Etsy allows you to hire the people you need to run your business and partner with other manufacturers to produce your goods. Amazon Handmade requires your products to be made either by you or the staff in a company with 20 or fewer employees. A member of your collective can also make your products if it has less than 100 people.
3. Listing fees
Amazon Handmade charges no listing fees; listings have no expiry date. Etsy charges $0.20 per listing, and these expire after four months.
4. Payment Process
When you sell through Etsy, funds are available to you once the transaction is complete, so as soon as the customer makes a purchase. Amazon Handmade has a lengthy payment process that can take up to 24 days for a single transaction. Payment for goods is released only after the products are shipped.
5. Product Categories
Etsy has 160 defined product categories, while Amazon Handmade has only 14 narrowly defined categories and doesn't allow products that don't fit into these categories.
6. Traffic Exposure
Amazon, as a whole, attracts over 300 million customers. Although its Handmade platform is not very well known, sellers are able to get their products in front of a huge number of users. On the other hand, Etsy has a customer base of around 35 million buyers, all of whom are specifically looking for handmade and vintage items.
Are Items On These Platforms Really Handmade?
Largely, yes. Etsy specializes in offering handmade and vintage products to its customers by allowing artisans to partner with their employees or other manufacturers to grow their businesses and provide products to customers across more than 160 categories.
On the other hand, Amazon, as a whole, is known to be a marketplace for anything and everything. With its Handmade microsite, however, customers from over 80 countries can access handmade products either made by the artisans themselves or their employees. You have to prove that you are the artist behind the products to be allowed to list and sell products, so you can be assured that any products on this site are handmade by the seller or their company.
Will Reviews And Return Policies Help Me Sell?
Customer reviews matter. They can really help boost your sales since they help to establish the trustworthiness of your products and your shop. These platforms allow customers to browse products based on customer reviews, popularity, price, or recent additions.  
Well-outlined return policies for your shop will also give customers confidence when purchasing your products because they'll know what to expect in case a product doesn't fulfill their expectations. So, customer reviews and well-outlined return policies will play a role in helping you sell your handmade products.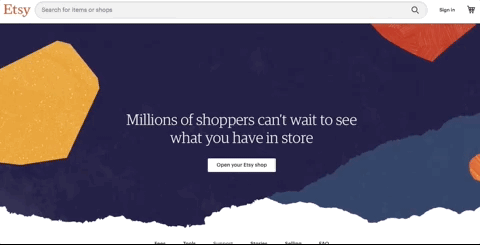 Is It Cheaper To Sell On Amazon Handmade or Etsy?
Sellers incur some costs to sell to the millions of customers that use Amazon Handmade and Etsy. Let's look at their charges and see which one is cheaper.
Costs For Selling On Etsy
Etsy charges a $0.20 listing fee per item
There is a 5% fee deducted from each sale you make
Transaction fees are applied to shipping charges
No monthly charges
Costs For Selling On Amazon Homemade
Amazon Handmade charges a 15% commission on each product sale, and a minimum $1 referral fee
Amazon Homemade Transaction fees are applied to shipping charges
A $39.99 monthly charge applies if you sell more than 40 non-handmade items on one account
Listings are free and don't expire
Although Amazon Handmade offers free item listings with no expiry, its commission fee per sale is three times that of Etsy's. The $39.99 fees per month for certain accounts and a $1 percent referral fee only make the cost of using this platform far higher. So, most artisans will find it cheaper to sell on Etsy rather than Amazon Handmade.
What Products Can I Sell on Amazon Handmade vs. Etsy?
On these platforms, you can sell handmade items, craft supplies, and vintage goods. Top categories are:
Jewelry and watches
Gifts
Beauty and personal care
Toys and games
Pet supplies
Sporting goods
Artwork
Clothing
Kitchen and dining
Stationary and party supplies
Shoes and handbags
While Amazon Handmade allows you to sell products only in their 14 narrowly defined categories, Etsy allows you to sell products in up to 160 different categories.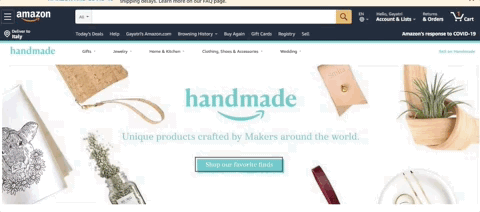 How to Sell On Amazon Handmade vs. Etsy
The process of becoming a seller on Etsy vs. Amazon Handmade is rather different. With Etsy, it is much more straightforward, while on Amazon Handmade, you'll have to complete an application process. Let go through a step-by-step guide to getting started on each platform.
How To Sell On Etsy
1.     To get started, register for an Etsy account
2.     Set preferences for your shop, such as currency, language, and home country
3.     Choose a name for your Etsy shop
4.     Add items, complete their listings, and publish the listed items to your shop
5.     Choose your payment methods and set your billing information
6.     Open, customize, and market your shop
How To Sell On Amazon Handmade
1.   Complete an application process to become an artisan.
2.   Sign up for a Seller Central account to complete the registration
3.   Wait for approval
4.    Once approved, create your item listings for free
5.     Manage and grow your business by leveraging their platform programs
Who Pays For Shipping On Etsy And Amazon Handmade?
When it comes to the Etsy vs Amazon Handmade debate, shipping can be a critical factor. The customer will pay the shipping fee on both platforms. However, the seller has to decide whether to charge the shipping fee separately from the price of the item, or offer free shipping and bundle the cost into the item list price. For example, if you have an item for sale at $30 and need to charge a standard $5 shipping fee, you can adjust the item list price to $35 and offer "free" shipping to recover the cost.
The advantage of this is that you avoid transaction charges on your shipping fees (these are 5% on Etsy and 15% on Amazon Handmade) and your customer will feel like they're getting a good deal! Of course, this would only really work if your shipping prices are static; if you use dynamic pricing, you will probably have to charge shipping fees separately.
Whichever option you choose, Easyship can help you decide how much you should be charging for shipping fees. You can use our shipping calculator to figure out approximately how much any shipment will cost, and our taxes and duties calculator to find out how much you would have to pay for shipping internationally. Then, you can sign up for a free account to access over 250 affordable courier solutions and a host of useful features that will make shipping easy!
How Easyship Can Help
As you can see, both platforms have their pros and cons. Amazon Handmade allows you to leverage a vast customer base of over 300 million people at a high cost. But, Etsy gives you access to over 35 million customers - who are specifically interested in handmade and vintage products - at a reasonably lower cost.
Depending on your selling needs, you can now pick what is right for you between Etsy vs Amazon Handmade, open your shop, list your items, and start selling. Whichever platform you choose, Easyship can help so that you can seamlessly manage shipping with a choice of affordable couriers, automated shipping labels and customs forms, branded tracking, and flexible insurance.