A shipping policy explains how you ship your goods to customers, in addition to delivery costs, timeframes, and restrictions.
Having a detailed shipping policy on your eCommerce website is beneficial to your business. By clearly communicating how your customers will receive their goods, you can:
Build trust in your brand
Close more sales
Decrease cart abandonment.
Your shipping policy doesn't have to be extremely complicated either - short and simple will do just fine. What to include in your shipping policy
A good shipping policy includes all of the following:
Courier options - the type of shipping companies that your business uses
Service types - same day, overnight, international, and standard, for example
Pricing - If you offer free shipping, this is a good time to mention this. If you use flat rates, you can include a pricing table. Better yet, consider offering calculated rates at checkout, which are accurate shipping rates based on the customer's location.
Handling times - the amount of business days it takes for a seller to ship an item
Delivery timeframes - the amount of business days it takes an item to ship
Restrictions - list places that you can't deliver to (such as PO Boxes or countries where your goods are prohibited). Can also include extended timeframes or additional costs for dangerous goods such as batteries or liquids.
Before You Continue
We have a shipping policy generator tool to make this structure even easier
A note on international shipping
If you're new to shipping internationally, note that duties and taxes may apply to your shipment depending on what the item is and it's value.
You can determine if your business will be affected by checking out our Countries page and researching what the duty and tax rates are for the main destinations you plan on shipping to.
If duties and taxes will apply, there are two ways to handle payment:
Deliver the shipment with duties and taxes paid (DDP). Certain express couriers have certified brokers who can process these payments to customs for you for a small, fixed fee.
Deliver the shipment with duties and taxes unpaid (DDU). However, by choosing this option, your customer will be responsible for settling the amount directly with customs.
Regardless of what option you choose, it's best to be upfront with your customers about what they can expect with their shipment.
Shipping policy examples
OSTRICHPILLOW: Duties and Taxes
A good example that mentions how duties and taxes are handled is OSTRICHPILLOW, a company that creates pillows to help you power nap anywhere.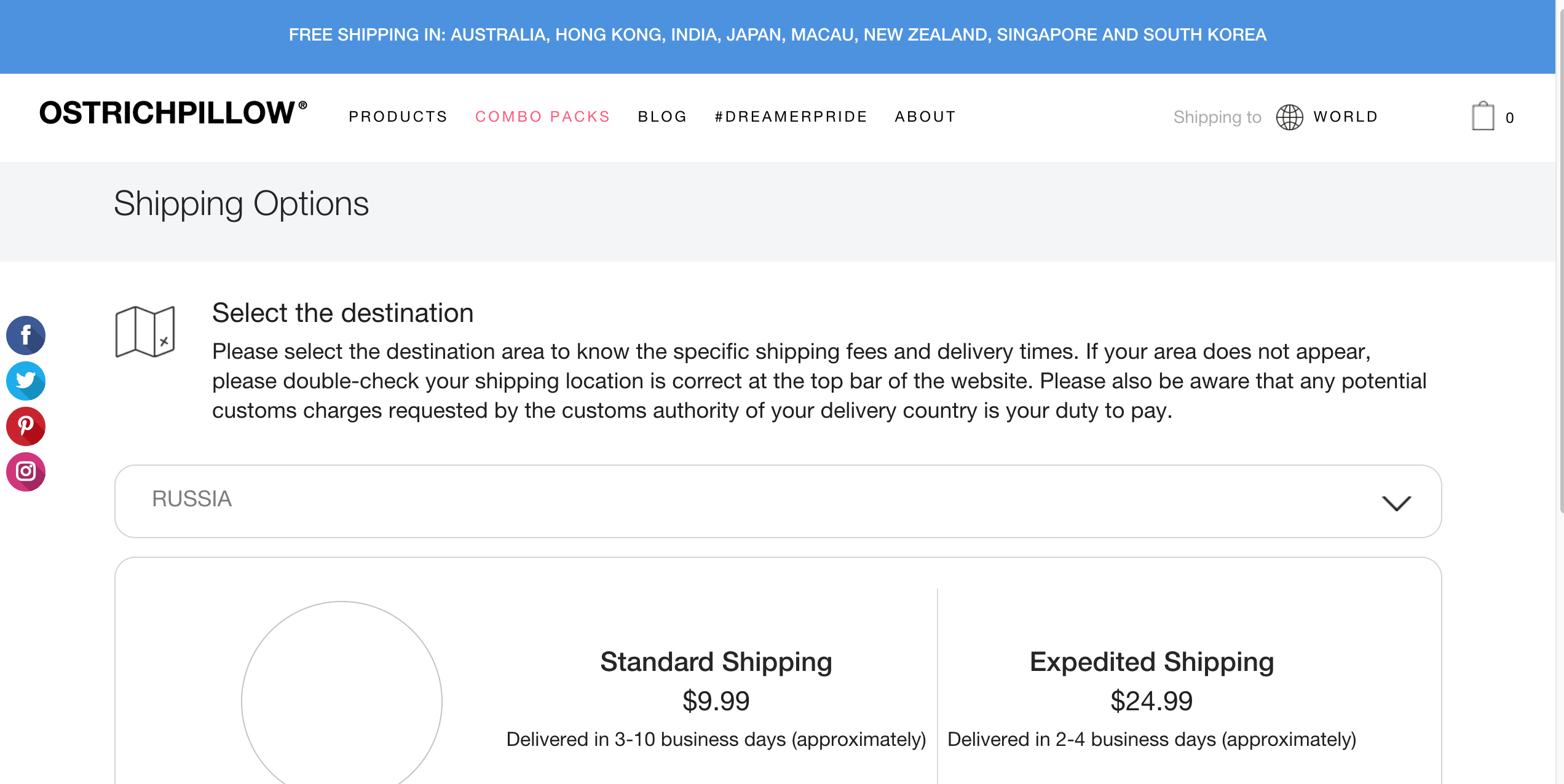 On their Shipping Options page, they mention that "any potential customs charges requested by the customs authority of your delivery country is your duty to pay."
Pro tip: If you'd like to give your customers an estimate of the duties and taxes they may have to pay, consider using Easyship's Rates at Checkout plugin. In addition to showing the three best shipping options for the customer based on their delivery address, you'll also have the choice to show duty and tax amounts for full cost visibility.
Modest Mark: Short and sweet
As we mentioned before, your policy doesn't have to be extremely complicated. We like the way Modest Mark, a creator of minimalist wallets, did their policy:

Their shipping info manages expectations for delivery timelines, and includes this cute ending: "Generally, all international orders take anywhere from 3 to 21 working days for shipment to arrive... if you live in Santa's home up north, send a reindeer."
Conclusion
In addition to making your policy short and clearly communicated, don't forget to make it easy to find on your website! Many eCommerce stores combine their shipping and returns policy together - and did you know that 67% of shoppers check a store's returns page before making a purchase?
Bottom line - don't miss out on this opportunity to build trust by neglecting your shipping policy! At the end of the day, shipping is marketing - a well-thought out shipping policy can assist in converting those sales and delivering happiness.
And good news for you: we here at Easyship developed a shipping policy generator that can help you get a policy tailored to your store in minutes!