Key Points:
Shopify rightfully points this out by saying "Shopify's built-in Fulfillment by Amazon integration is available only in the United States, excluding APO and FPO addresses
Easyship offers premium shipping tools to streamline your shipping processes, such as our Shipping Rates Calculator
Easyship offers up to 89% off discounted rates on 250+ couriers
---
In this article, we focus on providing value for eCommerce merchants who sell into two online sales channels you should arguably never outsource: Shopify and Amazon.
To provide a high degree of customer satisfaction your fulfillment services must be flawless.
We define a flawless delivery service as meeting the following criteria:
Your inventory is always available
Customers around the globe can purchase your products
You offer free shipping & returns
Your customer receives a tracking ID and is able to receive shipping status updates at any point
Your customer never has to pay duties or taxes upon receiving the order
Your delivery time never exceeds 2-3 days (ideally less)
You follow up via email to make sure your parcel has arrived on time and to make sure your client is fully satisfied

Like it or not but if you live in the West your customers will always compare your order fulfillment performance with that of Amazon.
Fortunately (or unfortunately depending on your perspective) Amazon sets the bar extremely high. If you are a PRIME member in the US or Europe you enjoy free 2-day shipping, free returns, and many more perks like access to extremely discounted deals, access to a multitude of music and movies, etc.
While your online store will never be able to match all perks Amazon provides, the goal of running your own eCommerce store is to provide at least a seamless logistics experience.
Most Shopify & Amazon merchants choose between one of the following fulfillment options to achieve this goal.
Table of Contents
01 How Does Mercari Shipping Work?
02 The 3 Mercari Shipping Options
03 The Price of Mercari Shipping Rates
04 5 Mercari Shipping Tips
05 Mercari Doesn't Offer International Shipping
06 The Best Mercari Shipping Options and Rates
OPTION 1: NATIVE SHOPIFY & AMAZON FBA INTEGRATION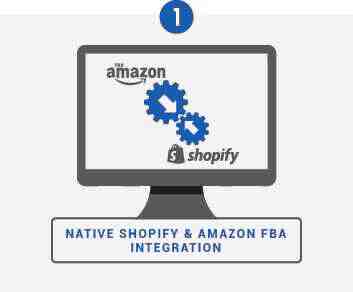 You run a Shopify store and one Amazon US Seller Central account. In this scenario, Amazon can fulfill all US orders coming from Shopify. You can activate this in the Shopify backend by going to "Settings" > "Shipping" > "Fulfillment and Dropshipping".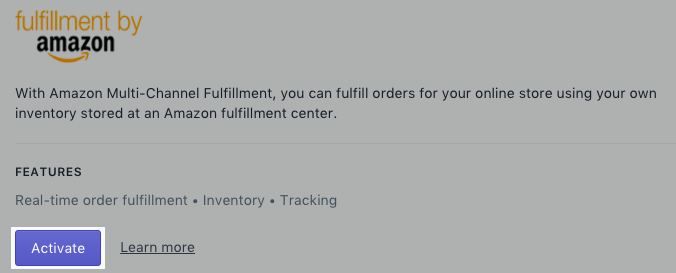 If your business generates 90-100% of all sales in the US, then this option is likely to satisfy you. However, if you want to also ship internationally this solution does not work.
Does Amazon Ship Internationally?
Shopify rightfully points this out by saying "Shopify's built-in Fulfillment by Amazon integration is available only in the United States, excluding APO and FPO addresses. Fulfillment by Amazon requires third-party app integration to ship orders internationally." For more info on the native app click here.
This leaves many people to look into 3rd party APPS. In other words, while the above option is sufficient for some store owners, it is insufficient for many others, in particular for those with a large international client base.
OPTION 2: ONE AMAZON FBA ACCOUNT & SHOPIFY & THIRD PARTY APP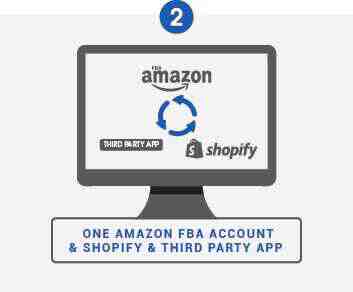 In this scenario, you have all your inventory stored in Amazon US or Amazon EU warehouses. You also run a Shopify store and use an app like "FBA Shipping" by ByteStand.
The app connects your US or non-US Amazon FBA account to your Shopify store. It provides real time shipping quotes from Amazon FBA to your customers. For some merchants selling low cost / low weight items, this might be the perfect solution.
However, as of May 2018, this app doesn't provide a magic solution for global fulfillment. You still have to choose either the Amazon US or the EU marketplace as your centre of fulfillment.
Those orders shipped internationally will be costly for your customers and will take longer to arrive at your customer's doorsteps. Most crucially though, Amazon FBA does NOT ship via Incoterm Delivery and Duty Paid (DDP).
As a consequence, parcels might get stuck at customs and your customer might have to pay (heavy) import VAT or duty fees.
Last but not least, your products need to be approved for the Amazon FBA Export program. If your products are not approved, you can't even choose option 2.
OPTION 3: TWO AMAZON FBA ACCOUNTS & SHOPIFY WITH 3PL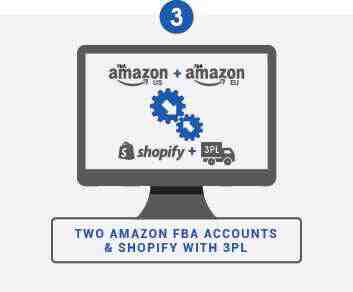 You set up at least two Amazon Seller Central accounts, one in the US and one in the EU (we recommend in the UK), and ship your inventory to their warehouses.
Under the Amazon FBA fulfillment service program, Amazon fulfills all orders coming in from all seven Amazon marketplaces in the EU and the US marketplace.
In addition, you work with a 3rd party logistics provider (3PL) and store inventory in their warehouse(s). For all orders coming through your Shopify website (no matter where your client is located globally), your 3PL will pick, pack and fulfill the order.
The beauty of this option is that most 3PL providers are able to sync with your Shopify store and are also able to send DDP parcels internationally. To see a full list of recommended 3PL, read our recent blog post here.
This option allows you to fulfill all orders internationally no matter to which country. However, this option also has its downsides: Having stock in multiple Amazon and non-Amazon warehouses has the potential to make inventory management tricky.
Having inventory management software like TradeGecko or ShipHero in place is in most cases recommended.
OPTION 4: TWO AMAZON FBA ACCOUNTS & SHOPIFY & VA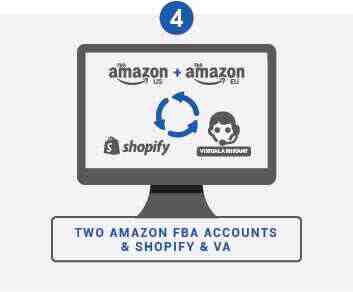 In this scenario you store all your inventory in Amazon warehouses.
Just like in the previous option, you can use the Amazon FBA fulfillment services for all Amazon orders coming from the EU and the US. For all US and EU orders which come through Shopify, you can create a manual "fulfillment order" via Amazon EU or Amazon US Seller Central account.
The beauty of this approach is that you only have one pool of inventory, i.e. there is no need to install and manage a (sometimes costly) inventory management software.
This approach is a good solution for Shopify/Amazon merchants who only generate a small number of sales via their Shopify website and who have at least 80-90% of their clients based in the US and EU combined.
Having said that, this strategy prevents you from selling outside the US or EU. The related workload is also quite cumbersome. Unless you want to do this manual work yourself, you will do need to hire a virtual assistant (VA) who manually enters all orders into your Amazon EU or Amazon US Seller Central account.
As with all manual data entries, this process is error-prone. However, if the VA is trained (and maybe a 2nd VA proofreads all entries) then you should be ok. How to hire a professional VA? Read our blog post here.
OPTION 5: VARIOUS AMAZON FBM ACCOUNTS & SHOPIFY & 3PL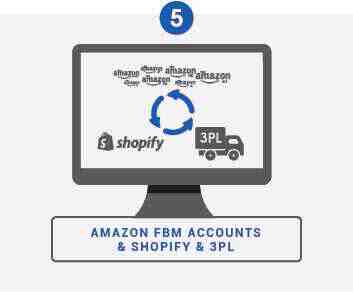 In contrast to the previous options, you don't use Amazon to fulfill any of your orders.
You open up Amazon Fulfillment by Merchant (FBM) accounts in as many countries as you like and run your Shopify store at the same time.
However, ALL orders are fulfilled by your 3PL of choice - ideally located close to your factory. Again, to see a full list of recommended 3PL providers  - click here.
Depending on how quickly your 3PL can ship products, some of your products might not be eligible for PRIME status. However, when choosing this option, benefits prevail:
You have 100% control over the pick/pack and fulfillment process.
In most cases your, your 3PL will offer (much) lower storage fees compared to Amazon.
All your inventory is stored with one 3PL reducing potential inventory sync issues.
Your 3PL can help you select the most adequate shipping service (for example, ePacket or DDP).
Provided you reach certain MOQs - you can use your own (premium) custom shipping boxes.
Possibility to include product inserts and promotional flyers.
Many 3PL will also offer "kitting services" which help you to combine separate SKU into a single one.
Obviously, the above list is not exhaustive, it just outlines the fulfillment options we come across most often.
As you can see, there is no magic bullet for storing and shipping physical goods internationally once you decide to sell via Amazon and Shopify. All options come with benefits and downsides.
We recommend you speak with fellow e-commerce business owners and ask which option they have chosen and what experiences they have made.
Now it's your turn! How do you fulfill your orders internationally? Do you agree with our recommendations above? What is your favorite option?
If you have any other suggestions, feel free to leave a comment below or send an email to info [at] sonrisa-ventures.com. Happy selling!
---
About the author: Guido Jackels is the founder and managing director of Hong Kong-based Sonrisa Ventures, an official Shopify Partner. Sonrisa Ventures is a one-stop-shop for launching brands in Europe via localized Shopify websites and via Amazon marketplaces. Connect with him on LinkedIn.