When you're looking at running your own eCommerce startup, one of most crucial aspects of managing your business is to have a solid financial management system in place. Launching your own online store requires a lot of planning and attention to detail. While you may be concerned with inventory and website building, amongst other things, properly managing your finances is perhaps one of the most crucial facets of successfully setting up a company. This post will give you a few tips to help you get started on managing the finances for your online store.
1. Legally register your company
The first step before you can start managing your finances is to formally establish and legally register yourself as a company. Operating as a company may not only be a legal requirement in certain countries, it is also better to officially incorporate because potential customers and partners may conduct due diligence to check if you are a legitimate business. Additionally, most banks will not let you open a corporate bank account without proper business registration documents. Incorporating your company in Hong Kong has its own share of benefits such as being in a prime location and low taxes. If you want to set up a Hong Kong company, there are a few steps you must complete to officially register your new business and obtain particular government licenses.
2. Open a dedicated business bank account
Once you've formally established your company, the next step in managing your finances is to open a separate bank account for your business. Ideally, this should be done before you start receiving or paying business income or expenses so that you can separate all corporate flows from personal finances, making it much easier to handle earnings and taxes down the road.
In certain countries, it is a legal requirement to have a dedicated bank account for your business. While sole proprietors may not be legally required to have a separate account, it is still recommended to do so as separating your business transactions from personal finances sets you on the right path for easier financial management down the road, such as during tax filing season.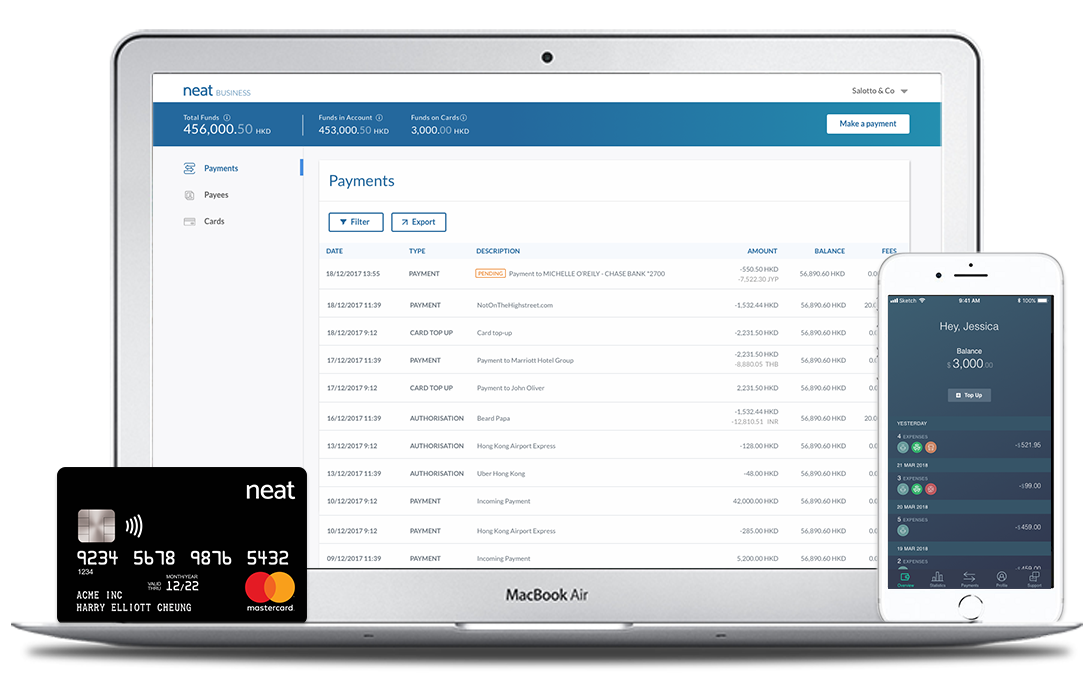 With Neat Business, it is easier than ever to open a current account for businesses. Neat provides a fully digital alternative to a traditional corporate bank account. Neat allows businesses from around the world to get a dedicated Hong Kong bank account number and receive payments from their customers, along with disbursements from e-commerce platforms such as Stripe, PayPal, and Amazon. Instead of running your business from your personal bank account, you can open your business account for free and make use of all of Neat's useful tools. Read more about Neat's pricing model.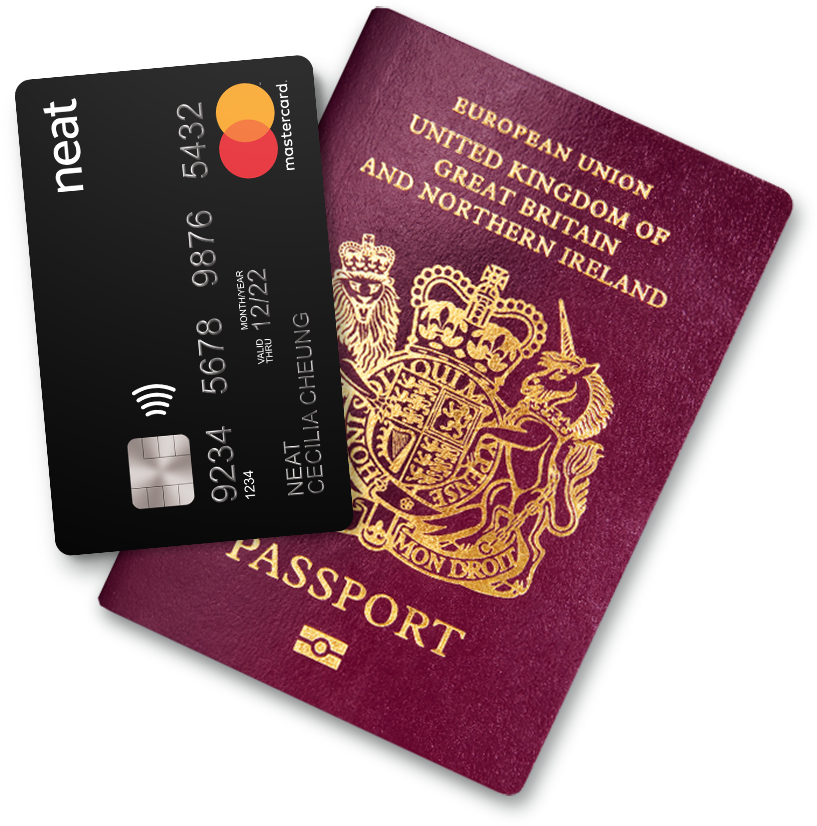 After setting up your business account, you'll want to get business credit cards to enable your employees to make purchases anywhere in the world as well as withdraw cash at ATMs. In an eCommerce business, your team may be travelling around the world to source products and meet potential partners. The Neat Mastercard allows you to get an unlimited number of business expense cards with the best exchange rates around the world. Transaction data is available in real-time and you can allocate custom amounts, manage limits, and add restrictions for each card or department.
3. Understand the local laws and regulations about import taxes
As an eCommerce company, you will undoubtedly be sourcing certain parts or products from abroad and will be subject to import taxes in your country. Before you start purchasing and importing goods to sell in your store, it is important that you understand the rules about importing goods into your country and the associated taxes and duties. Most countries will publish these rules online and update them periodically, so it is important that you stay up to date with the latest rules. In Hong Kong, you can learn more about the current rules on imports and exports on the government website.
4. Establish an efficient payment system
When setting up your eCommerce website, choosing the best payment system is critical in ensuring a great shopping experience for your customers. Before you open up your online store to customers, you should set up a streamlined payment process as this will minimize cart abandonment. As a customer, there's nothing worse than reaching the payment stage and realizing there's no easy way to pay for your purchase. Customers need to know that their personal details are secure with you. You can add to your online credibility with a sophisticated and easy to navigate payment system.

You should consider offering customers the choice of providing their credit card details, paying with payment gateways such as Stripe and PayPal, or even Cash on Delivery. Neat Business seamlessly integrates with most payment gateways such as Stripe and PayPal so that your business revenue can go straight into your bank account.
5. Stay on top of your bookkeeping
We can't place enough emphasis on the importance of proper bookkeeping. It's best to start keeping records of all your financial transactions, including any receipts, right from the beginning. Keeping receipts organized in a logical and systematic order will save you time when it comes to accounting. The most foolproof way to do so is to keep digital copies, named or filed in chronological order.
With Neat Business, your team members can add pictures of their receipts to every transaction on the go. Trust us, maintaining electronic copies of receipts will save you lots of time in the long run. Receipts will always be electronically linked to your transactions, so no more rummaging through cabinets full of random receipts and papers.
Doing proper accounting, ideally in real time, helps you keep track of your company spending and financial standing, which is crucial when making big financial decisions. Potential investors may even want to see your books and having them in order will make this process a whole lot easier. It is also a legal requirement for you to file your taxes. Ensuring up-to-date books and accounts leads to a carefree tax filing experience that most companies usually dread. Keeping track of deductible expenses will also make it easier to prepare tax returns and may even help lower your tax bill.

There are many tools that can help you maintain a record of all your transactions. When you are just starting your company, an Excel sheet will do the trick but when the company starts to grow, you'll want to consider cloud accounting solutions such as Quickbooks or Xero to automate the process. These options will integrate into most major eCommerce platforms such as Shopify, eBay, Etsy, and Amazon, reducing the hassle of manually inputting entries into your books.
6. Establish a payroll method
So, you have your company, business account, payment, and accounting methods set up. What's next? You need to be able to pay your employees. Depending on how new your company is, you might have full time employees or freelancers you hire on a project-to-project basis. Regardless, you'll need to have a system in place to handle all things payroll-related, deciding on a payroll schedule and making sure to withhold the correct taxes in your country. Neat Business provides an easy solution to pay invoices and employees. You can send the money to bank accounts worldwide, directly from your business dashboard or have your employees use Neat Personal cards, to which you can transfer funds for free and in real-time.
---
About the author: Saumya Mathur works on Marketing at Neat, a fully digital alternative‪ to a traditional corporate bank account, focused on startups & SMEs. She is primarily focused on content marketing and partnership outreach to bring Neat to companies around the world.