Now that you're using Easyship to sell worldwide (and if you're not, you should get on that) one way to increase your sales throughout the year is by doing year-round promotions in targeted regions around the world. This is a great strategy to ensure that you not only have strong sales numbers at the end of the year (due to Black Friday, Cyber Monday, and Christmas) but also during other seasons that may not coincide with the western calendar.
If you're interested participating in other shopping holidays besides Black Friday and Cyber Monday, below are dates that are historically good for sales in other countries. We hope you can use this information to your advantage and stay profitable year-round!
---
OCTOBER
Children's Day
What is Children's Day? Children's Day is an unofficial holiday in Brazil. In recent years, it has become one of the busiest sales days for Brazilian retailers and eCommerce sellers.
Date: October 12
Sales Increase: 1.3x increase in sales on this day
Target country: Brazil
Target demographic: Children
Popular items:
Toys
Games
---
Diwali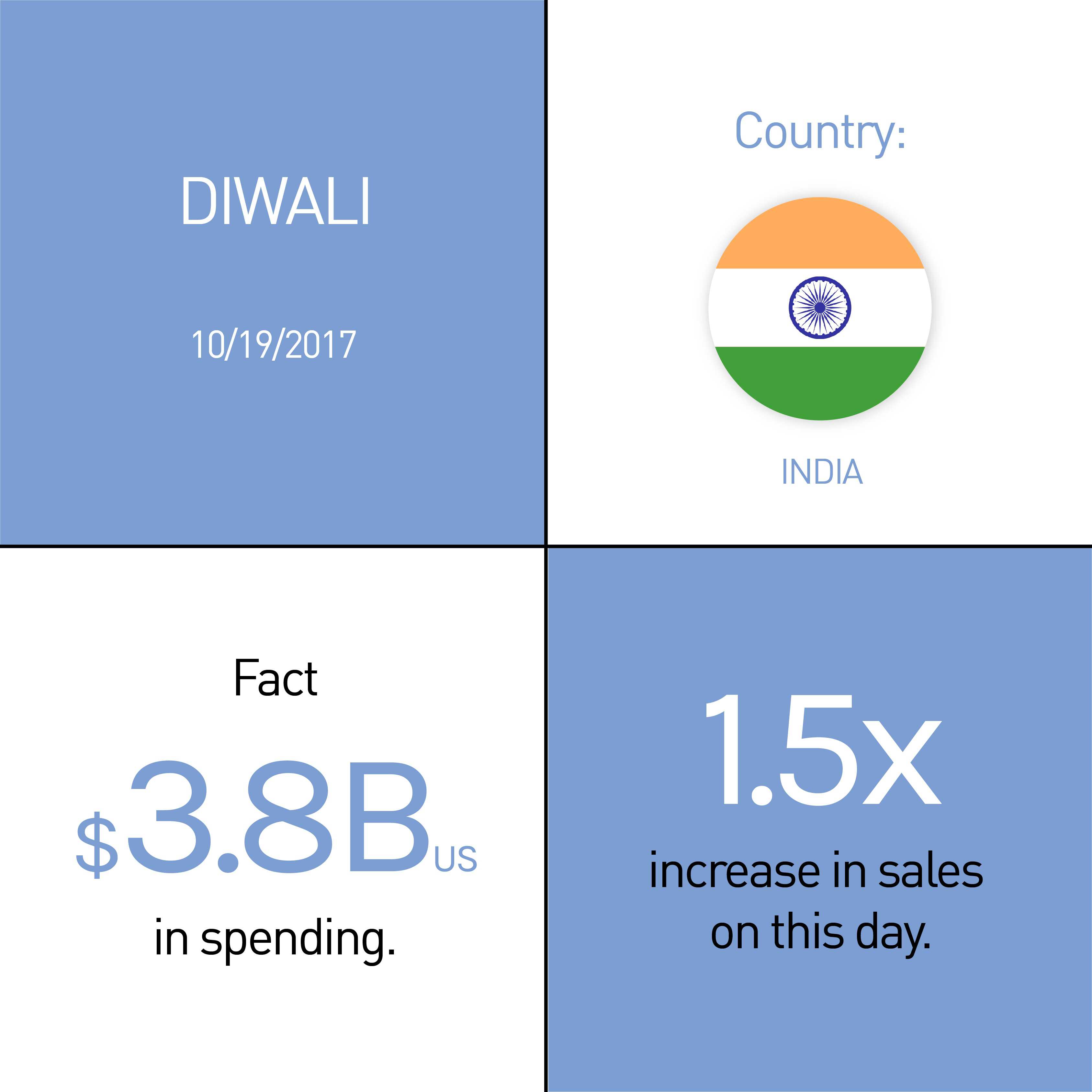 What is Diwali? Diwali is considered India's most important holiday of the year. In addition to being a religious holiday revolving around the festival of lights, friends and family visit each other and come with gifts.
Dates:
October 18-22, 2017
November 6-10, 2018
Target country: India
Target demographics: Everyone - people give gifts to their friends, family, and employees.
Popular items:
Dried fruits, chocolate, nuts
Clothing
Silver items
Jewelry
Home decor items
Kitchen appliances
---
Halloween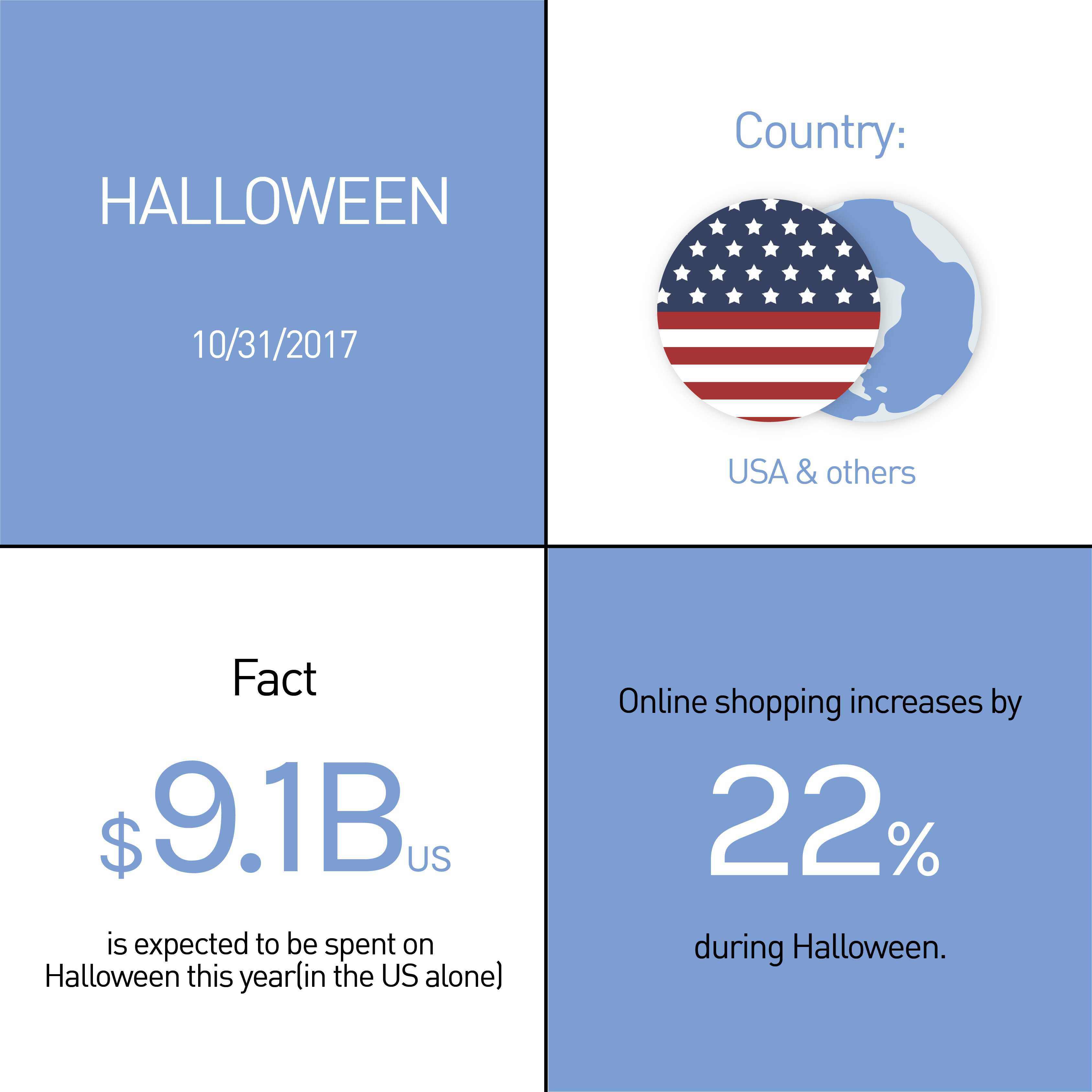 What is Halloween? Halloween is a spooky celebration that's a mix of death, superstition, and the fall season. In the US and Canada, it is a very commercialized holiday, but worth noting is that it is also popular in countries such as the UK, France, and Germany.
Date: October 31
Target countries: US, Canada, UK, France, Germany
Target demographics: Children, adults, dogs
Popular items:
Costumes (for both people and dogs)
Home decor and party decorations with Halloween symbols such as pumpkins, witches, skeletons, bats, and black cats
Horror movies
Anything black and orange
---
NOVEMBER
Singles Day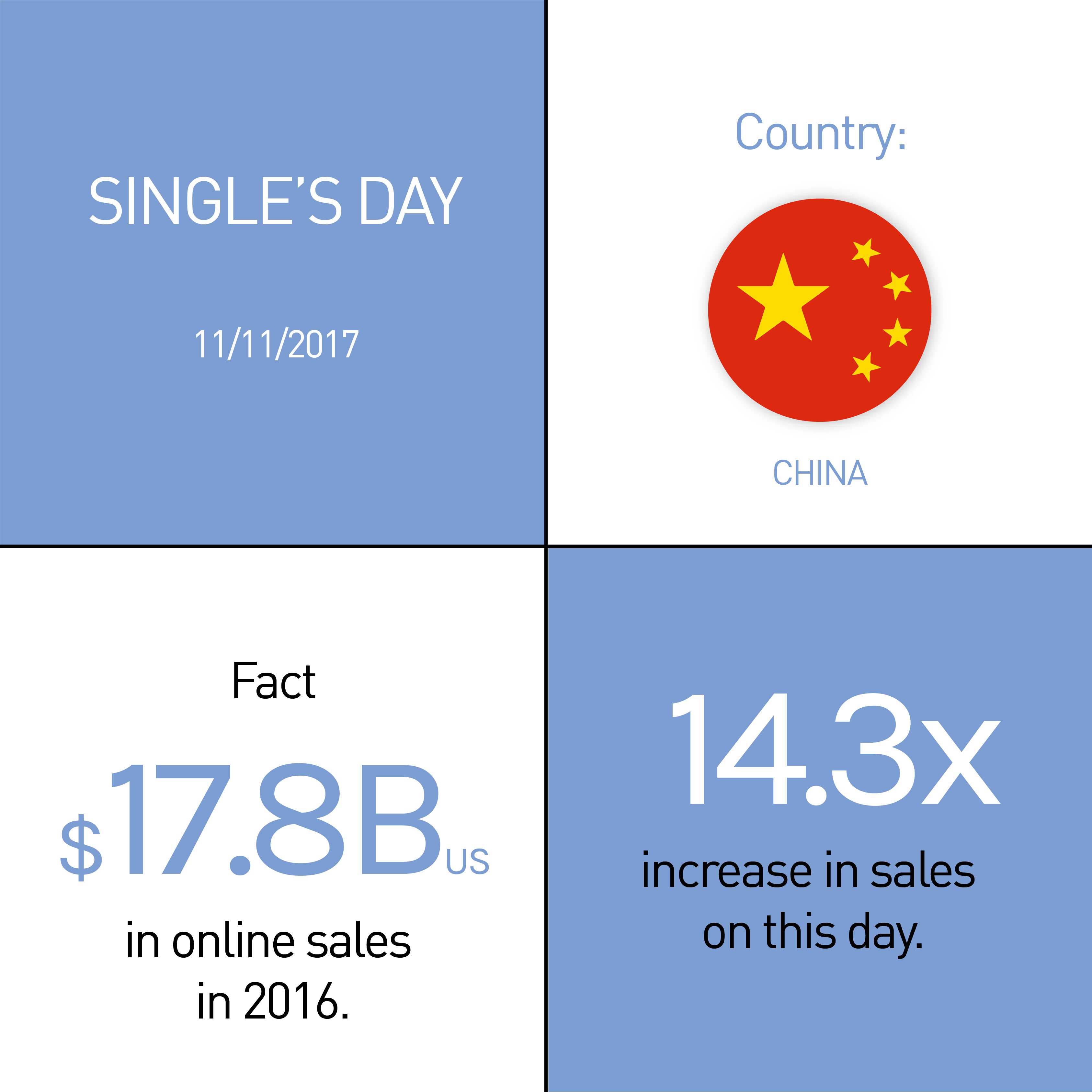 What is Single's Day? This is the largest sales day in the world, with revenues more than double that of Black Friday and Cyber Monday. What was originally an anti-Valentine's day event meant to buy nice things for yourself, is now a month full of promotions and a huge opportunity for brands to connect to Chinese consumers.
Date: November 11
Target country: China
Target demographic: 18-25 year olds, millennials
Popular items:
Clothing
Cosmetics
Electronics
Home appliances
---
Click Frenzy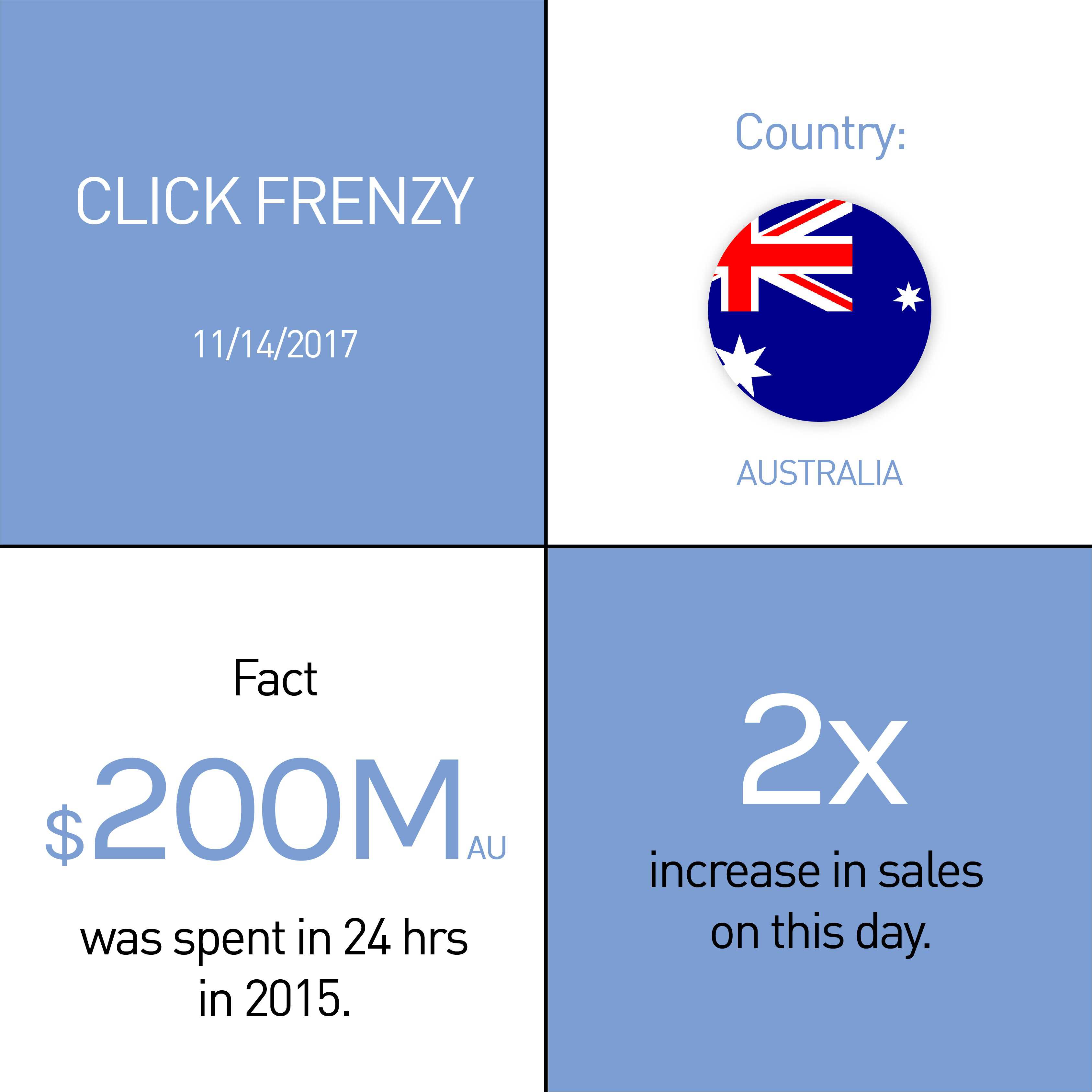 What is Click Frenzy? Click Frenzy is Australia's biggest online flash sale, lasting only 24 hours. Participating retailers offer deals and exclusive offers, causing items to sell out immediately.
Date: November 14
Target country: Australia
Target demographic: Millennials
Popular items:
Fashion
Cosmetics
Electronics
---
White Friday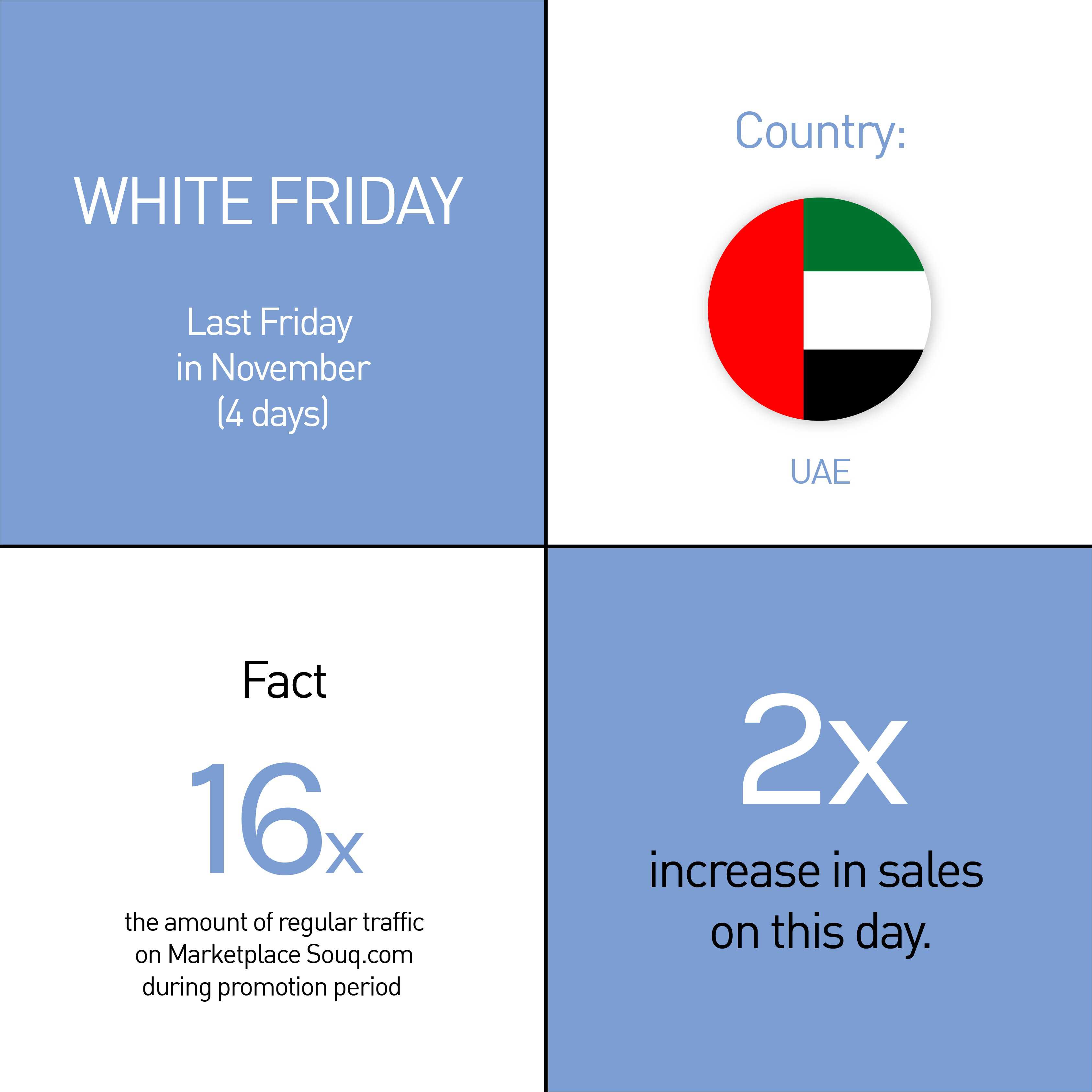 What is White Friday? Launched in 2014, this is the Middle East's answer to the US' Black Friday. It is the Arab world's biggest online shopping event, featuring huge online discounts, offers, and exclusive items.
Date: November 23-26, 2017
Target region: Middle East (Egypt, Saudi Arabia, UAE, Kuwait, Bahrain, Qatar, Oman)
Target demographic: Everyone
Popular items:
Fashion
Lifestyle
Electronics
---
Mother's Day (Russia)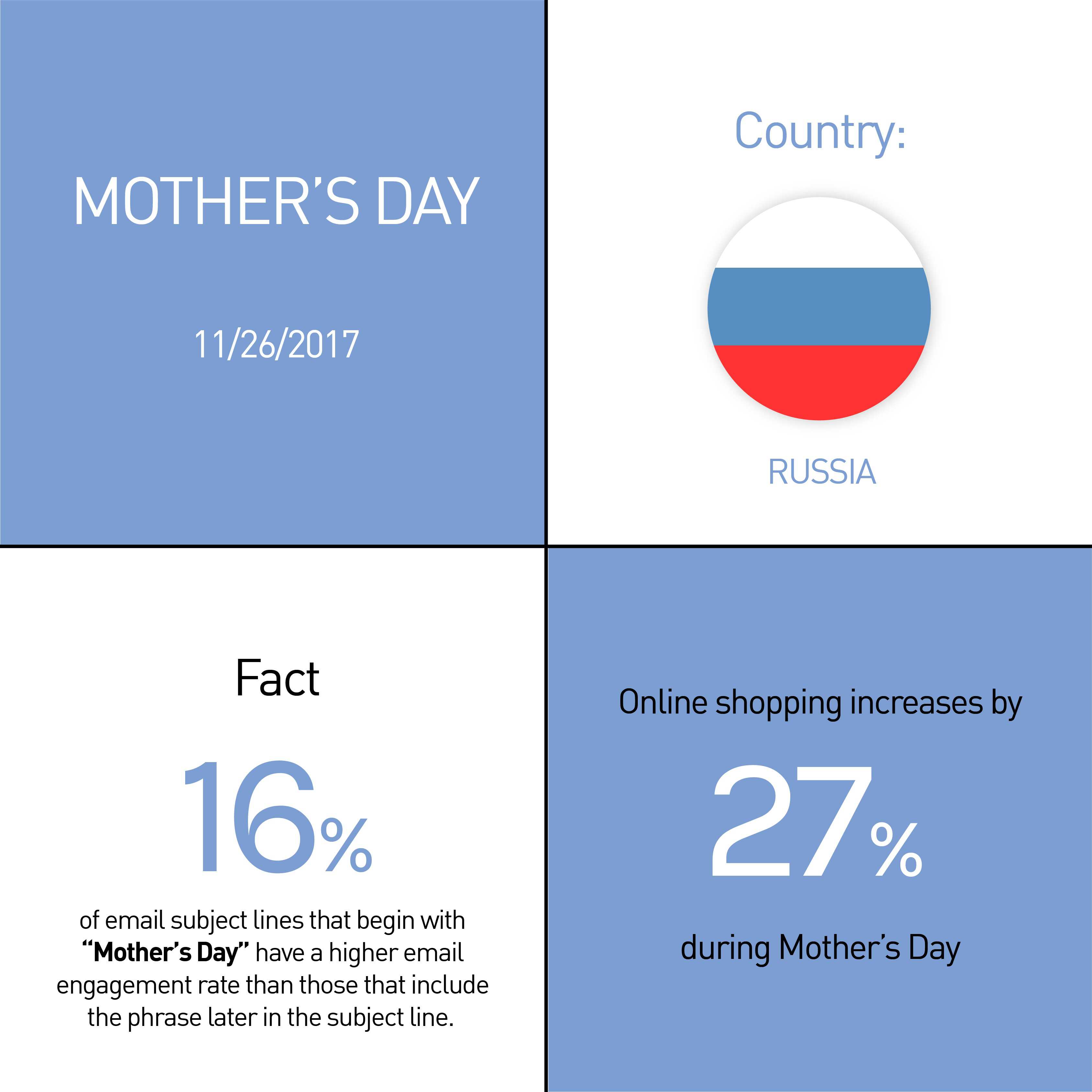 Why is Russia's Mother's Day in November? International Women's Day is actually the replacement of Mother's Day in Russia. However, Russia still has a Mother's Day, it just happens to be in November. Just like in other countries, the day is still filled with gifts, cards, and flowers to mothers.
Date: Last Sunday in November
Target country: Russia
Target demographic: Women
Popular items:
Jewelry
Accessories
Cosmetics
Toiletries
Home decor
---
DECEMBER
Dubai National Day Super Sales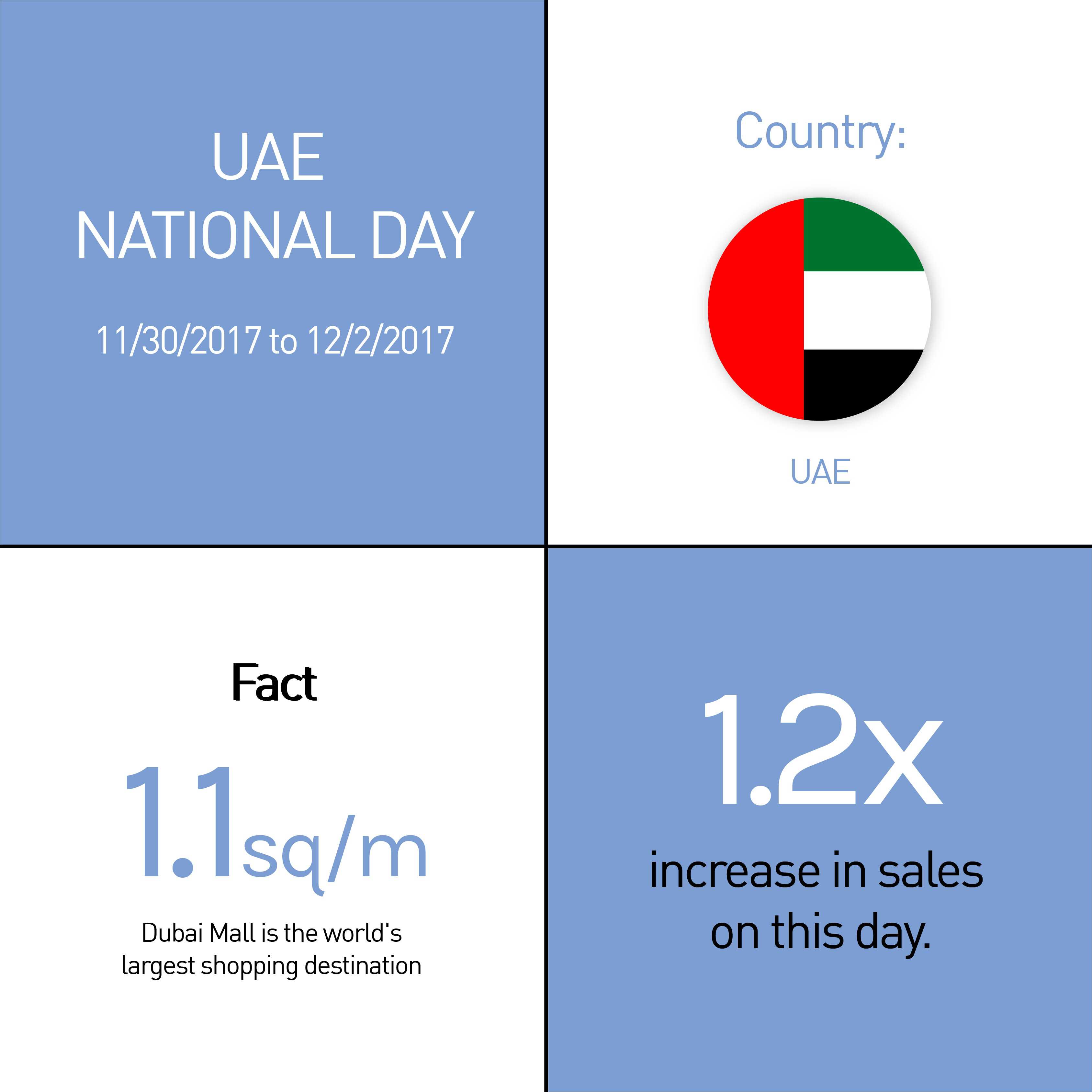 Why is UAE National Day a shopping holiday? Recent regulations in Dubai now say that the only time retailers can run clearance sales is when a store is closing down, during the other 3-day Super sale in May, and during National Day in December. As brands can no longer run high percentage sales for long periods of time, these sale periods are extra special and customers will be out in full force looking for deals.
Date: December 1-3
Target country: UAE
Target demographic: Everyone
Popular items:
Fashion
Electronics
Toys
Home goods
---
Boxing Day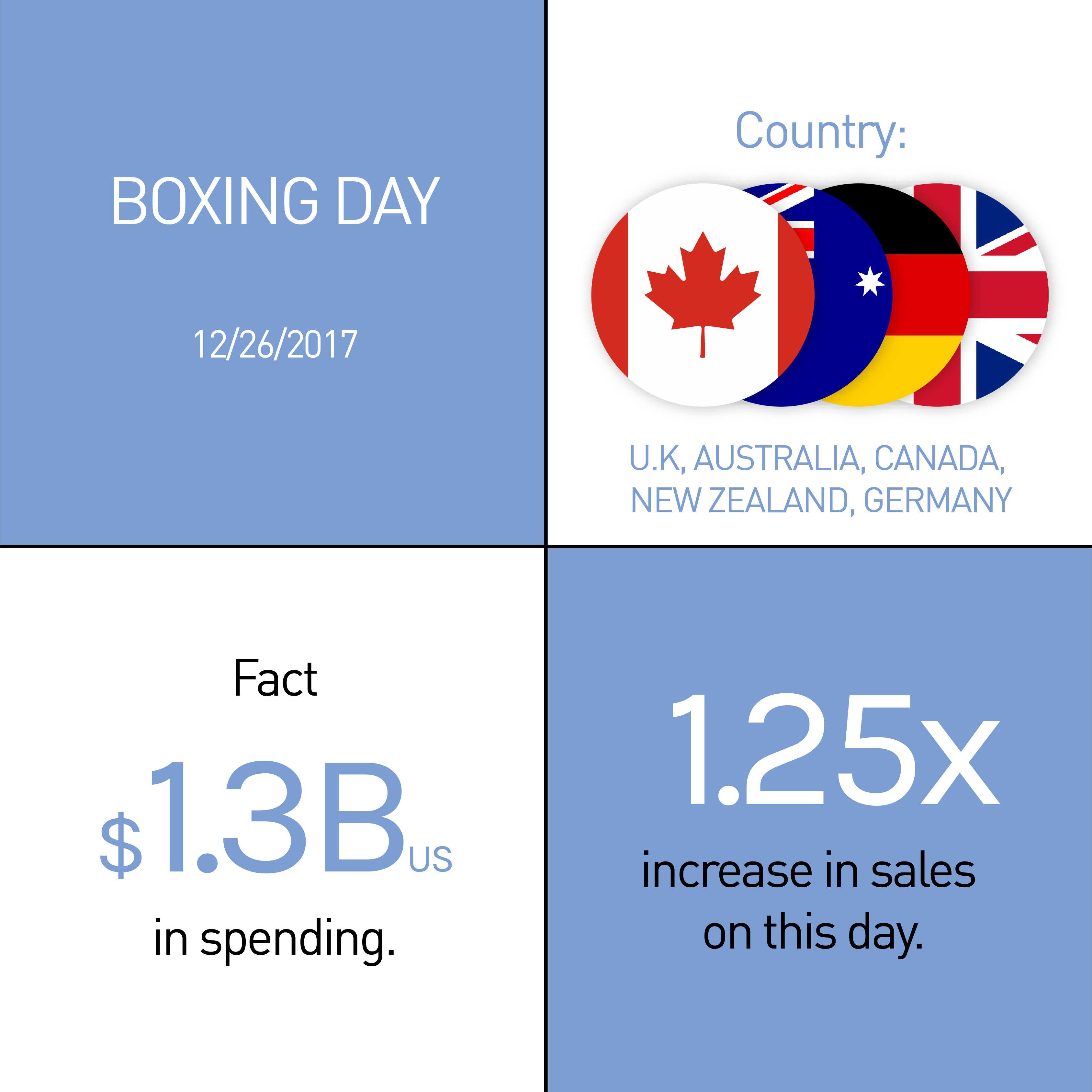 What is Boxing Day? Boxing Day is the equivalent of Black Friday in the US, except this shopping holiday takes place in the UK and commonwealth countries the day after Christmas, rather than the day after Thanksgiving. Retailers hold sales with large discounts and it is the biggest revenue day for many shops in these countries.
Date: December 26
Target country: UK, Canada, Australia, New Zealand
Target demographic: Everyone
Popular items:
Clothing
Electronics
Entertainment (movies, video games)
Home appliances
---
To keep posted on more sales holidays in the future, follow us on Facebook, Twitter, and LinkedIn!