Did you know that something as simple as a packing slip can help you save money by retaining your existing customers?
Imagine - by giving your packing slip a little bit of love, you might not need to channel so much energy towards gaining new customers. This might sound a little crazy, but think about it –  it's way cheaper to retain customers than it is to acquire new ones.
One way to retain customers is to build their trust and loyalty in you. This is where packing slips come into the picture.
What is a packing slip and why is it important?

Before we share how you can make the most of a packing slip, it's important that you first understand what it is.
A packing slip should be included for both domestic and international parcels, as it lists the products that are included in the shipment.

It's important to have because:
It serves as evidence that the product was released and shipped to the customer.
It makes it easier to identify lost or damaged goods, especially if the goods or carrier are insured.
It makes it easier for the customer to confirm that the content of the shipment matches with the order placed.
If purchase was made on credit, this slip successfully aids in reimbursement as agreed.
With a little creativity, this slip can further improve sales by boosting the relationship between sellers and buyers.

The difference between an invoice and a packing slip
There are some major differences between invoices and packing slips.
An invoice is a non-negotiable document that carefully details both parties (buyer and seller), has a full list of quantities of products purchased, the date of purchase/shipment, available discounts, and agreed payment terms.
Here's an example of an invoice, from our friends at Sufio: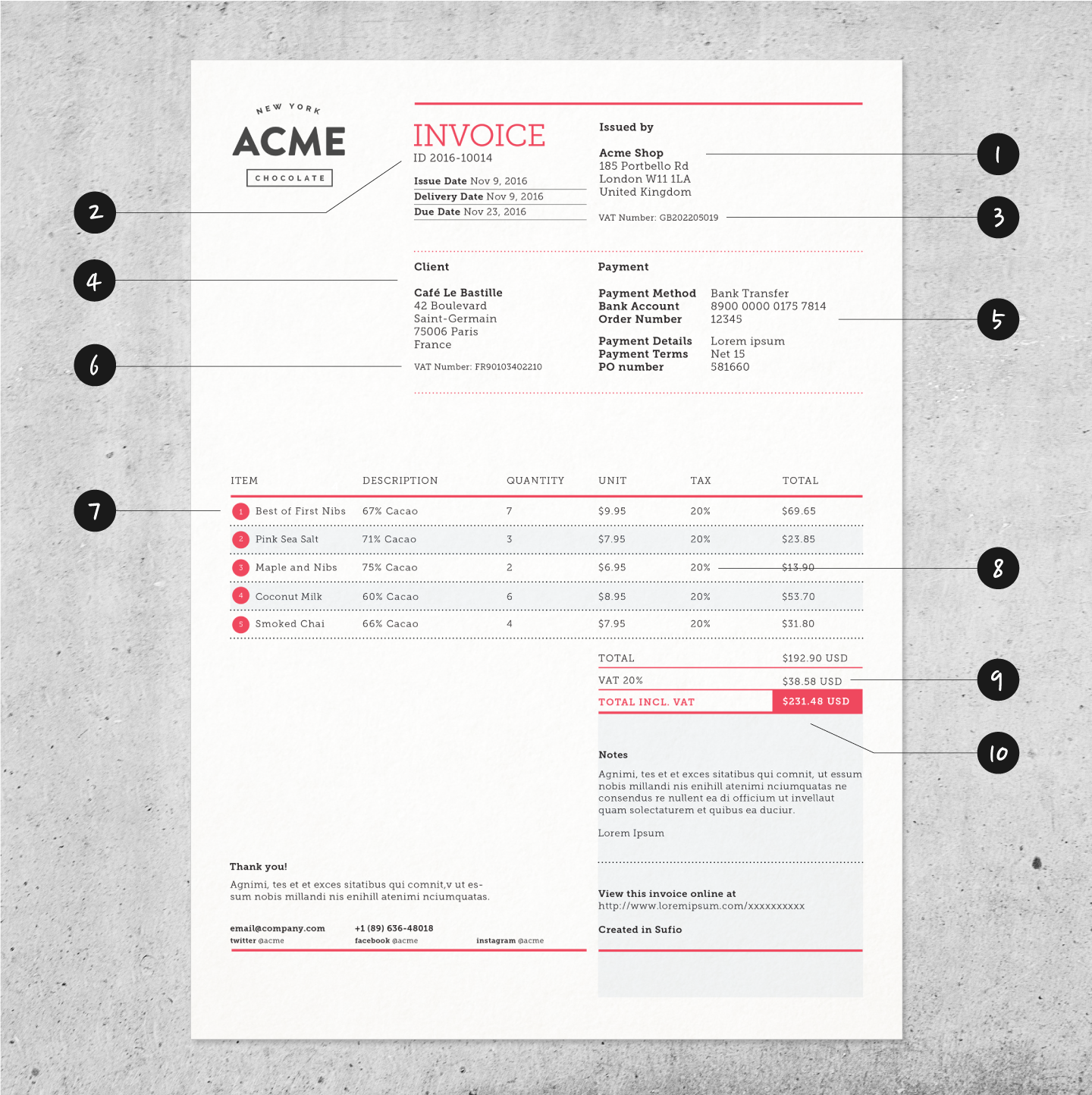 On the other hand, a packing slip usually comes with shipment orders and are mostly found within the shipping package or pouch. Also referred to as waybills or unpacking notes, these slips provide customers with details of the shipped product that helps them to confirm that the shipment contains all what they ordered for.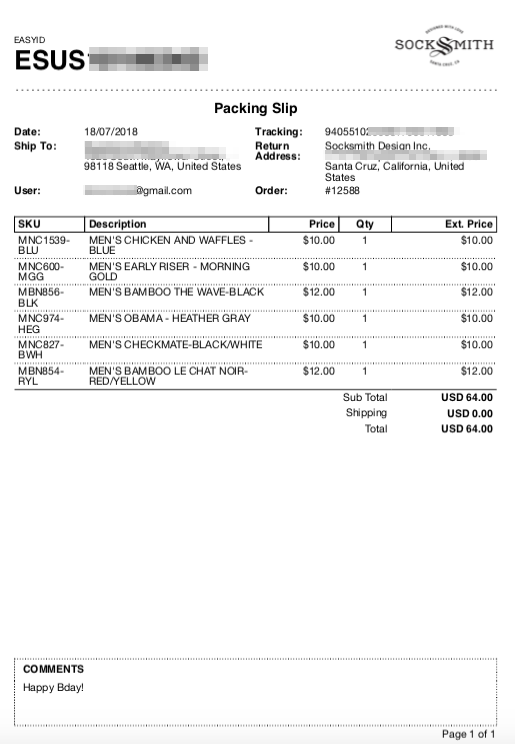 Now you can see the variation and this shows that none of these two documents can replace the other, especially in the sales of physical products. Even though it is not every business that ships its packages with these slips, it is always important to do so.
Branding your packing slips
To make the most of these slips, you can either opt for something plain or branded. Whatever you decide, the design and contents should be something that further puts your eCommerce store before your target audience.
Displaying promotions or messages
So, how you can create unique messages or promotions through packing slips? Consider the following packing slip message examples:
Discount offers: Emailing discount offers is a common practice, but including discount offers within the package serves as a reminder to your customer, improving chances of a repeat purchase.
You could offer the following promotions for their next order:

- Free shipping
- 15% discount
- $10 Gift Card
Thank you cards and personal notes: Doing something as simple as thanking a customer for a purchase with a "Thank You" card or handwritten note can do wonders for the growth of your eCommerce business. Watch and see their loyalty increase!
Introduce them of your other products: Don't be shy - use this space to share new or other best selling products with your customers. Even better, recommend products that are sure to complement the one they already purchased.

Conclusion
As you can see, packing slips provide additional opportunities for you to show customer appreciation, promote or upsell your products, and generally grow your business.
We recommend testing out a variety of offerings and messages to determine what works best in improving customer loyalty, boosting sales, and bringing in more profit.
If you've already found messaging that works, we'd love to know about it in the comments below!