Latin America is a very lucrative eCommerce market that has shown constant growth in the last decade. If you want to expand your business to Latin America, then you'll need a reliable shipping service to utilize. SkyPostal shipping to Latin America can potentially be one of the solutions for your business.
SkyPostal has a reputation as a fairly reliable, secure and fast courier service that covers all of Latin America. It offers a variety of services, including mail distribution, parcel delivery and order fulfillment services for eCommerce businesses of all sectors and sizes. Here's a quick look at their background, specializations and how Easyship and SkyPostal can be used together for a better shipping experience overall.
SkyPostal's background
SkyPostal was established in 2001 when entrepreneur Albert P. Hernandez leveraged his years of experience in the logistics industry and created the business. Hernandez had previously established Sky Courier network in Virginia in 1983 before creating the Sky Net Worldwide Express company, which eventually transitioned into SkyPostal, currently based in Miami.
SkyPostal is generally known as a reliable courier service that caters to more than 120 countries around the world, though is especially known for its shipping services to and from Latin America.
The courier covers more than 25 countries in the Latin America and Caribbean regions and delivers to all major eCommerce destinations, including:
Mexico
Brazil
Chile
Argentina
Colombia
SkyPostal's specializations
As per Digital Commerce 360, Amazon is the fourth-largest online retailer working in Latin America. Amazon shipping to Latin America is a strong indicator that the eCommerce market there is stable and growing each year, meaning that SkyPostal could be utilized as a courier for those shipping on Amazon and engaging in online commerce in general. Specifically:
SkyPostal offers an array of services, including complete fulfillment services. Their delivery and logistics specializations make shipping to Latin America generally simpler and more seamless.
They provide tailor-made solutions for every kind of eCommerce business.
SkyPostal's headquarters are in Miami, offering convenient proximity and close connections to Latin America in terms of communications, logistical operations and shipping time.
SkyPostal tracking can be useful in tracking every step of your shipment, even allowing eCommerce companies to track multiple shipments simultaneously.
SkyPostal shipping has a simple and precise return management system. Once the package is returned, it's handled as per the instructions of the sender. It can be either sent back to the sender, destroyed or consolidated depending on their directions.
They offer fairly competitive pricing for shipping to Latin America from the USA and are among the most experienced couriers for shipping from the U.S. to Latin America.
Shipping Solutions to Latin America
Easyship's partnership with SkyPostal offers shipping solutions for shipping to Latin America from the the USA. In particular:
Easyship provides hybrid shipping solutions for a superior shipping experience, as your business can use a combination of couriers in addition to SkyPostal for first and last-mile delivery to get the most cost-effective and fastest shipping possible.
Easyship's rates calculator, featured below, is another useful tool to compare the rates of different couriers and evaluate the best value, fastest and most affordable options for shipping to Latin America.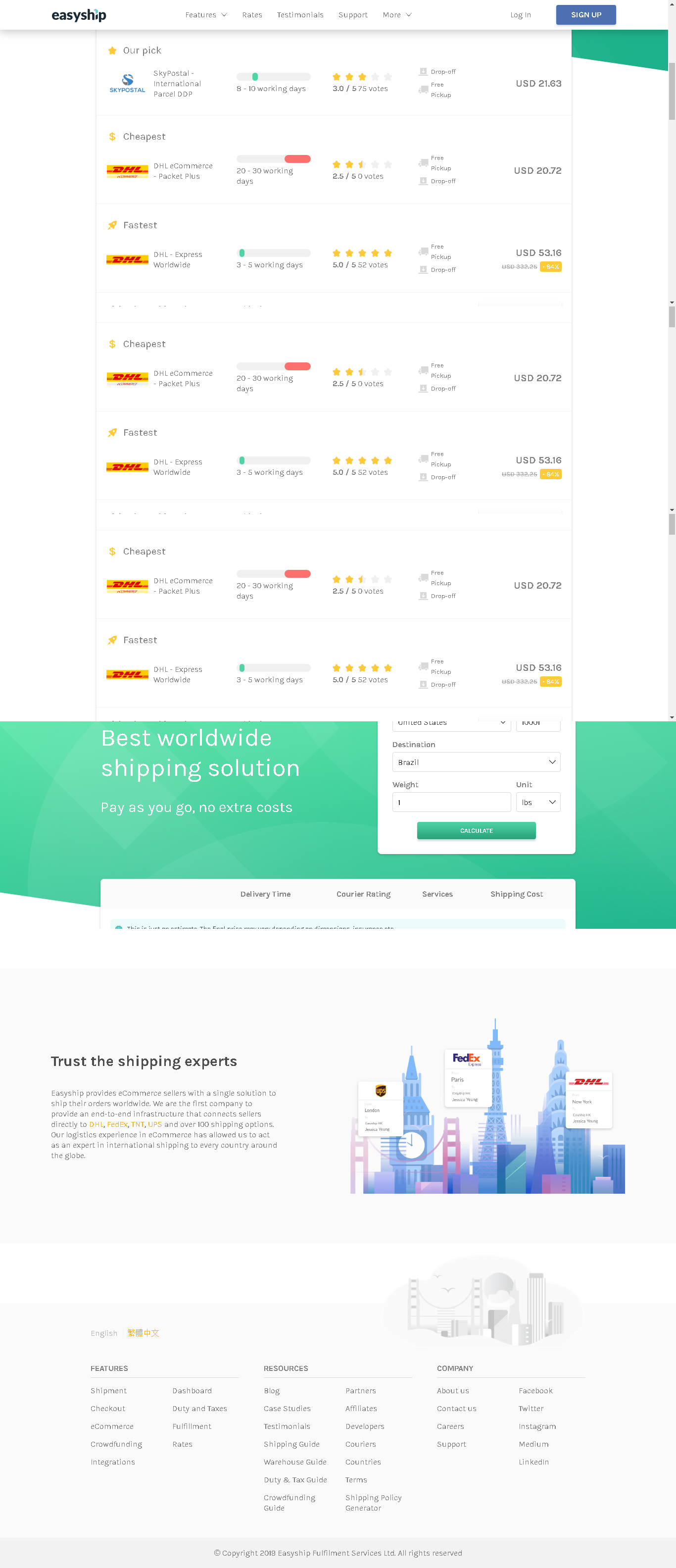 Conclusion
SkyPostal shipping is a very feasible option if your company is looking to ship to Latin American countries, in particular making it a solid choice for shipping to Latin American from the USA. Easyship's partnership with SkyPostal can also offer a more seamless and convenient shipping experience for eCommerce companies looking into exploring the booming Latin America market.
SkyPostal Shipping FAQ
How do I track SkyPostal in real-time?
Simply enter your tracking number to track your SkyPostal package via their tracking page.
Where does SkyPostal deliver to?
SkyPostal offers service in over 25 countries in Latin America.