After considering all of your order fulfillment choices, you've decided that third-party fulfillment is right for you. Great!
Researching the right warehouses for your eCommerce store is a very important business decision, and it can feel like an overwhelming task if you're new to the world of warehousing and fulfillment.
Here's a list of 10 mistakes you should avoid so you can remain confident while choosing a warehouse!
1. Choosing not to visit the warehouses you're interested in.
You will be trusting this warehouse to store and handle your goods. A warehouse visit ensures that they have the basic equipment, space, temperature, security, cleanliness, and organization that meet your standards.
A visit will also allow you to get a glimpse of how the employees handle and pack stock, in addition to how efficient they are in actually fulfilling orders.
2. The warehouse location is not ideal for your business.
Like real estate, "location, location, location" also applies to warehouses! Choosing the wrong location can be a costly mistake.
It's best to find a warehouse that's close to your manufacturer or your customers. Also look at where they are located in relation to the sea/airport and injection points. Finding a location based on these factors can help reduce transportation and shipping costs for both you and your customer.
3. You choose the wrong type of warehouse for your needs.
Warehouse facilities differ depending on the type of fulfillment they specialize in. The operations of a B2B warehouse are not the same as a B2C warehouse. When you do a warehouse visit, ensure that operation processes and execution make sense for the volume and kind of orders your business handles.
4. Overpaying warehouse fees.
There's a long list of fees that warehouses can charge you for, but the typical fees include initial set up, inbound handling, storage, and pick and pack.
Storage fees can eat into your budget if you hold on to excess inventory that isn't selling. Good inventory management will help determine what you should get rid of so that money can be better spent.
It's also good to remain on top of your reconciliation with your warehouse. Should anything get damaged or go missing under the warehouse's watch, be sure to seek compensation. Having your own insurance policy helps to further decrease these kind of risks.
5. Not having a clear agreement on services, price, and quality.
A warehouse agreement should be easy to understand, and clearly lay out the terms of service, pricing, and any special requirements. For simple pricing, consider using one of our partner warehouses. Learn more about our fulfillment services.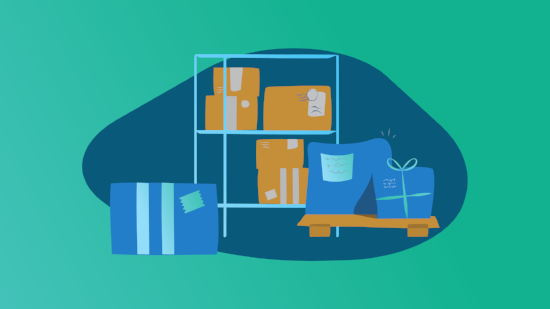 6. Not discussing the details of your required services before starting.

It's important to make sure that you and your warehouse are on the same page when it comes to how you want your orders fulfilled. If you have special requirements like capturing serial numbers, or personal touches like handwritten notes or wrapping products in a specific tissue paper, make sure that the staff is aware of this and can actually provide this service.
7. Negotiating too hard.
While it's understandable that you want to get the best pricing, trying to squeeze out the lowest price from a warehouse can backfire. You may end up losing to other customers who pay a fair price and get better service.
8. Choosing a warehouse that isn't big enough.
When interviewing warehouses, you should ask about their volume and storage capacity. If your business is currently experiencing high growth, you want to ensure that your products will not exceed this capacity, or else you'd be forced to relocate (costing you more money).
9. Choosing a warehouse with subpar WMS capabilities.
A good warehouse management system will run reports that help you manage your stock and see how efficient the warehouse is. If you can't generate these reports yourself, you should ask if the warehouse can supply these reports in the frequency that you need them (daily, weekly, monthly), and if they charge extra for this.
10. Not taking into account how long the warehouse has been operating.
If you're risk-averse, you should consider the length of time a warehouse has been operating. If the facility is too new, they may be inexperienced and prone to some hiccups along the way. If the facility is too old, they might have limited services, slow processes, and outdated technology.