Mandy Chan was fresh out of high school when she launched the Quiver bag on Kickstarter in April 2017. In just 3 days, the campaign exceeded its funding goal and went on to raise a total of $60,983. With business partner CK Koh, whom she met in 2016, she developed the Kickstarter project into BOW, with the mission: "designing lifestyle gear that makes life easier."
Currently retailing through their online store, bowforbold.com, as well as local and international distributors, the Quiver, billed as the "world's first multi-bag," is an all-in-one solution that takes you seamlessly from workout to office and after-work drinks.
The stylish, multi-functional holder has features you didn't even know you needed, like a touch-responsive pocket to display your mobile phone while you work out.
Budding Entrepreneur

Mandy first came up with the idea when she put her studies on hold to fulfill her dream of being an entrepreneur. "Ever since I was young, I've always had a keen interest in starting my own business," she explains.
"After high school, I did internships at 3 different startups to learn more about the startup life. I was hooked. I decided to take a gap year, look around for what problems I was facing on a daily basis and try to find a solution."
She started working with mentor Ken Oh, founder of Advo Pte Ltd, and put everything she had into her fledgling business.
"At 19 years old, I did not have deep pockets or a lot of savings to fall back on, and my parents were not able to support me financially. I juggled a handful of part-time jobs to cover my personal and business expenses, like travelling and prototyping costs."
Bold Beginnings
Her first idea, a professional trolley bag, didn't find takers, so she took the design and turned it into the early model of the Quiver. "As a young entrepreneur and active gym-goer, I was frustrated with the need to carry multiple bags on a daily basis: a shoe bag, toiletry bag, plus a backpack," says Mandy.
She decided to create a versatile sports and travel carrier with adaptable compartments, big enough to fit a laptop and a pair of shoes, yet small and sleek enough to carry everywhere.
For sourcing, Mandy travelled to China on her own to meet suppliers, living on the cheap and doing everything possible to save money along the way. "A memorable experience was taking a 14 hour journey on as night train to meet suppliers in different regions and bunking with 5 strangers during the ride to save on hotel expenses!"
Twelve months into Mandy's gap year, with $10,000 invested in the business, she and CK finally had a tangible product—and quickly turned it into a Kickstarter success. That's when they decided to take a leap of faith and launch their online store.
Figuring Out Fulfillment

One of their first challenges was fulfillment: finding reliable delivery services that could reach their customers around the globe.
They started out with Singpost delivery, but the poor tracking service led to customer complaints. Their next option was dealing with multiple couriers themselves, a time-consuming process.
Then Mandy heard about Easyship through a friend and decided to try it out. Instantly, Easyship let them triple their courier selection and choose the right shipping options for different countries without needing to deal directly with their couriers.
Easyship shows them the three essential factors when choosing a courier: price, delivery time and customer service. They can easily calculate the best value options at any given time, and the savings add up.
"When we need to ship an order to Japan, we generally use Aramex, which we never would have found if it wasn't for Easyship. Not only is it super efficient, it also saves us $6 to $10 per shipment!"
Easyship gives them up-to-date information so they can compare couriers on the go. "We found that the rates provided by different couriers vary at different times," explains Mandy.
"For instance, a shipment with Courier A generally costs $18, while Courier B charges a cheaper rate of $16.50. But the fees for Courier A drop to $15 during certain periods. With Easyship, we have the flexibility to choose the cheapest couriers at any given time, so we save money at every opportunity."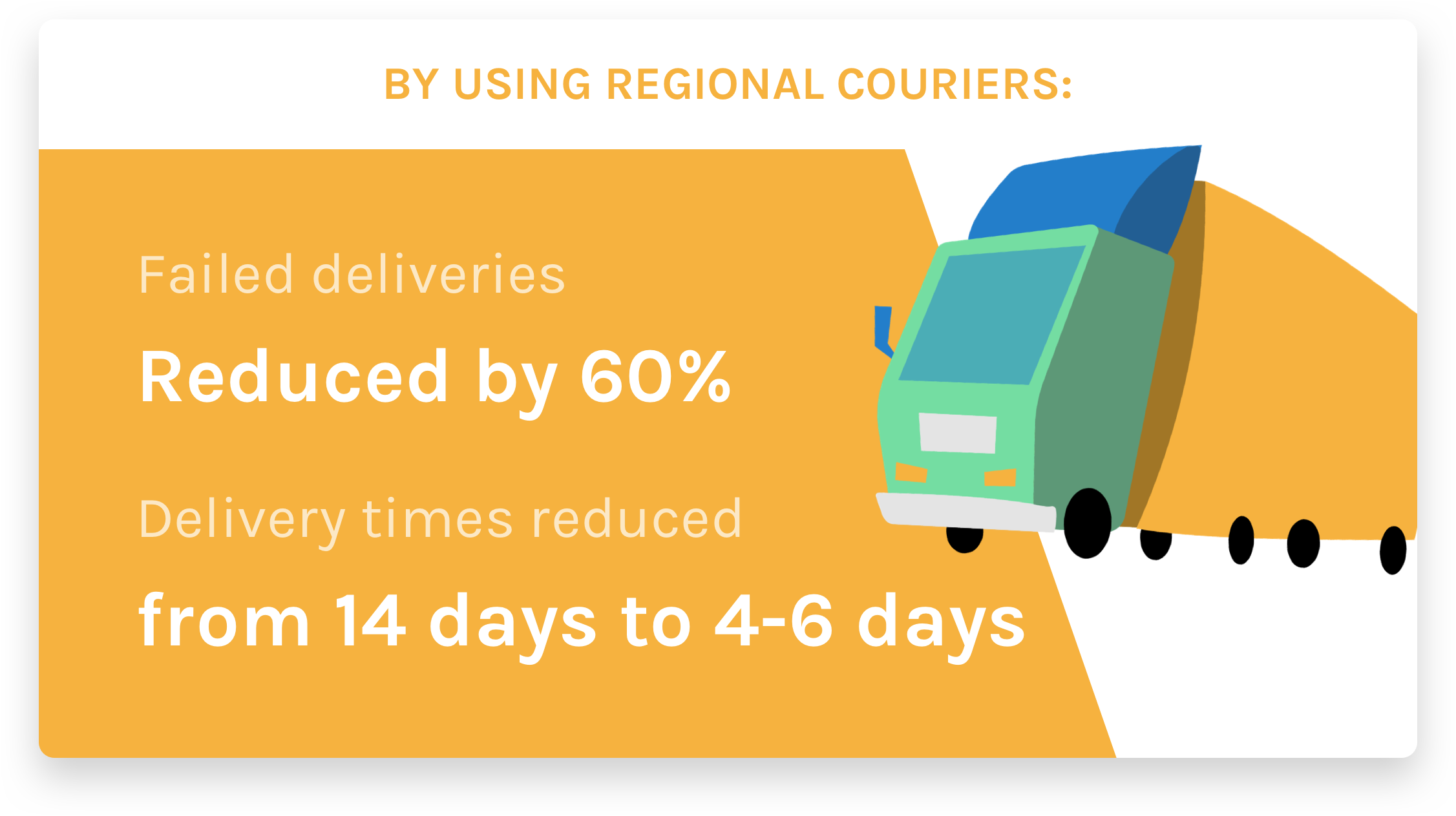 Using specialist regional couriers has improved their customer service, with 60% fewer failed deliveries and significantly faster delivery times. Before they partnered with Easyship, a shipment to Hong Kong took close to 2 weeks. With the courier they found through Easyship, "it could reach them in as little as 4-6 working days," says Mandy.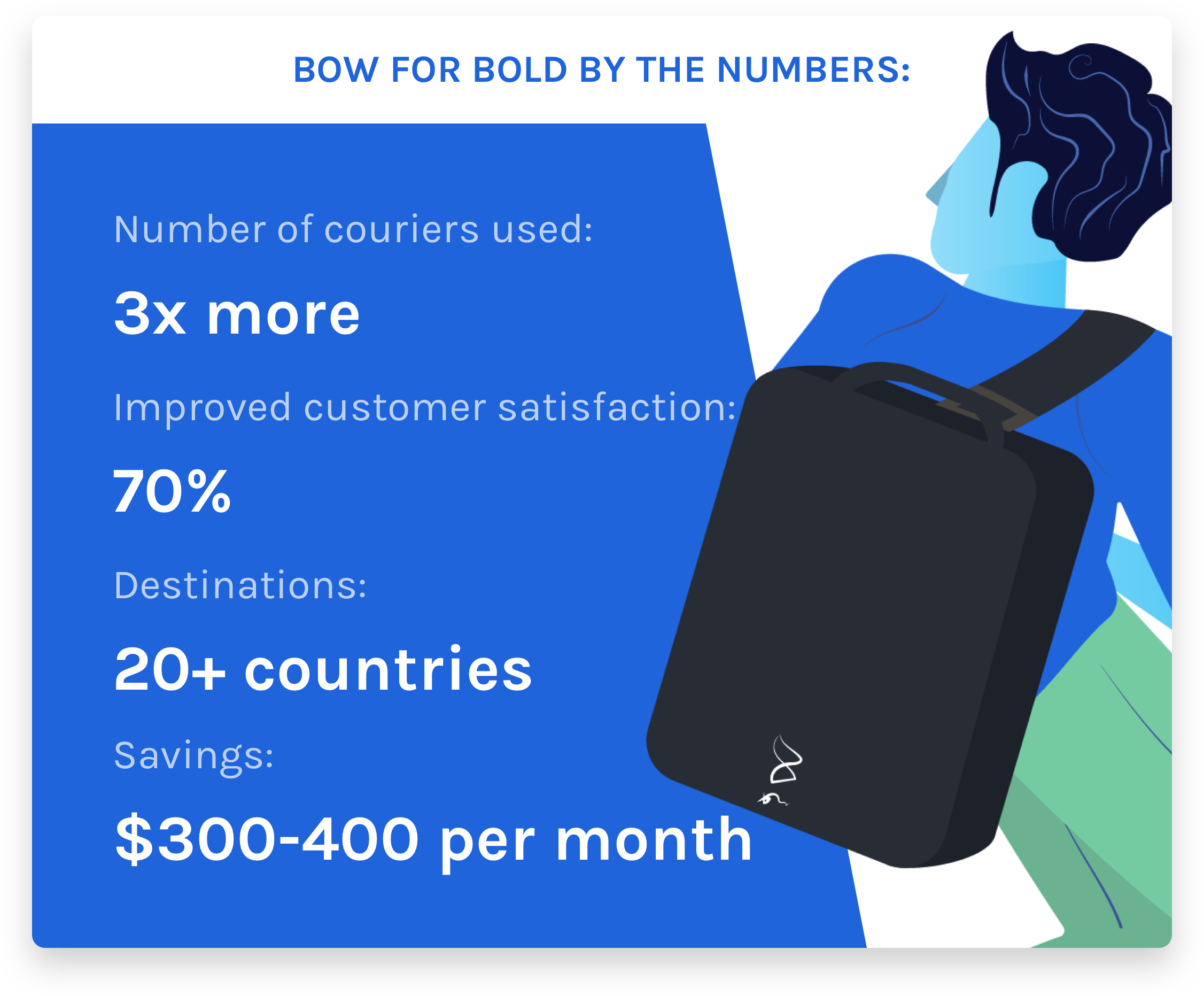 The result: customer satisfaction has improved by over 70%, and they save $300 to $400 on shipping every month.
While Bow started out with mainly local orders, they now ship to over 20 different countries with Easyship. Mandy and CK are focusing on social media marketing to develop the business, and Easyship is a key part of their strategy to reach a growing international clientele.
With flexibility, cost control and happy customers, says Mandy, "we're excited about the future of Bow!"