Waverly Labs is the creator of the Pilot, an earpiece paired with a smartphone app that translates conversations as they're happening.
It sounds like it's straight out of Star Trek: you can use it to speak to colleagues from all over the globe, ask for directions when travelling, or go on a date with someone who speaks a different language.
It works with only a 2-second time lag and it can even understand different dialects of the same language, like South American versus Castilian Spanish. Do we officially get to say "the future is here"?
Lost in Translation
CEO Andrew Ochoa says he came up with the idea for the device in 2014 when he met a French girl while travelling. At first they tried using translation apps, but trying to flirt while staring at a smartphone screen turned out to be a "big distraction."
From there Ochoa started thinking about what kind of device would really make it easier to communicate with people who speak different languages. He and his team set their ambitions on making something wearable, portable, and fast enough for users to carry on a natural conversation.
Unlike translation apps, the Pilot is designed to work while you speak, without needing to refer back to the device. It uses a cloud-based server to execute machine translation and relay the translated speech through the earpiece.
Ochoa explains, "Once you go through the setup, you can put the phone in your pocket and talk face to face with that person," just like any other conversation.
But getting from idea to prototype involved some big technical obstacles. Waverly Labs was aiming to succeed where tech giants had failed — and they wanted to do it with hardware that was stylish and easy to use.
Going Viral
By 2016, Waverly Labs had a working prototype. Their teaser video showing the Pilot in action went viral, garnering 15 million views in less than a week.
A lot of viewers wondered if it could really deliver. "Once the video went viral, there was even more pressure to make sure the product met the specifications," says Ochoa.
Their wildly successful Indiegogo campaign got them 27,000 backers from more than 110 different countries, raising a total of more than $4.5 million. That's when they ran into the practical challenges of launching a product for a truly global customer base.
"As soon as we were ready to go to DFM stages (about 6 months before production), we started looking for fulfillment partners," says Jainam Shah, their VP of Hardware Engineering.
They located several options, but some logistics companies offered a complicated pricing structure that left a lot of things unclear. "We finally settled on Easyship because of ease of use, like the clear dashboard, and because they offered a turnkey solution for a fixed price. It meant we didn't have to deal with separate companies for ocean and air freight, pallet loading costs, or finding customs partners."
Having peace of mind allowed them to focus on "all the things that needed to be done for us to be ready to ship over 27,000 orders."
Fulfilling Orders with Easyship
They used Easyship features to make fulfillment easier from start to finish. "From the start we already had our backers' shipping information, so we made sure the packing and shipping process went as smoothly as possible by generating labels even before our product reached the warehouse."
They manufacture in Shenzhen and ship through a fulfillment partner in Hong Kong because of the competitive prices, labor and shipping costs.
"Easyship helped us find the right carriers for different countries so we could ship worldwide from Hong Kong. They also helped us select carriers which could handle taxes and duties so we didn't have to talk to a customs broker firm ourselves."
How Easyship Helped
With their campaign being hyped on international news media, the stakes were high. Between the start of the campaign in 2016 and the first shipments at the end of 2017, they kept in touch with backers through regular emails and blog updates.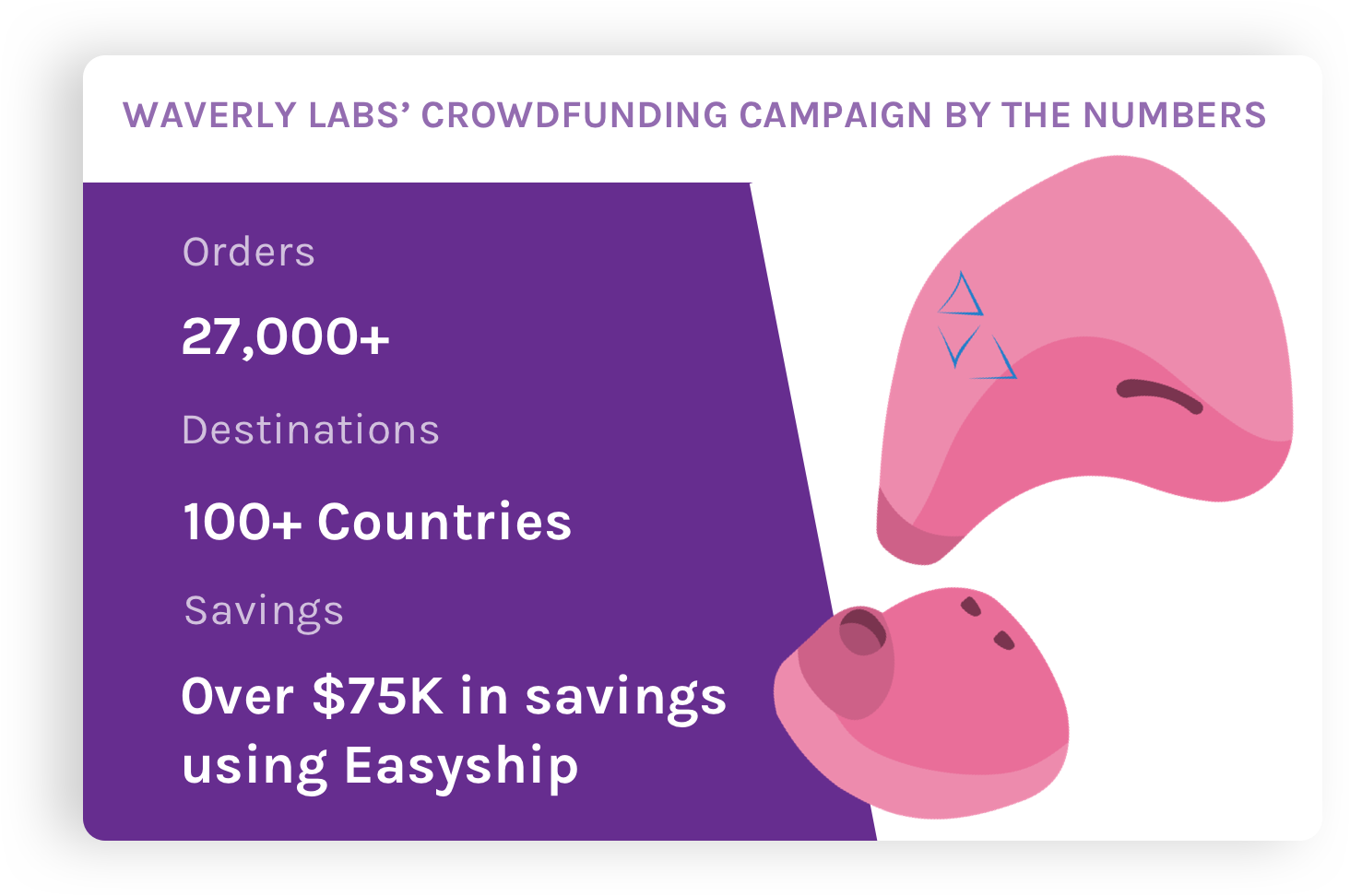 Working with the right partner helped them kick off with significantly lower costs: "By using Easyship, we saved over $75k on shipping alone. And that doesn't include fees we would have to pay for customs brokerage, separate air/ocean freight and other miscellaneous fees like pallet loading and unloading."
The company is now selling exclusively through their website and accepting orders for the next shipment.

"We have 2 people working on our Shopify sales. Integrating Easyship with Shopify lets us save up to 10 hours a week on order processing and fulfillment."
To ensure they keep backers happy and ship out fast, they use features like automatic label generation to automate the process as much as possible. "The Shopify integration has made the fulfillment process hassle-free," says Ochoa.
Selling Worldwide with Easyship
It's hard to think of a country where they haven't sold at least one unit. "We ship to almost all addresses worldwide except military bases, PO boxes and countries that the US has banned for trade."
With that kind of global reach, it's been crucial to stay on top of logistics. "We're excited to integrate more Easyship features like 'Checkout' so that we can have full transparency for our customers."
In the coming year the company is developing new app capabilities for languages like Cantonese, Hebrew and Thai.
They're also fine-tuning features for language learning, listening in noisy environments, and multiple users on one device.
They've quickly made the Pilot a standout product in a competitive field. Their global clientele has one thing in common: high expectations. Getting the shipping right is one way to ensure those expectations are met, so they can keep doing what matters: outsmarting giants.