A 3PL can offer many services to ensure your fulfillment needs are met. But if you're overwhelmed with the amount of fees listed and are struggling to understand the quote, don't panic!
This post lists the fees you may come across while searching for a warehouse, and provides guidance on what it all means.
For a more basic list, head over to our post that talks about common order fulfillment costs.
STORAGE FEES
This can be charged monthly or weekly, based on:
Pallet
Bin
Cubic meter (CBM)
Square footage (Sq ft)
Meter on shelves
Different rates can apply based on the storage you need. For example:
Ambient: basic storage that doesn't require air conditioning
Dangerous Goods Regulation (DGR): This type of storage has specific requirements to store dangerous goods based on IATA rules
Bonded: secured storage where VAT and duty taxes are deferred until they leave the warehouse
Temperature controlled: Storage that requires air conditioning
Location
Commodity: based on the type of goods
Fragile: applies to high value items (such as old bottles of wine)
Bulkiness
INBOUND FEES
"Inbound" fees apply to any activities required to receive products into the warehouse, such as:
Devanning ocean containers
Receiving your goods in the warehouse. This can be per:
Pallet
Unit
Carton
Putting away your goods. Can also be per:
Pal
Unit
Carton
Inspection, such as:
Quality check
Damages
Counting: cartons or units
Sorting. This can apply to:
Mixed pallets
Mixed cartons
System transaction fees (such as booking the inbound delivery)
Barcoding (for items that arrive without barcodes)
Photo / video recording of inbound goods
Return orders and handling of returns
These inbound fees can vary based on the type of storage you require, such as DGR, bonded, temp control, location, commodity, and bulkiness.
OUTBOUND FEES
"Outbound" fees apply to any service related to delivering your goods outside the warehouse and to your customers.
Pick & pack: This means to pick an item and pack it for shipping. This fee can be charged per unit, carton, or pallet. Rates can vary depending on service levels, e.g. later cut off times for same day shipping will be more expensive.
Outbound services (loading shipments on truck, handover to courier, gate fees)
Photo / Video recording of outbound goods
Document fees, system transaction fees
Label / printing fees
Pallet building (mixing SKUs, odd amounts)
Fees for special preparation. For example, you can use these services to prepare your products for warehouses that have particular packaging requirements, such as an Amazon warehouse.
Shrink wrapping
Packing and padding materials (cartons, pallets, bubble wrap, etc.)
Including marketing materials like flyers and samples into shipments
These outbound fees can vary based on the type of storage you require, such as DGR, bonded, temp control, location, commodity, and bulkiness.
ADMIN / GENERAL
Account onboarding fees. These fees are associated with setting up a new customer and can include:
Customer-specific racking solutions
Integration development work
Setup of SKUs
Storage logic for customers products - such as where to put products based on turnover, amount, volume, or value
other capital expenditures for a specific account
Monthly admin fees, such as account management
Goods movement within the warehouse. For example, moving small amounts of product left in a pallet to shelf storage, or putting back return orders.
Minimum spending
Deposits
Disposal of inventory
Labor for various tasks (usually man hours), Overtime
Warehouse Management System access fees
Stock takes. This is charged per man hour. You can try to negotiate this depending on stored volumes.
VALUE ADDED SERVICES (VAS)
Kitting: Process in which individually separate but related items are grouped, packaged, and supplied together as one unit.
Bundling: This is similar to kitting but simplified - for example, adding gift cards is not needed.
Return Merchandise Authorization (RMA): This is a return that is coming back as a "convenience" return or because the product is defective.
Refurbishment: Checking returned items and bringing them back to sellable condition
Repacking: This can be part of refurbishment, or apply to repacking a unit or batch with damaged packaging.
Relabeling: This can apply to products being shipped to different markets. For example, think of health products that require different labels based on the health regulations of a specific country.
Product photography
Gift wrapping
Printing
Engraving
ADDITIONAL TIPS
Here are some additional tips to help you during your warehouse search:
Request a simplified quote. While the above list is very extensive, it is possible for many of these fees to be combined so that your quote (and eventually, invoices) can be simplified.
It's not uncommon for warehouses to include pick & pack + outbound handling + label printing + document fees + system transaction fees all in one.
Below is an example of a simplified quote. Note that this is example pricing for reference purposes only.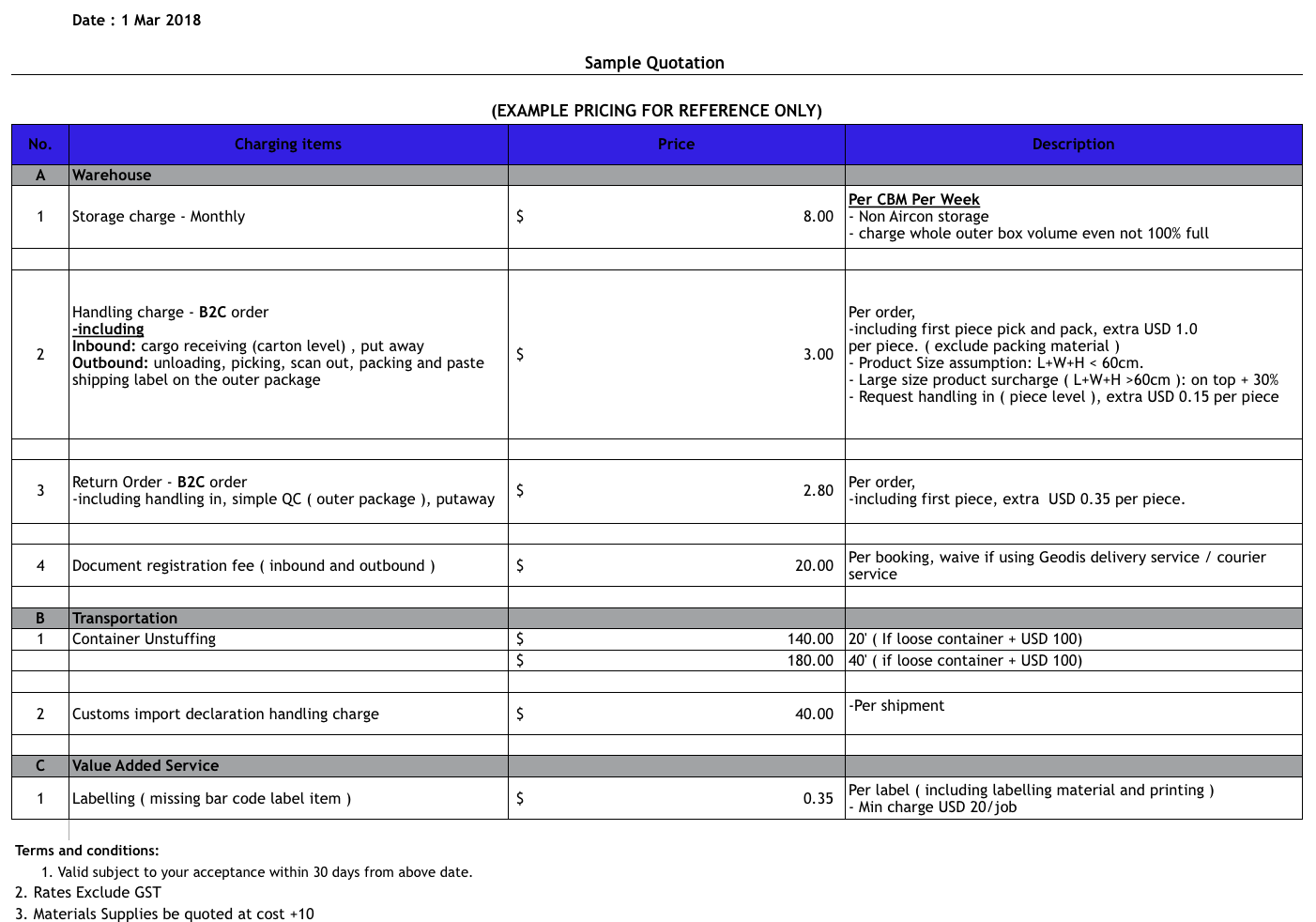 Ensure the services being offered to you are right for your business.Warehouses should be providing solutions that are tailor-made to your business needs. For example, if you sell leather goods, warehouses should be offering you storage that is temperature and humidity controlled to protect your products.
Re-negotiate fees when your business is growing. Bigger volumes usually lead to lower costs per unit. Fixed fees, such as admin and WMS fees could potentially we waived. While variable fees can't be waived, they can be reduced with increased volumes.