Get ready to be in the black!
If you missed out on our Q2 edition, here are some Q3 sales holidays you can target to stay on track to being profitable.
To recap, one way to increase your sales throughout the year is by doing year-round promotions in targeted regions around the world. This is a great strategy to ensure you have strong sales numbers outside the usual peak holiday seasons.
The below dates are historically good for sales. Take advantage of this information to stay profitable year-round!
---
JULY
Independence Day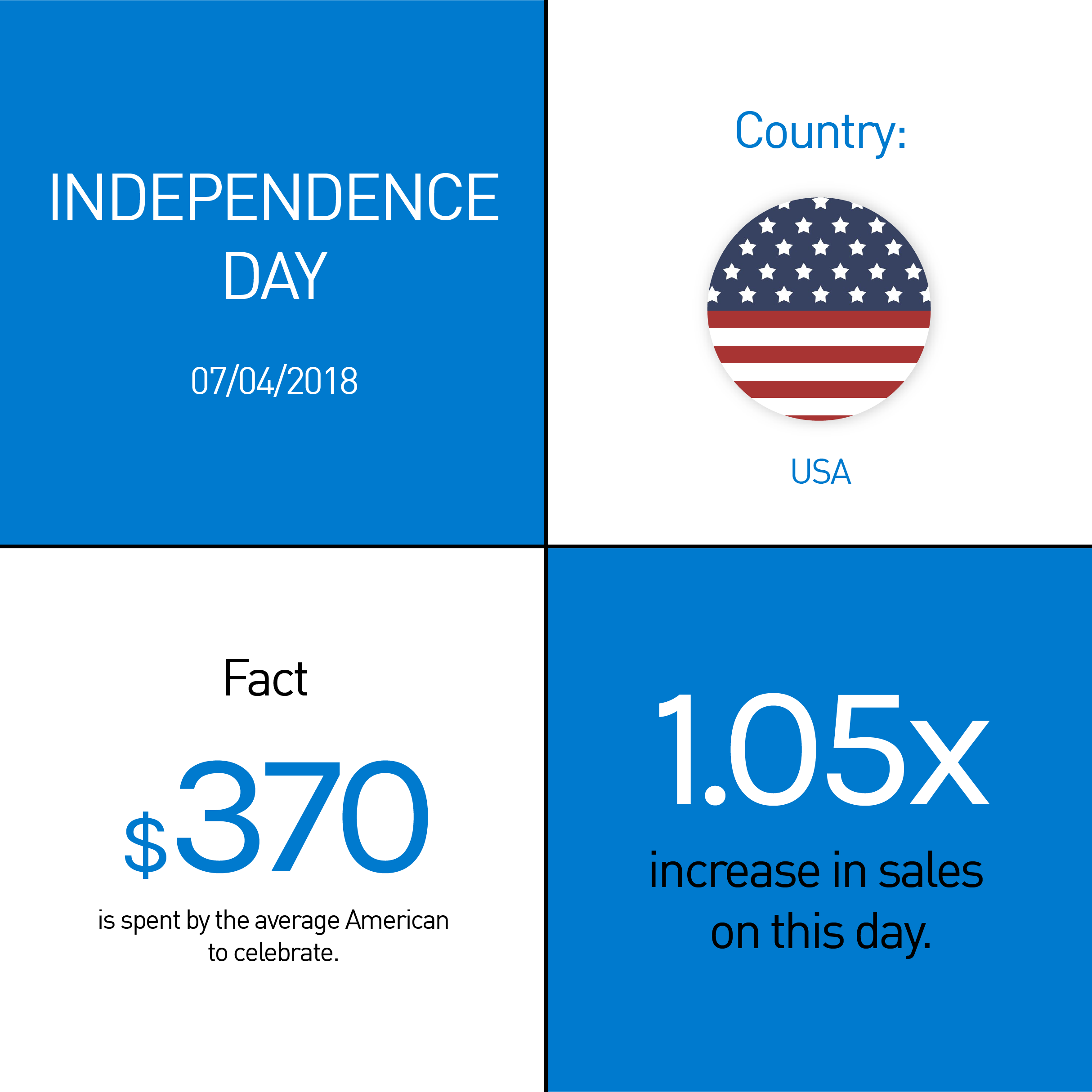 In 2017, 219 million Americans celebrated the 4th of July. A survey done by the National Retail Federation showed that about 28% planned on purchasing patriotic merchandise.  And, an estimated 44.2 million Americans plan to travel 50 miles or more for the holidays. Overall, there are many opportunities to make a sale during this time!
Date: July 4
Sales increase: 1.05x
Target country: United States
Target demographic: Everyone
Popular items:
Patriotic items
Food
American Flags
Travel-related items
Dresses and tops
Summer footwear
Denim
---
AUGUST
International Cat Day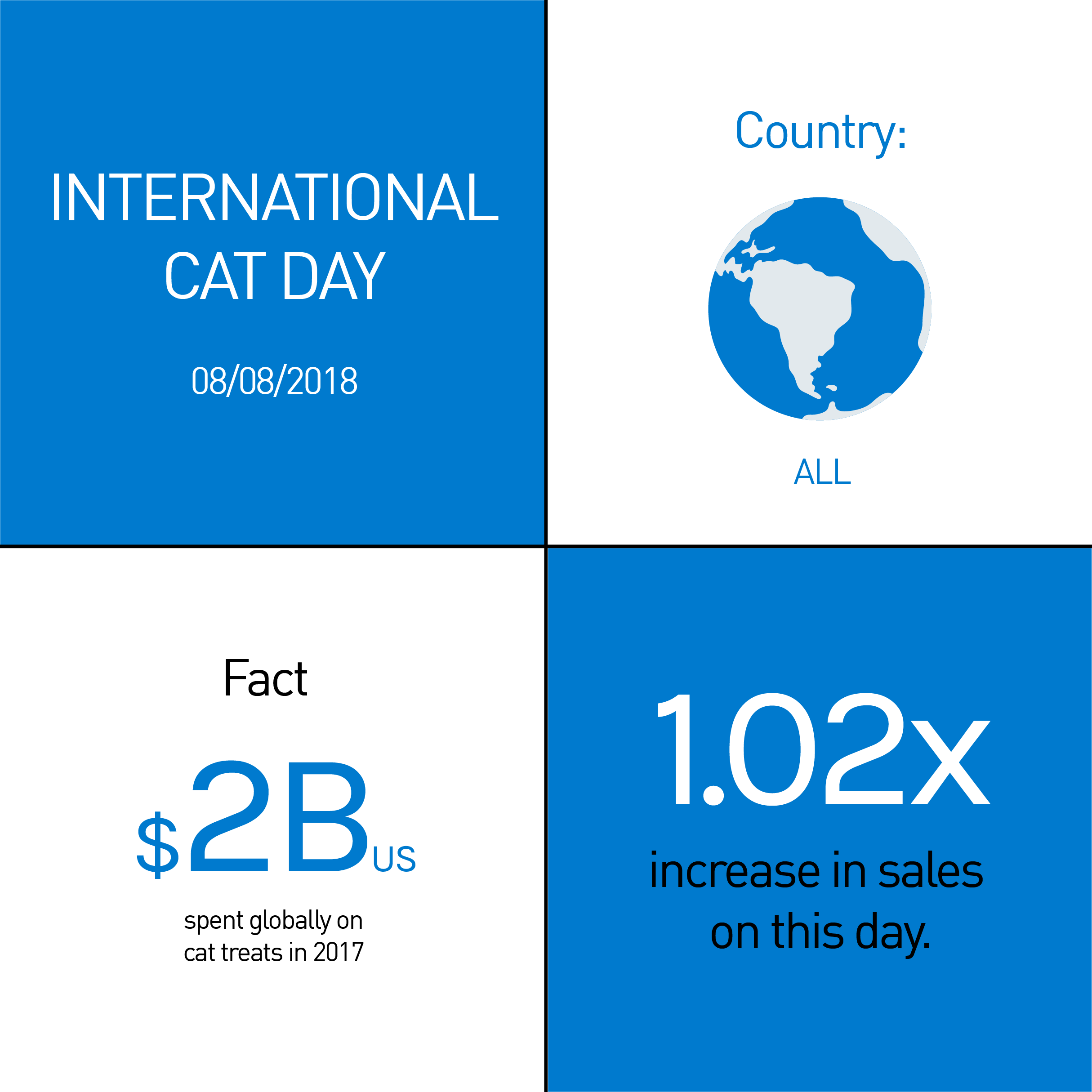 Pet eCommerce is growing globally - in fact, a Packaged Facts' 2018 survey of U.S. pet owners found out that 37% of online pet shoppers agree that "I am buying pet products online more than I used to." So why not take advantage of this on International Cat Day? The top 5 countries that have the most cat owners are: Russia, the US, Argentina, Italy, and France.
Date: August 8
Sales increase: 1.02x
Target country: Worldwide
Target demographic: Cat owners + Cat lovers
Popular items:
Cat treats
Food
Cat toys
Cardboard boxes
---
Dog Appreciation Day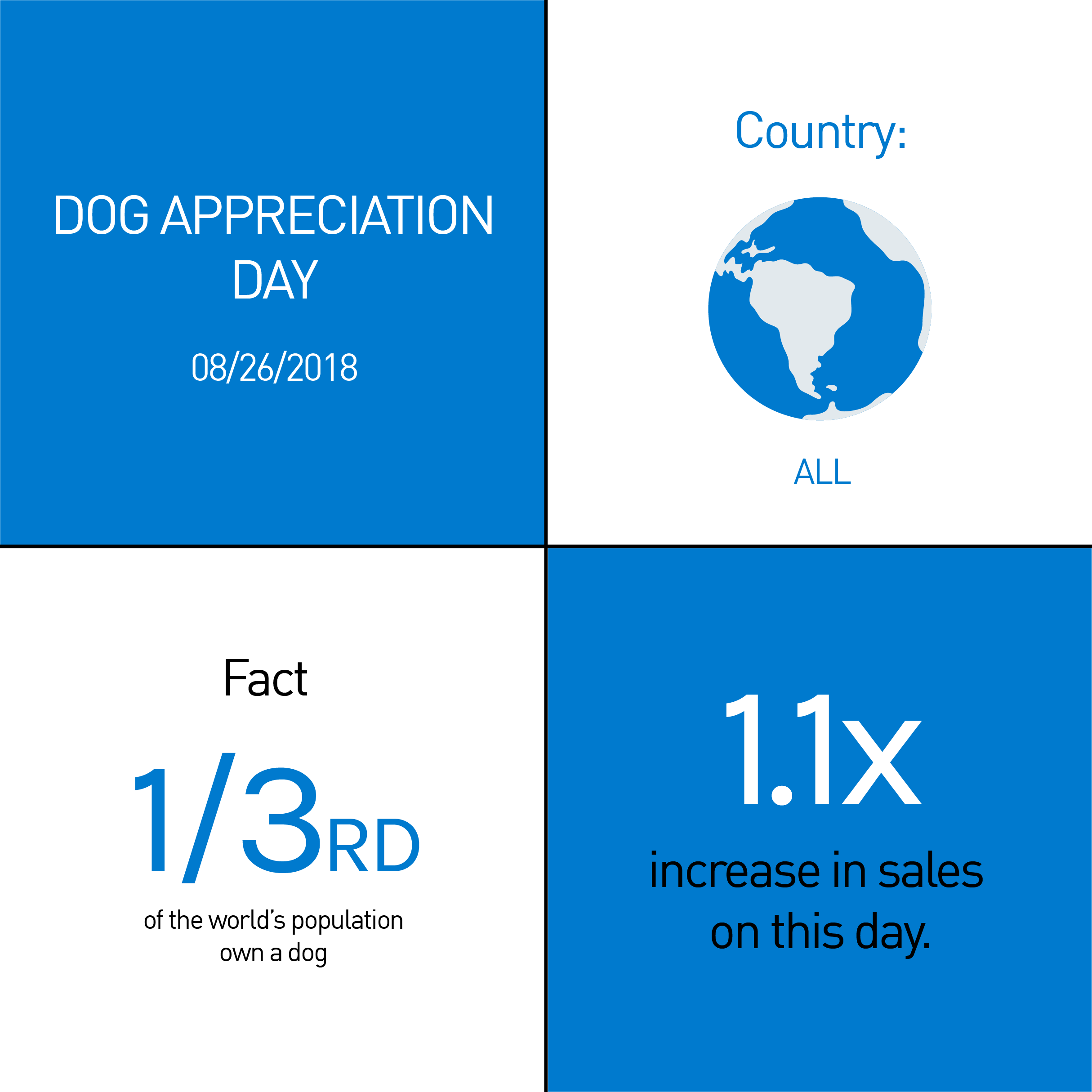 Dogs are the most popular pet globally, which gives you a huge target market to work with! Argentina, Mexico, and Brazil have the highest rates of overall pet ownership, with dogs being the most popular pet. Additionally, China, India, and LATAM markets are seeing rising disposable incomes, making them more keen to spend more on their pooch.
Date: August 26
Sales increase: 1.1x
Target country: Worldwide
Target demographic: Dog owners + Dog lovers
Popular items:
Dog treats
Food
Dog toys
---
SEPTEMBER
Father's Day (AU/NZ)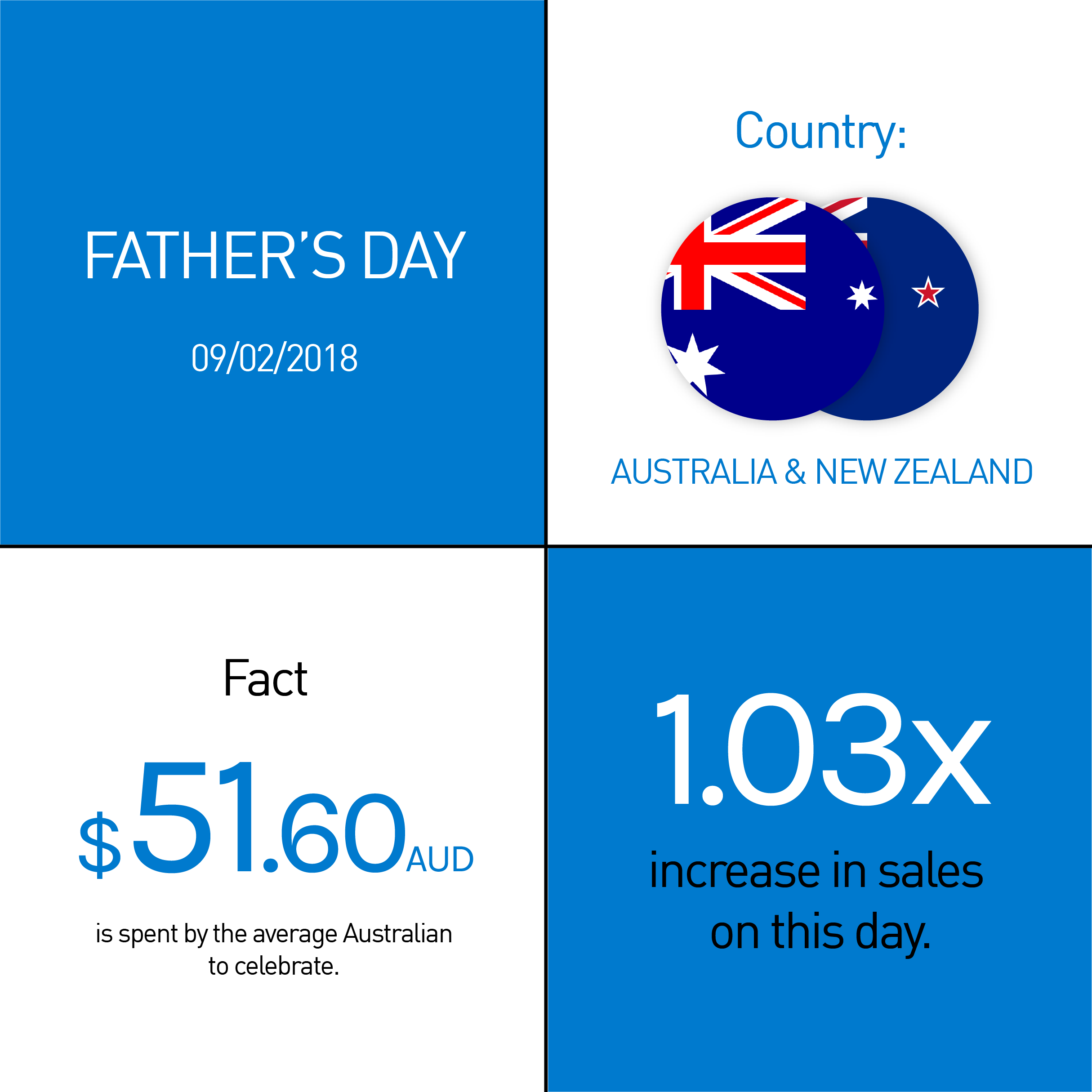 Why does Australia and New Zealand celebrate Father's Day 3 months after everyone else? Apparently, the Australian calendar is filled with events between April-June, so they moved Father's Day to avoid "holiday fatigue". Also, since they are in the southern hemisphere, it coincides with the spring season. Either way, this is a great time to make extra sales when there isn't much else happening around the world.

Date: September 2, the first Sunday in September
Sales increase: 1.03x
Target country: Australia / New Zealand
Target demographic: Men
Popular items:
Tools
Hardware
Electronic gifts
Personal care items
Premium footwear and clothing
---
Respect for the Aged Day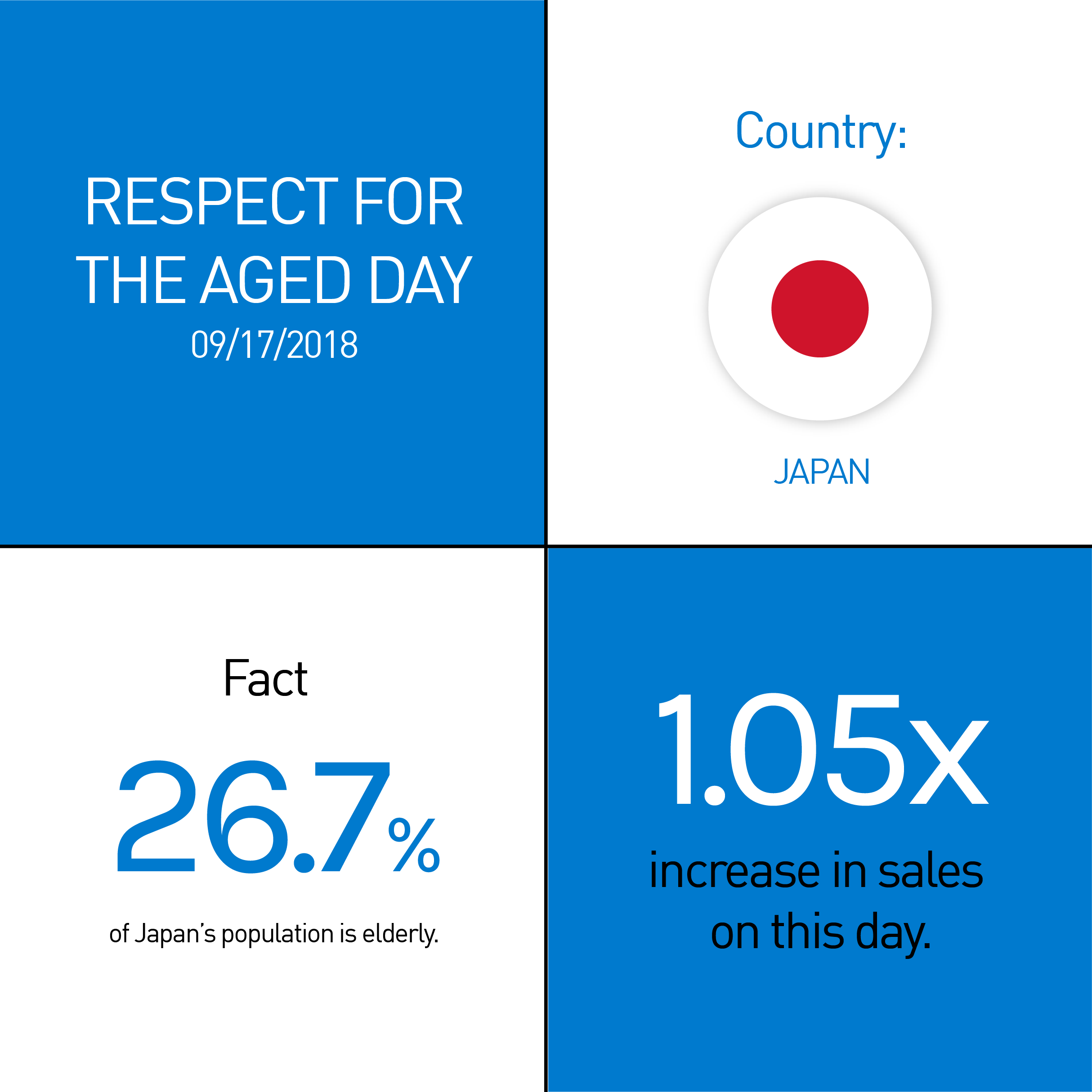 This is a public holiday in Japan, where the Japanese express their gratitude towards the seniors and grandparents in their lives. It's common for people to send gifts or to go back to their hometown and have a meal with their elders. With the aging population in Japan spiking in the last few years, this could be a great opportunity to appeal to those looking to give their elders a special gift for the holiday!
Date: September 17
Sales increase: 1.05x
Target country: Japan
Target demographic: People over 65
Popular items:
Clothes/Accessories
Western-style sweets
Anything that symbolizes longevity

---
Chuseok (Harvest Festival)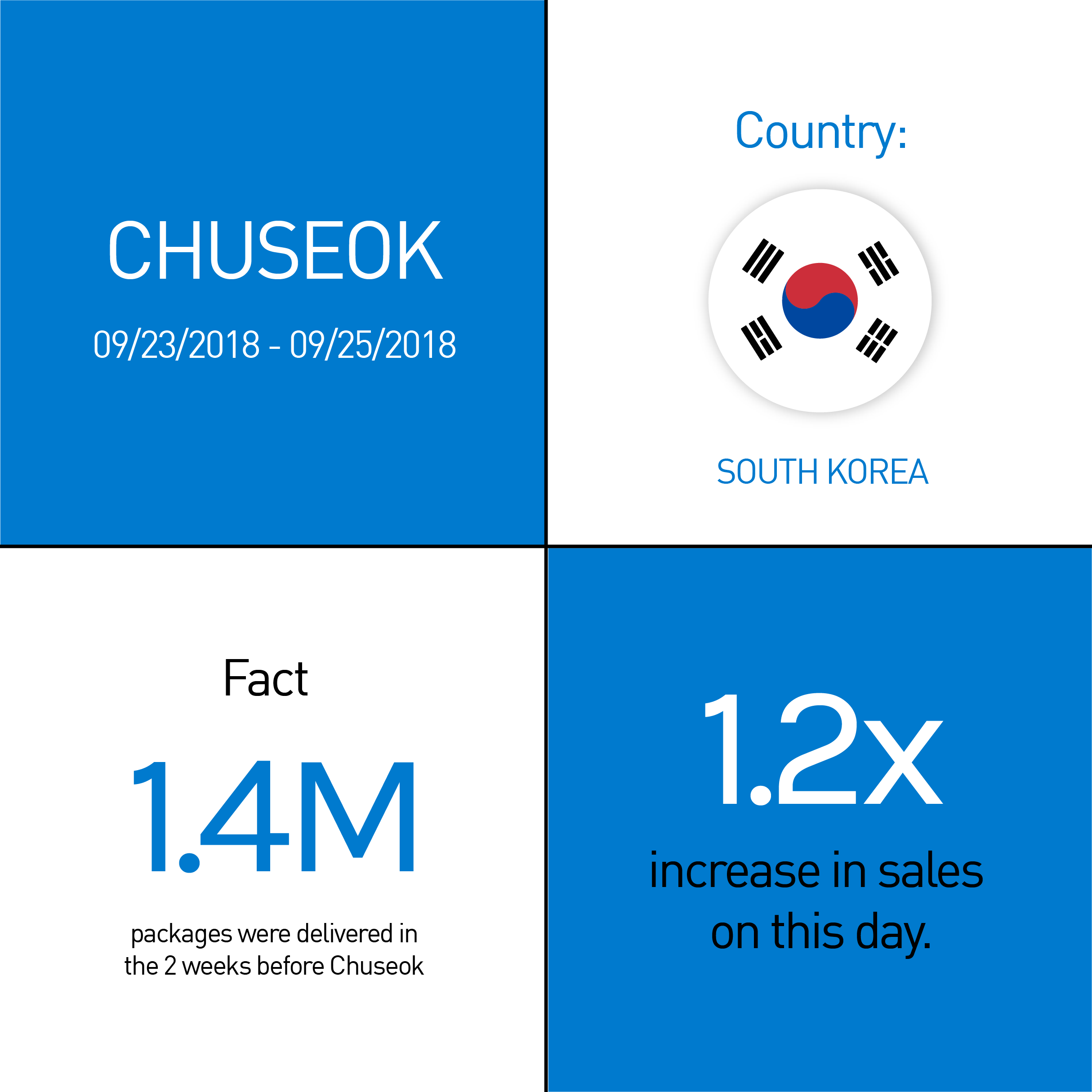 Chuseok is the Korean version of Thanksgiving. It's one of the most important holidays in Korea, as everyone is expected to go back to their hometowns, spend time with their families, and pay respects to their ancestors. Exchanging gifts with family is popular during this holiday.

Date: September 23-25 (Variable, based on the lunar calendar)
Sales increase: 1.2x
Target country: South Korea
Target demographic: Everyone
Popular items:
Food
Gift sets
Clothing
Health related supplements / vitamins
---
To keep posted on more sales holidays in the future, follow us on Facebook, Twitter, and LinkedIn!