This post is written by our partner, Optimonk. Optimonk is an onsite retargeting platform which helps small and medium-sized businesses leverage the power of onsite retargeting.
You can turn more of your visitors into sales & leads.
It's a big promise, I know. But I stand behind my word, and I'll help you get there. All you need is a little guidance.
Before we dive into the details, let's take a quick look at the basics:
When most people think about popups, the first word that comes to mind is "annoying". Because there is nothing more annoying than popups that appear immediately when you open a website. We won't talk about those popups, and I don't recommend using them. The popups I'm talking about are the ones that actually help website owners and marketers convert more visitors. Most importantly –they are USER-FRIENDLY.
Popups like these are typically displayed to visitors who try to leave your site, through a technology known as onsite retargeting.
Onsite retargeting monitors the behavior of visitors on your site and displays a popup with a secondary offer at just the right moment. These popups aren't annoying because they are based on engagement and browsing behavior, for example: when someone tries to leave your site, finishes reading a blog post; or, based on their time on site, number of pages visited, items in their cart, etc.
It's a great tool for ecommerce sites. Onsite retargeting can help increase your sales, decrease cart abandonment and build a healthy email list, just to mention a few benefits.
One thing that's often overlooked is keeping popup campaigns "fresh". In my experience, ecommerce site owners usually create one or two campaigns at the beginning of their "onsite retargeting career". And if these campaigns work well, they'll stick to it. Simply because it's easier and less work is required. But the truth is that regularly refreshed onsite retargeting campaigns achieve better results than campaigns which remain unchanged for months or even years.
In this article, I'll show you 3 tips to turn your visitors into sales & leads with regularly refreshed popup campaigns. These tips are helpful for anyone who is getting started with onsite retargeting, and for site owners with existing campaigns who are looking for ways to keep their sales on target. It's vital that you keep improving to see consistent rules. Ok, let's jump right in:
Test, test, and test
A/B testing is the best way to improve your conversions. This is a frequently used technique for landing pages. And it works just as well for popups.
You start with two (or more) versions of your popup to see which one performs better. You can make slight changes to see what works best. Test the following variables on your popup: headline, CTA, font style, image, input fields, offer, and so on.
Here's an example of A/B testing from Ezpacking. They tested their offer on two popups: only the image and the headline are different. But the design and the CTA remain the same. It's important to only test one or two things at once, so you can clearly see which changes improve conversions.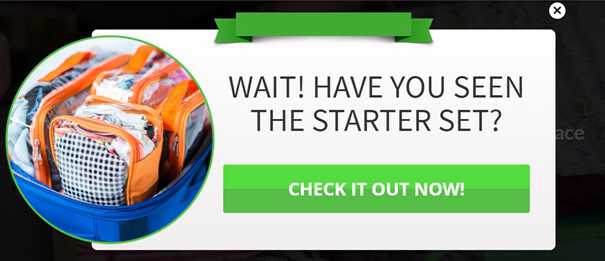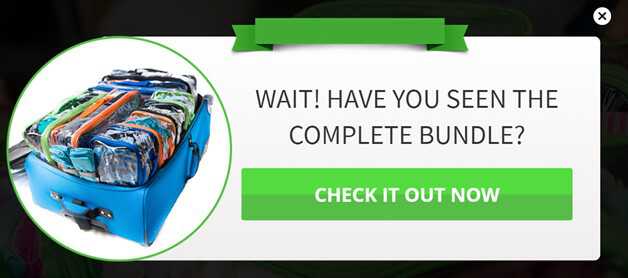 In this case, the second variant had a better a conversion rate. The difference wasn't significant, only 1%, but it's a step in the right direction and contributed to an overall boost in conversion rates. Read more about the Ezpacking campaign here.
Don't be old-fashioned
A responsive, up-to-date website has a big influence on your conversions. Visitors will leave an old-fashioned website very quickly. Every website owner knows your site has to have a good design to have good conversions.
It's important that your popups look good and match the look of your website too. Your popups should be up-to-date as well.
Here are the latest design trends you should pay attention to:
Use unique images instead of stock photos
Take a minimalist approach
Make sure there is lots of white space between elements
Use small amounts of text
Include icons and graphics.
Here's a great example from PE-Nation. This popup has a beautiful, clean and modern design.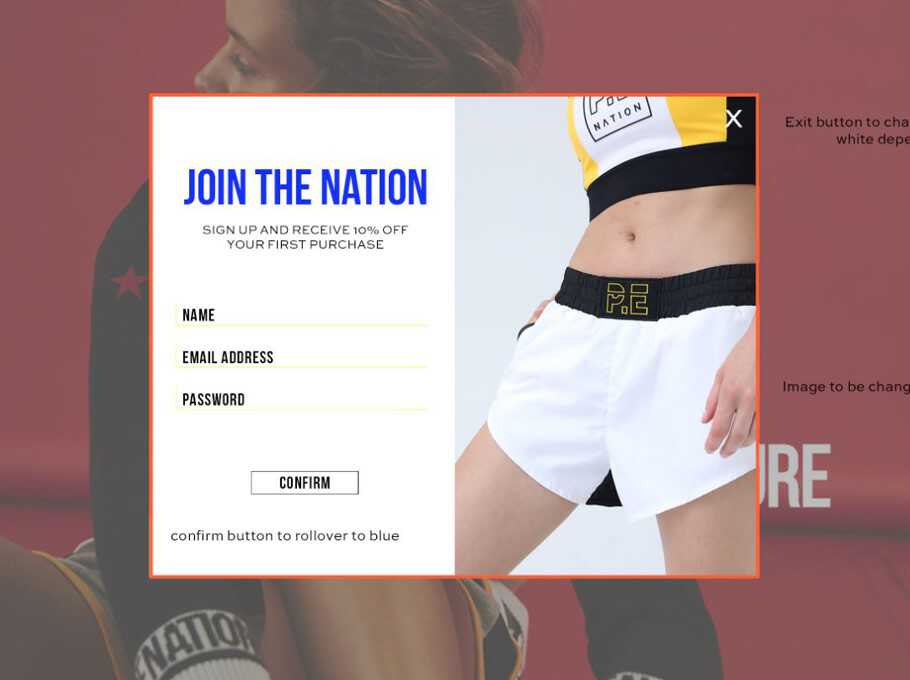 Change your offers frequently
Showing the same offer and discount over and over is a bad idea. Why? Because your returning visitors will get bored. You've got to switch up your offers to keep your visitors engaged.
You should consider running holiday or event-focused campaigns when creating your popups to keep your offers fresh. End-of-season sales are also a good idea to give some great discounts to loyal customers and close out your inventory.
With the Holiday Season around the corner, I suggest building these holidays into your campaigns: Black Friday, Cyber Monday & Christmas.
For a good example of regularly refreshed popups, take a look at theZooShoo website every now and then. They are always creating awesome campaigns with their latest offers.
Here's an example they used last year before Black Friday.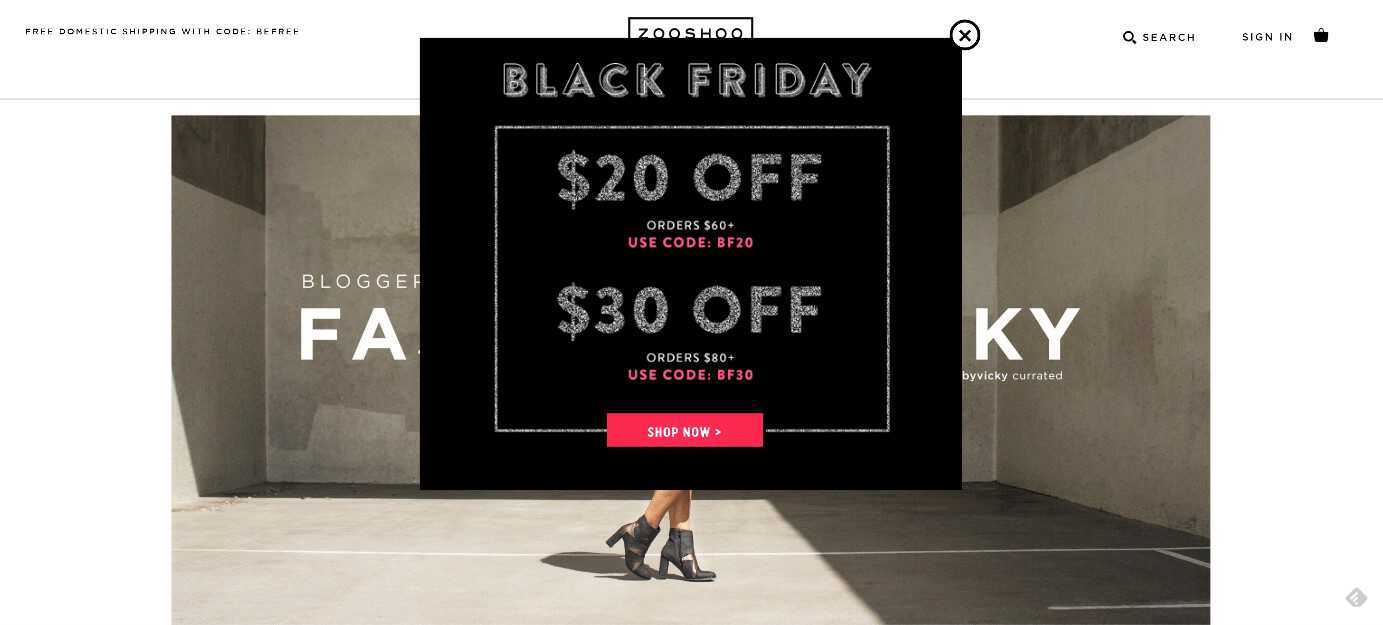 And here's another example from ZooShoo where you can see a product recommendation campaign – a very popular solution for ecommerce stores.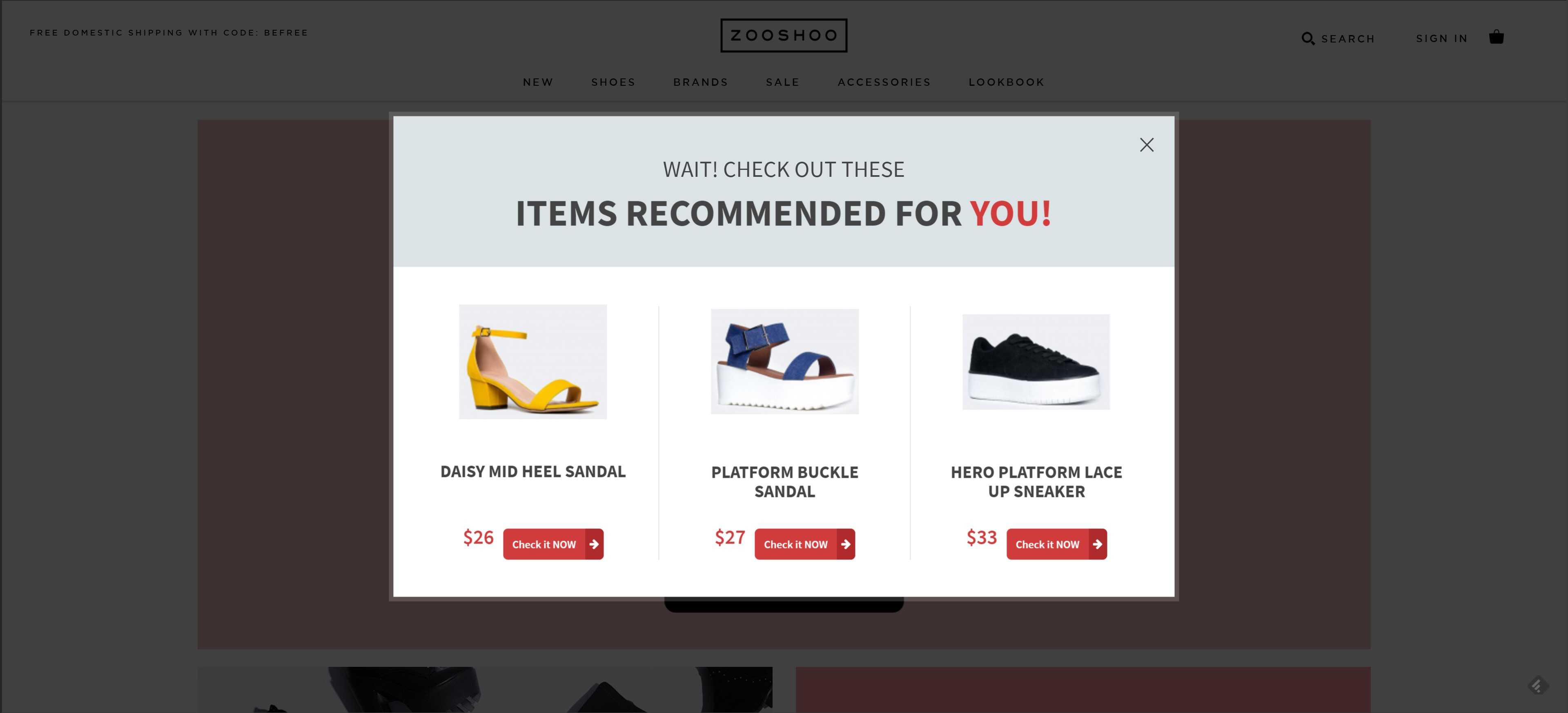 And, here's another offer they use to stop cart abandoners: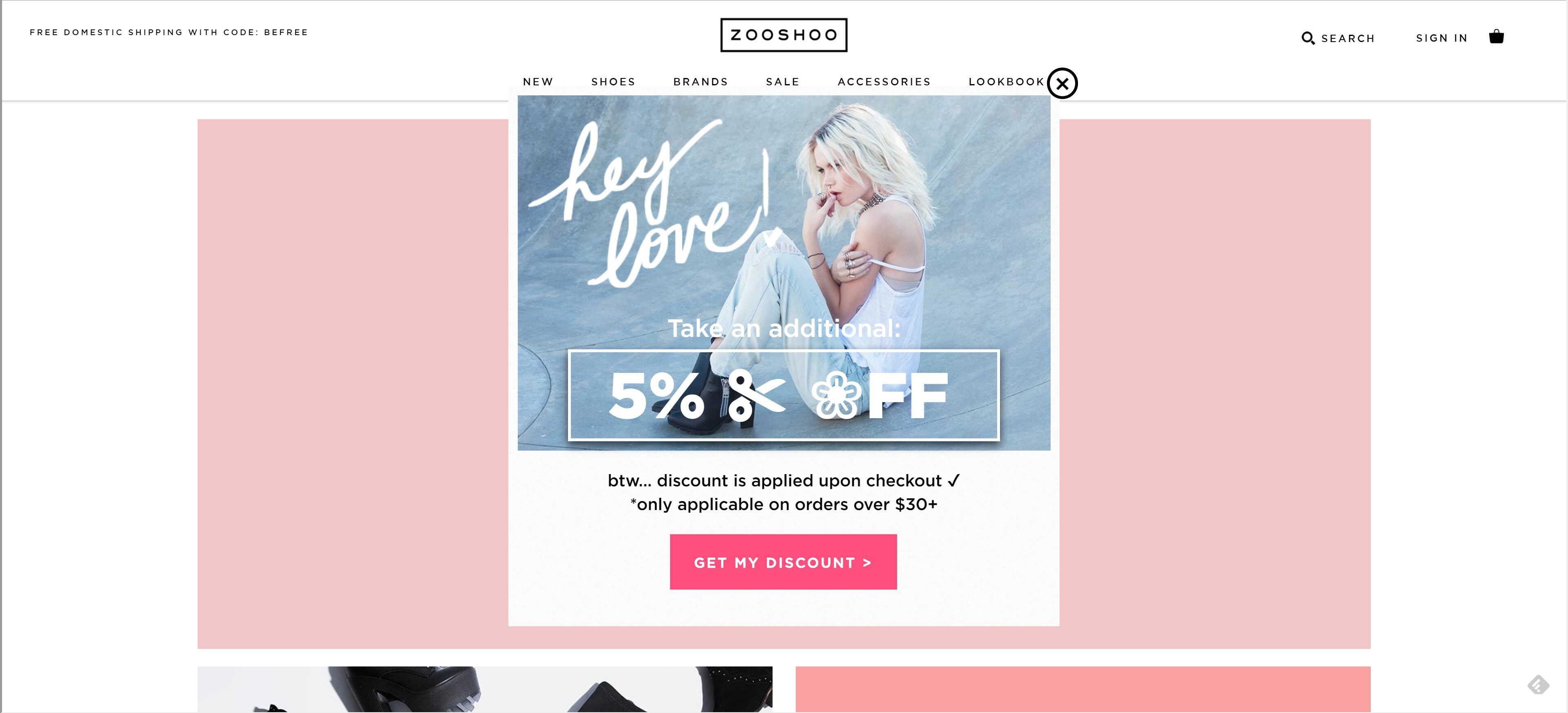 And that's only a few examples of their campaigns. For abandoning visitors, ZooShoo also tests different kind of offers, e.g. 5% off or 5$ off. By providing different offers and keeping their campaigns up-to-date, they convince new visitors to subscribe or make a purchase, and they give repeat customers a reason to visit their site again.
Summary
That's it! Now you've got the top techniques for regularly refreshing your popup campaigns. Testing and updating your campaigns on a regular basis can be a bit challenging, but I'm convinced that it will help turn even more visitors into sales & leads. And with these tips, it will be much easier for you to get started. Good luck!
About the author
Csaba Zajdo is an ecommerce specialist, founder of OptiMonk and several other projects specializing in conversion. OptiMonk is an award-winning onsite retargeting platform, which helps small and medium-sized businesses leverage the power of onsite retargeting.
If it has to do with conversion optimization and eCommerce, Csaba is interested. He's always looking for the best and brightest and he's constantly on the lookout for game-changing solutions.
Csaba has been involved with web marketing including search, lead generation, e-commerce, CRO, PPC, and analytics for over 10 years. He is also a frequent presenter at seminars and conferences.