Following the exciting additions of our new courier services from last week, today we're happy to announce the launch of improvements to your daily dashboard. We never get tired of making our product better and constantly listen to everyone's feedback, so please do if you haven't gotten in touch!
Without further ado, let's see what we have for release today! ​
---
Renaming the Shipments and Activity Page
After countless discussions we have made 2 major changes to the name of our existing pages:
Shipments are now Orders
Activity is now Shipments

We talked with many of you and at least 85% agreed that the existing names were quite confusing! All sales are original orders before they are considered shipments when they are shipped out to your customers. For that reason, we decided to make these changes to more accurately reflect the content of the pages for your reference.
​Despite the name change, all of the functions and content of both pages will remain the same. There have also been minor revisions to the iconography on your sidebar menu! ​
---
New "Taxes Paid By" Column!
With our existing Duties & Taxes feature, a lot of the feedback when we introduced it focused on the way we presented it as a bit confusing using the DDU/DDP industry terms besides the shipment cost. (Delivery Duties Unpaid/Delivery Duties Paid)
In an effort to remove this confusion and to provide a quick way to understand if the shipments were to incur taxes or duties, we have introduced this new column.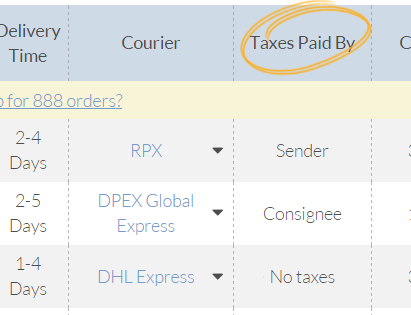 In the instance where taxes are needed to be paid (due to the customs value exceeding the destination countries threshold) then depending on what was selected when creating the shipment, it will show who is responsible for these taxes. In the cases where there are potentially no duties or taxes to be paid, it will simply show No Taxes regardless of the choice made when creating the shipment.
For those who forgot, you can always set who pays for potential taxes on a shipment when you manually create or edit an order!
---
Improved Shipments Page Filtering!
Before we wanted to get all fancy-schmancy with the design, we wanted to ensure that the core functionality of some of our features was being properly utilized. We revisited the quick filters we implemented back in October 2015 and based on analytics and talking to many of you, it had been quite heavily used.
With that being set in stone, we gave it a design revamp! Easyship style!

---
For today's release, that's the exciting change we have for you! We thank all our users for their continued support and those who have reached out to us to give us comprehensive feedback. We value everyone's voices and from the Easyship team, we are proud to be creating a product that is changing the way businesses do eCommerce.
Until the next set of updates, Happy Shipping!