In April, the world has continued to battle the COVID-19 pandemic. Some parts of the world seem to be getting through the worst of it already; others are still in the thick of the battle. At Easyship, we're working hard to make sure our users can continue to keep shipping as easily as possible. We've introduced a new in-app notification center to help you stay on top of your shipping, along with a whole host of useful COVID-19 resources. We've also added two new courier services in Australia. We've also given our blog a bit of a makeover and are showcasing some of our favorite articles from April!
Stay on Top of Your Shipments with the New Notification Center!
When it comes to shipping, it's important to stay on top of everything so that you don't make any mistakes or miss crucial deadlines. That's why we've created the new in-app Notification Center.
Set to debut as a Beta feature next week, the Notification Center will first be available to some client accounts in the APAC region before being rolled out through other countries and accounts in May.
The Notification Center will give you regular updates throughout the shipment creation process. Previously, these were sent by email; while you can still choose to receive the emails, you can now see all these alerts in the dedicated Notification Center on the dashboard.
These notifications are important, so you should make sure you stay on top of them. Essentially, if there's anything in the shipment creation process that requires action, you'll see a notification here. That might include pickup issues, generating labels, downloading documents
They'll let you know what you need to do to ensure your shipments are made without any hassle. This includes letting you know about pickup issues, generating labels, or downloading documents. Most importantly, if your shipping label is rejected because of incorrect details, you'll be directed to where to edit these details.
The Notification Center is located in the top left of your dashboard. See that little bell? That's it! You'll see a little red dot in the bell if there are any new notifications you need to read. We wanted to make sure you have full control over these notifications, so if you go to the dashboard and navigate to "Settings > "Notifications" you will be able to control whether you want to keep receiving notification emails or only see them in the app.
Get Through the Pandemic with Our COVID-19 Resources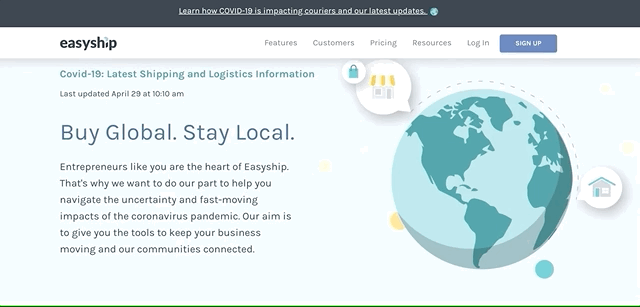 The COVID-19 pandemic has made things tricky for the eCommerce and logistics industry. We know that many of our users - plucky entrepreneurs and SMEs - are struggling. That's why we want to help. We've put together a complete lineup of COVID-19 resources, ranging from partner offers and courier operations updates to guides for managing your shipping during this time.
We've also made a few changes to using our platform to help our users. If you sign up for a new account before June 30, you'll automatically get an extended 90-day trial. Additionally, we're waiving all shipment and team member caps, and hosting a useful series of webinars.
More International Shipping Solutions
Mail deliveries and shipping are still being impacted by the pandemic. Thanks to government restrictions and low capacity, many couriers have suspended service routes or are experiencing delays.
We're continuing to improve Easyship's operations to make sure our users can keep shipping. So, we're happy to announce two new courier solutions.
Easyship users in Australia can now use TNT international services to send parcels around the world!
Also in Australia, our eFulfillment clients now have access to DHL's eCommerce services. Most people are shopping online these days, so if you're an online merchant in Australia, these services will be a big help for keeping up with your orders.
Content We Love  Have You seen Our Favorite Shipping & Logistics Articles This Month?
If you're a regular reader of our blog, you may have noticed a few changes. We gave our blog a fresh new look that we hope will make it easier for you to find the information you need in our insightful articles. Below are just a few of our favorite articles from April: