This is a guest post by xSellco. xSellco's connected e-commerce platform helps online sellers of all sizes manage support, feedback, and pricing in one place.
If you're a brick-and-mortar retailer, you most likely took the lemonade stand approach to your business—start off local, gauge interest from consumers, and expand internationally from there.
But if you're an online business, your geographic boundaries are challenged from day one—which is amazing, but it also comes with an abundance of factors to consider when setting up. From languages and currency conversions to shipping and returns, it's natural to feel overwhelmed as an online seller.
In this blog, we're going to look into how multilingual customer support goes far beyond speaking different languages to fully immerse yourself in international e-commerce.
1. Adapting company personality for simplicity
Every business has a culture or a "personality." In the same way, an individual's own personality can get misconstrued once you speak in a different language, this can also happen with international customers in e-commerce. To be more specific, this means using simple sentence structure whether or not it suits the tone of your business.
For example, if a customer service agent speaks to a French customer saying "Hi" directly translated as "Salut," that would be considered rude and informal in France. Another commonly used phrase in emails is "I'm just reaching out," which translates as "I am giving you my hand" in French.
But you don't have to lose the company completely, it's great to be personal with your customers and that will always keep them engaged! In fact, according to a Walker study, customers will choose experience over price and product as a brand differentiator by 2020 so this will be a huge factor for support teams over the coming years.
2. Cultural expectations
Adapting personality is just one aspect of showing empathy to your international customers. It's also very important to understand certain cultures' differences when delivering exceptional customer service.
This is where localization comes into play. It involves some of the basic things that your customer support team should be thinking about with cross-border e-commerce:
The time difference in the countries where your customers are located
Important holiday calendar dates
Diverse social etiquette
For example, you might find that you could be in contact with customers from the USA, Germany, and Japan all in the same day and they all react differently to the formality of customer service. This is something to watch out for so as not to mislead or offend anyone and enables your team to understand the importance of changing your tone of voice to suit each situation.
In addition, you don't want to mistakenly contact a customer on a big holiday on their calendar. This would show an extreme lack of understanding of their culture.
3. Communication is key
As with any customer, it is paramount to grasp each individual's tone and respond accordingly. Avoid miscommunication by asking questions that only involve yes or no answers. Be prepared to rephrase any aspect of the customer support process (i.e shipping query, order query, return) to simplify it overall.
Most importantly, avoid colloquialisms at all costs. This means using slang from your own country but not widely known globally. For instance, oftentimes Irish people will say "fair play" as a natural reaction to someone doing a good job, which is commonly corrected as "well done." This type of experience would be very stressful for the customer and potentially deter them from purchasing from you in the future.
4. Auto-translation
For teams of all sizes, remember that you have the option to use an auto-translator for your e-commerce business. In the beginning, this will be a quick and easy way to expand internationally.
xSellco can help you scale your business in this way, with our built-in feature that auto-translates incoming messages from a language you don't speak into your native one so you can understand your customer's query. Your response will then be translated back into the customer's language.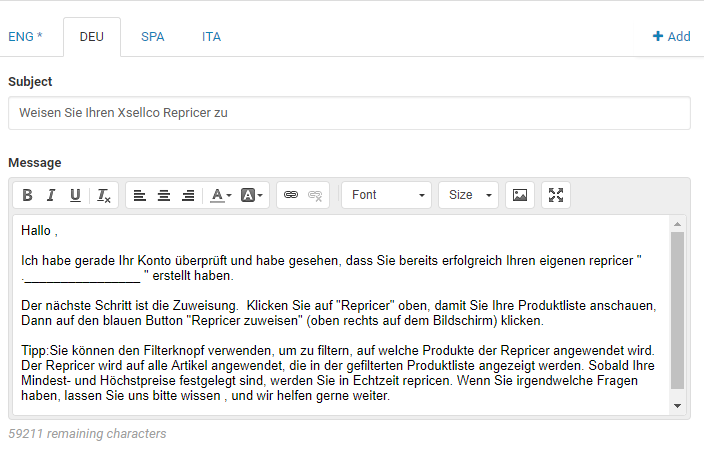 Total immersion will lead to success!
It's quite clear that if your online business can master multilingual customer support, you will tap into any market with ease. Fully immersing your online business in different markets will help it scale.
xSellco's services go far beyond integrated software, they have fully trained customer support staff who pass their expertise onto our customers. They are helping to bridge the language divide for e-commerce companies on a daily basis with their help desk software.
---
xSellco's connected eCommerce platform helps online sellers of all sizes manage support, feedback, and pricing in one place. Whether you sell on your own website or on multiple marketplaces around the world, our products centralize your customer queries, increase your reviews and help you sell more at higher prices.
Try xSellco free for 14 days and see how easy it is to provide stellar support, everywhere you sell.