The Holidays are fast approaching and as an eCommerce retailer you're busier than ever. Your to-do list is miles long, you're working over-time, and you feel like there's not enough hours in the day to get everything done.
We get it.
You want to make sure your eCommerce website is ready for increased traffic, and your inventory is fully stocked, among dozens of other things. But one thing you may not have thought about is how you're going to quickly and accurately move data back and forth between your eCommerce store and your back-office operations, once those Holiday orders start flooding in.
The bottom line is that streamlining your back-office operations will save you from unnecessary stress. Allow us to explain…
Here's what we know about consumers' expectations for online shopping, today:
They want their orders to arrive fast (most consumers now have expectations for 1-3 day shipping speeds).
They also want their orders to arrive accurately.
They want confirmation that their order was received immediately after they hit the 'buy button'.
They want to receive a shipping notice with their tracking information promptly.
They want to easily be able to make returns and exchanges if necessary.
Trying to keep up with these demands and meet consumer expectations can be difficult for an eCommerce retailer who is manually keying data back and forth across systems and applications. Especially during the busy Holiday season.
Consider this:
If something is rekeyed incorrectly, errors can be made (for example, sending 30 of an item instead of 3).
If orders are piling up, manual data entry can result in a slowdown that will leave customers waiting far too long to receive their orders.
If a customer wishes to make a return, remembering to manually readjust inventory levels to keep stock levels up to date can sometimes slip through the cracks.
These are just a few of the many problems an eCommerce retailer can encounter without streamlined operations.
The best way to handle this is to implement an eCommerce to back-office accounting/ERP integration solution. This type of solution will ensure that all of your important data will flow, bi-directionally, between your eCommerce store and your back-office application in near-real time.  No more manual data entry required!
So what exactly can you automate?
Common data 'touch points' that most eCommerce retailers choose to automate are:
Orders
Inventory Levels
Shipping/Tracking Details
Product Details
Customer Details
By doing so, eCommerce retailers can rest assured that they meet and even exceed consumer expectations during the Holiday season.
No more slow, manual order processing = no more late or incorrect orders = very happy customers. Now that's what we call a win!
To learn more about eCommerce and ERP integration as a means of streamlining back-office operations, download a free copy of eCommerce Integration For Dummies.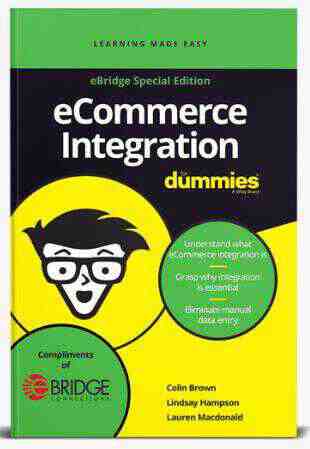 ---
About the author: Lauren Macdonald is the Content Marketing Manager at eBridge Connections. They deliver powerful, cloud-based accounting and ERP integration solutions that automate business processes and eliminate manual data entry.