Incoterms are derived from the phrase "International Commercial Terms", and they are set by the International Chamber of Commerce (ICC) every 10 years. The current edition of these rules are from 2010.
These terms clearly lay out what the buyer and seller is responsible for when handling, transporting, and delivering goods.
As an eCommerce seller, you are free to set your own terms on how you will deliver your products to your customers.
However, Incoterms are beneficial because they are:
straightforward about the responsibilities of each party
standardized
accepted worldwide.
That's why some businesses may prefer including them in their shipping policy, especially for cross-border customers. You will also find Incoterms listed in commercial invoices.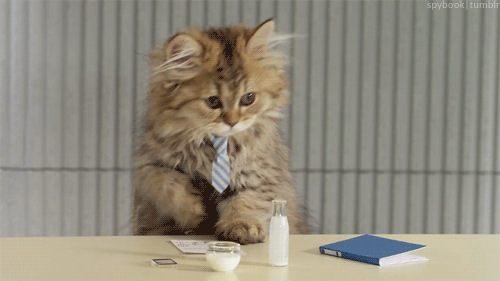 Serious international business cat, ready to negotiate Incoterms
*Straightens neck tie* That being said, here are some common Incoterms you may come across:
CIF (Cost, Insurance, and Freight): The seller is responsible for paying the costs and freight necessary to bring the goods to the destination port, in addition to buying insurance against the risk of loss or damage of the goods. This is applicable to sea freight.
DDP (Deliver Duty Paid): The seller is responsible for handling the risks and costs of the shipment, including import duty, freight, and any other charges related to delivery. This is applicable to any mode of transportation (air freight, road, sea freight.) Learn more.
EXW (Ex Works): The seller is only responsible for making the goods available from their warehouse. The buyer is responsible for arranging the full shipment, from the seller's warehouse to their destination of choice. This is applicable to any mode of transportation (air freight, road, sea freight.)
FOB (Free On Board): Applicable to sea freight, in this case the seller is responsible for getting product on the ship and clearing the product for export. The buyer is then responsible for insuring the shipment and handling the importation process, including paying for any import duties.
There are a total of 11 Incoterms which you can learn more about from the International Chamber of Commerce. Additionally, our friends at Freightos have a "plain English" Incoterms guide that you may also find useful!