March was a sobering month as COVID-19 officially became a pandemic and spread quickly across the globe. But, here at Easyship, we're trying to make sure our clients' businesses can continue to operate normally as much as possible.
In April, we're introducing new usability features for managing product listings and changing the way you control size and weight for your shipments. We've also added some new courier services in Canada and Australia to give you more shipping options. As in previous months, we've also pulled together some popular articles from our blog to offer you useful tips and tricks for managing your eCommerce store!
Easyship News - April 2020
Experience Greater Usability with Product Listings!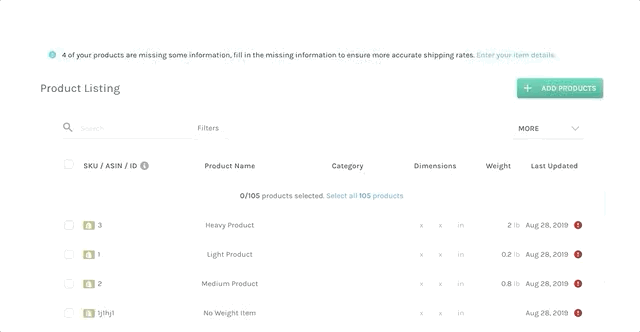 Last month, we introduced a bulk editor feature so that the process for editing product listings was easier to manage. This month, we've made further changes to the way you create product listings so that it's more intuitive and gives you more clarity over managing multiple stores.
Previously the product listing process was a little unclear, especially for merchants managing multiple online stores through one Easyship account. There were several instances of clients trying to add products, but not being sure which stores these were being linked to. We took notice and decided to simplify things.
The improved product listing process involves a clearer workflow which is more user-friendly and instructional. Users can now see exactly which store they're adding products to. The improvements also include a choice of three methods for product listing additions. Users can opt to add products by:
Syncing directly from a store
Importing from a CSV file
Manually entering product details
A New Way of Entering Shipment Sizing for Rate Calculations
Size matters when it comes to calculating shipping rates. That's why, to make things easier for everyone, we've changed the way you can enter details when creating shipments.
In the past, Easyship users were able to manually enter product weight and dimensions or box size and weight while creating a shipment in their dashboard. Now though, we've made things simple by removing the option to enter product details. You can now only add box size and weight in the shipment creator.
This means that shipping rates will be calculated slightly differently now. Here's what's going to happen.
The Easyship system will now automatically calculate box size (and shipping rates) based on the information you've previously provided in the product listing section.
This means, if you want to edit product size and dimensions for a shipment, you'll have to do this beforehand in the product listing editor.
If there is no appropriate product listing in your account, the system will use the box size you enter in the shipment creator to calculate your shipping rate.
If you don't enter a box size, the rates will be calculated using deadweight only. This may result in rate adjustments later, so we recommend that you provide accurate box sizes when creating your shipments.
More International Shipping Solutions
We know mail deliveries and shipping are experiencing a few issues at the moment, so we're working hard behind the scenes to make sure our clients have access to as many courier solutions as possible. We're excited to announce that in April, we've introduced two new options for clients in Canada and Australia!
Canpar Express is now live on Easyship! Canadian clients can now use the Ontario-based courier for a range of domestic and international services through their dashboard. This includes Canada-wide ground, express, 10AM, and noon services, along with cost-effective international deliveries to 215 countries.
In Australia, our merchants can now access FedEx International Economy (2-4 days for Asia; 3 days for US; 3-4 days for Europe) and FedEx International Priority (1-3 days for delivery) services through their account.
Content We Love: Have You seen Our Favorite Shipping & Logistics Articles This Month?
As always, our blog is frequently updated with useful articles to help you ace shipping and eCommerce. Be sure to check out the blog for new articles each day! In the meantime, here are a few of our favorite recent articles: